Design has seized the spotlight in the software development lifecycle, making this an exciting time for enterprises to choose modern tools that spark cross-functional collaboration and creativity to create human-centric products. But what capabilities should you look for in selecting from these new offerings? Read on to learn about the latest must-have features in our second blog that continues the conversation from our last posting, The New Era of Design and Prototyping: Modern Tools Break the Barriers in Software Development.
Overcoming enterprise design challenges  
Designers, engineering, and product and marketing teams frequently operate in silos. Separate planning and tracking methods fueled by a lack of communication between teams leads to inferior quality products and poor user experiences. Inefficient design workflows also impact outputs.
Adding to this challenge is a plethora of siloed design tools for diverse needs. Having individual tools for every workflow stage leads enterprises to invest in multiple design products, creating massive disintegration in the Software Development Life Cycle (SDLC). Mastering the various tools and maintaining a continuous workflow in the designing process becomes an obstacle for designers too.
Can design tools enhance the software development experience?
In today's world, where user experience is at the core of every business, it is of utmost importance for every stakeholder in the SDLC to be at the center of designing, redesigning, and continuously improving the product.
Market players like Figma, InVision, Sketch, Adobe XD, and many others have developed design and prototyping tools that enable a collaborative and integrated design approach. These tools help design-forward companies provide a platform, develop a practice, and empower people to build the design-led mindset during software development and work more efficiently at scale.
Key capabilities of design tools in 2022
Among the latest features to look for when selecting from the various offerings are:
Collaboration – The old siloed ways of working between designers and developers has transformed into real-time collaboration. Features are available to effectively maintain version history and track changes, enabling a smooth handoff to developers. These tools have enabled business and IT teams to collaborate on the same platform and provide contextual feedback even during the designing and prototyping phase. This puts the entire team on the same page, which is especially valuable in the remote working setup
Accessibility – Web-based, on-cloud, and platform-independent design files make accessibility easy for all team members. Options exist to change the access for some users to view- or edit-only. These features eliminate the dependency on team members to share files via any other medium
Reusability and Analytics – Having robust design and shared libraries eliminates rebuilding everything from scratch and adds consistency in following enterprise-wide design and brand guidelines. Team efforts are maximized with reusable libraries that have built-in analytics to track the components being reused across the enterprise. Functional analytics plugins enable the use of pre-built data and designs in current projects
One-stop product design workflow solution – Brainstorm, design, prototype, collaborate, and handoff – all in one place. Seamless integration with other technology vendors or existing tools used by the enterprise is now possible. For example, Figma can be easily integrated with the recently launched Amplify Studio by AWS. This enables designers to build the interfaces on Figma and developers to then connect seamlessly to Amplify Studio to build the code. Similarly, these design tools can be integrated with Maze to test prototypes with real users. Many other integrations also are available
Exhibit 1: Variations in key capabilities among top design tools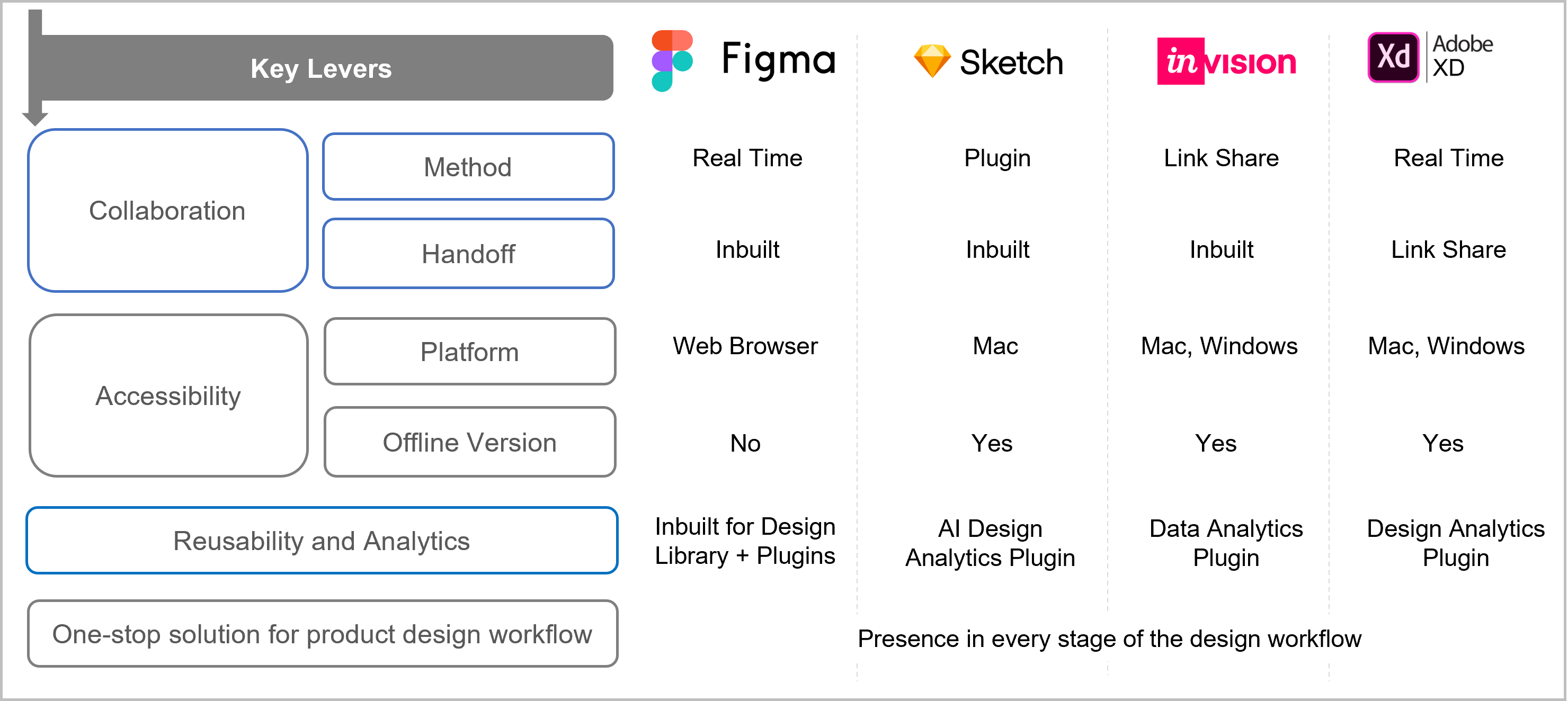 Effectively using these tools will not only help seamlessly embed design in software development but also build agility, operational excellence, and a feedback-centric approach in the SDLC.
With the increased potential and adoption of these design tools, we will watch with interest to see which players leverage more Artificial Intelligence (AI) to analyze data and suggest the best design content. Such enhancements will reduce manual tasks and enable stakeholders to focus on the bigger picture during the SDLC.
Looking at the wide range of design tools in the market, we will explore enterprise sourcing considerations for design and prototyping tools in our next blog. To share your views, contact Ankit Gupta, [email protected], Sonal Singh, [email protected], or Swati Ganesh, [email protected].
For more insight on integrating digital capabilities into the enterprise, watch our on-demand webinar, The Blind Side of New-age Apps.