As the world emerges from the pandemic and looks for new destinations for high-end information technology and business process services, put Latin America on the radar screen for its lower costs, talent availability, language proficiency, and other factors. Learn why this region is an attractive emerging destination for global service delivery, what countries offer the most promise, and the trade-offs and risks.  
Latin America has emerged in recent years as a leading nearshore destination for companies in the US and Canada, primarily driven by its unique position of cultural parallels and geographic proximity to the North American market.
This popular delivery destination for IT and BP services has undergone dynamic shifts in the past few years, and its location can be increasingly critical post-pandemic to filling talent gaps and providing a more stable geopolitical climate than destinations in Europe, given the current Ukraine-Russia conflict.
Increased capabilities, aided by digital infrastructure investment, and scaled operations delivery are attracting companies to leading locations such as Mexico, Argentina, Brazil, and Costa Rica. Companies that are reimagining delivery in Latin America and growing operations in the region are differentiating themselves by capitalizing on the region's attractive proposition.
Other favorable factors such as lower costs compared to North America, increased government support, and rising English proficiency are enabling growth, especially for the contact center industry. While promising, organizations need to be aware of some trade-offs and associated risks for operating in the region.
Trade-offs and risks
Organizations looking to enter the Latin American market should be concerned about market congestion, lack of digital infrastructure, and an unfavorable macroeconomic environment in a few key locations.
Leading cities in the region (e.g., San Jose, Mexico City, Sao Paulo) are experiencing growth in competitive intensity, threatening their cost arbitrage against North America. Moreover, countries like Argentina, despite their large talent pool, are facing major macroeconomic challenges brought forth by the pandemic.
On the other side of the coin, countries such as Jamaica, Uruguay, and Guatemala have low market congestion and are primarily leveraged for transactional BP services but have limited maturity in IT and engineering services. Organizations keen to support complex and judgment-intensive processes will need to make substantial investments in talent development in these markets.
Further Latin American destinations also face some challenges around reliability and digital infrastructure scalability. While investments are continuously being made in this area, certain countries within the region still rank relatively lower on the digital readiness scale. This potentially poses challenges for remote working in the post-COVID era.
Leading Latin American locations for financial attractiveness, talent availability, and operating and business environment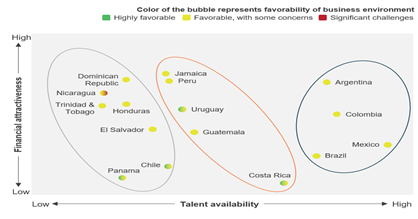 Here's a quick look at the top four global services delivery locations by largest to smallest market size in Latin America:
Mexico – boasts the largest scale among Latin American locations for global services delivery (both transactional and judgment-intensive processes). Leveraged to support IT-BP service delivery along with next-generation digital services (e.g., Artificial Intelligence, Internet of Things, analytics), the market faces one of the highest competitive intensity in the region, driven by a large player base and strong sector growth
Colombia – primarily a global hub for voice-related services and transactional BPS delivery. Although it has limited maturity for next-generation digital services delivery, it holds the potential for increased IT and non-voice BP services delivery, given its large talent pool
Argentina – a large-scale, multi-functional hub location to support service delivery to the Americas and some European locations. It exhibits relatively high maturity for next-generation digital services, including AI, analytics, cloud, and IoT, delivered from its highly congested Tier 1 cities
Brazil – primarily delivers IT and BP services to Latin American locations. It has a large base supporting domestic demand (within the country) but global service delivery is limited. While it has a highly skilled talent pool supporting complex/niche skills and judgment-intensive IT work (e.g., cloud computing, big data), its more costly base owing to higher salaries and real estate costs affects its attractiveness as a global service delivery destination
Global service delivery destination to watch
Latin America is well placed in its growth journey to emerge as one of the leading nearshore destinations. Industry verticals such as retail, telecommunications, and Financial Services and Insurance (BFSI) continue to drive overall regional demand. Its unique positioning, strong government support, and growing talent pool make the region a destination of choice for some of the world's biggest brands, including Amazon, PricewaterhouseCoopers, Galileo, and Pinterest, among others.
To learn more about the dynamics in the region, please read our recently published report Reimagining Latin America Delivery in a Post-COVID World, which highlights the relative attractiveness and talent-cost proposition of key Latin American locations to support global services delivery, based on our holistic and multi-faceted assessment across 12 critical parameters.
For more information on Latin America as a global service delivery location, please reach out us: contact us.