Insurers are increasingly investing in AI to enhance the customer experience with automated personalized services, faster claims handling, and individual risk-based underwriting processes by empowering agents, brokers, and employees. Our recently released Insurance IT Services Annual Report 2018 found that more than half of insurers are opting to build in-house AI capabilities through hiring, internal training, hackathons, acquisitions, and partnerships with InsurTech companies, while the rest are turning to IT service providers.
Increased InsurTech Investments
The appetite for change within the insurance industry is certainly there. To make that change happen quickly, insurers have been investing in InsurTechs, firms offering technology innovations designed to squeeze out savings and efficiency from the current insurance industry model, to align data and integrate backend systems. Total InsurTech funding reached US$2.3 billion in 2017, a 36 percent increase from the US$1.7 billion recorded in 2016. In 2016, AI and IoT accounted for almost half of the total investment in InsurTech startups globally.
AI InsurTech investment has increased multi-fold since 2016. Seeking access to talent pools, innovative ideas, high speed, and lower cost of innovation, leading insurers have invested in startups including Betterview, Captricity, CognitiveScale, Lemonade, Mnubo, and Uniphore.
And 2018 appears to be spurring even more investments. Indeed, some of the top insurers have created dedicated venture capital arms – e.g., Allianz Corporate Ventures, MetLife Digital Venture, and XL Innovate – to invest in technologies such as voice biometrics, cognitive virtual assistants, speech analytics, telematics, drone imagery, and machine learning.
Strategic Decisions
Research we conducted on 24 leading insurance firms' investment model suggested that more than 70 percent of their investments in AI InsurTechs are not just from a funding perspective. Rather, they are entering into partnerships with the InsurTechs as a more strategic decision to fulfill their long-term vision of digitalization.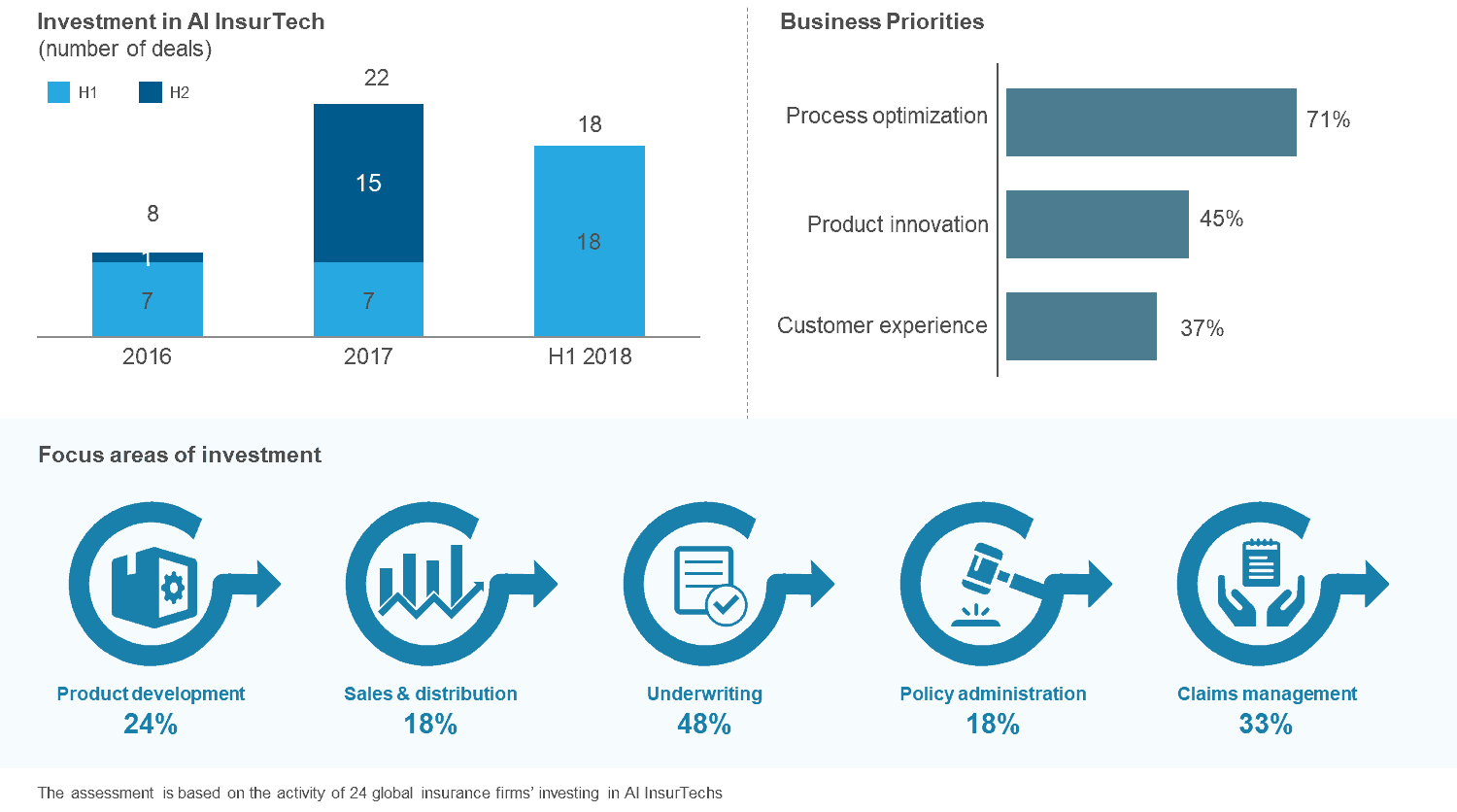 Significant Impact across Insurers' Value Chain
Process optimization: The majority of the AI InsurTech investments are for automating underwriting policy administration and policy administration, resulting in increased process efficiency. For instance, AXA partnered with TensorFlow to use machine learning to optimize pricing
Product innovation: In addition to fixing processes, insurance companies are partnering with InsurTechs to develop new customized policies and pricing, per user demand through usage-based information. For example, in 2018, Munich Re's HSB Ventures led a US$16.5 million venture financing for Mnubo, an IoT, data analytics, and AI startup, to build tailored financial solutions to improve the company's business and facilitate new business models
Customer experience: AI is making traditional claims processing a thing of the past. Companies are pioneering new cognitive solutions that are making the claims process faster, smarter, and more efficient. For instance, in 2018, GENERALI implemented Expert System's Cogito® technology to focus on registration and claims processing, and to automate the customer email classification, resulting in a swift and smooth claims process and better customer service.
We believe these partnerships create a win-win situation. They give insurers access to the necessary talent pool, latest technology, innovation, and speed they need to thrive, not just survive. And they provide vital to insurers' ability to compete, and provide InsurTechs with the guidance, infrastructure, funding, and customer base they need to grow.
If you'd like insights on leading InsurTechs and how they're changing the insurance industry, please feel free to reach out to [email protected] and [email protected].