As leading insurance organizations seek to be more data-driven in their business decisions, they are looking for solutions that can seamlessly integrate with their existing insurance technology stack. Technology providers have responded by building capabilities to offer plug-and-play solutions that align with carriers' immediate priorities to extract more value from investments. With the industry landscape exploding with multiple solution providers offering carrier customization and commercial flexibility, we are witnessing a flood of SaaS solutions across the insurance value chain. Read on to explore the issue of SaaS sprawl which is quickly becoming one of the industry's leading pain points.
At the turn of this century, the SaaS revolution shifted the paradigm of how technology could be deployed. The triad of quick deployment, timely upgrades with little/no inconvenience, and cost-effective solutions made SaaS solutions a force to be reckoned with.
A massive influx of point solutions – tools that aim to address a single use case within a business – followed over the years. Today, an insurance technology stack has multiple point solutions assembled atop core systems to bridge gaps in existing capabilities as illustrated below:
Exhibit 1 – Technology stack in the insurance value chain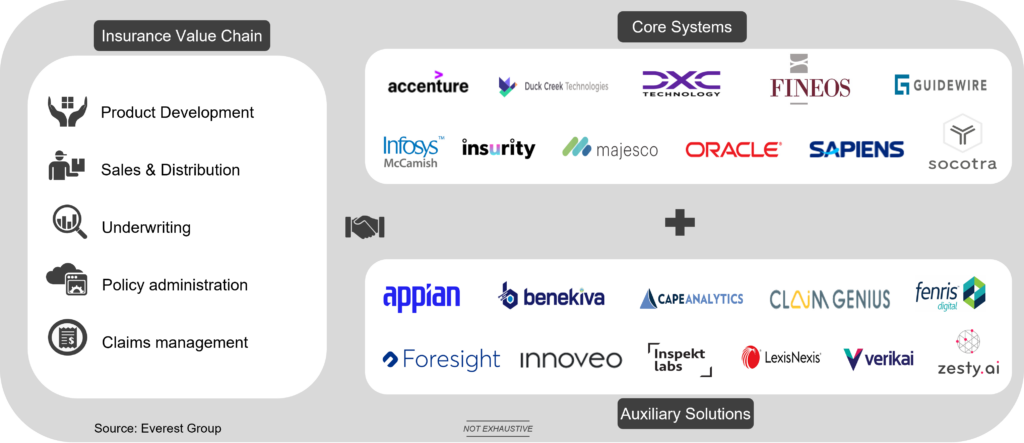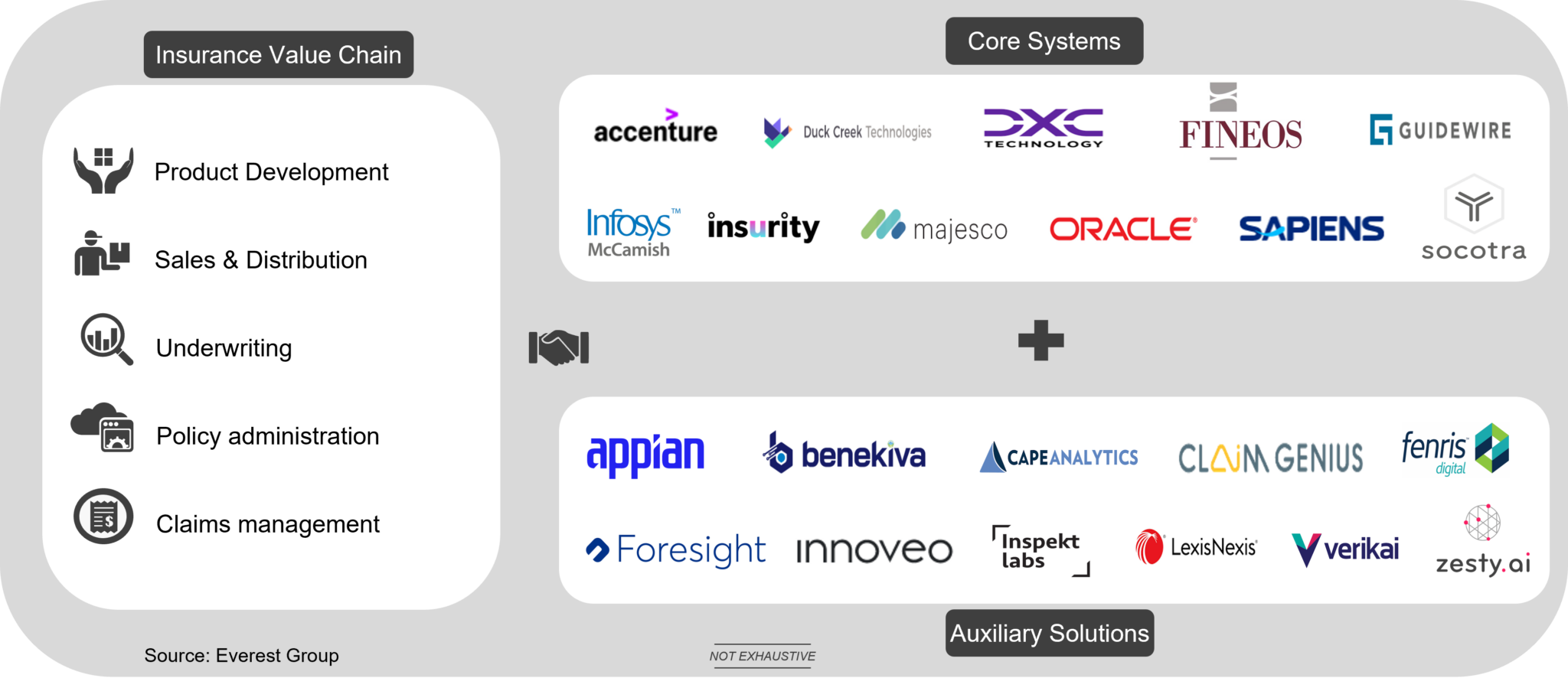 We are now seeing a massive explosion of SaaS applications in the entire insurance value chain that likely will reach a point where businesses start to see diminishing returns. Estimates suggest that organizations (with more than 1,000 full-time equivalent employees) use more than 100 applications on average at any given time.
This rapid expansion without any/sufficient oversight has led to SaaS sprawl, the unchecked proliferation of third-party applications that can impact the entire organization. Let's look at this challenge further.
What is causing SaaS sprawl?
The huge availability of new technology solutions tops the list of contributors to this issue. The willingness to adopt newer solutions has grown exponentially in recent years with the success of cloud-based applications and services. Shadow IT is another contributor.
While the freedom for employees to use applications without explicit approval from a centralized department can boost productivity and drive innovation, it also can have undesirable complications. The growing clout of low-code/no-code capabilities is pushing this trend further.
Infusing intelligence throughout the insurance value chain requires specific capabilities in the five core areas of product development, sales and distribution, underwriting, policy administration, and claims management (as shown in the exhibit above).
Specialized players that focus on one or a few areas are emerging, making choosing from the many solutions and managing multiple applications for end-to-end technology solutions extremely difficult.
As more and more insurance companies turn to SaaS solutions to streamline their operations, they can quickly find themselves in a tangled web of different tools and platforms.
Here are some other challenges that hinder organizations:
Each platform may have its own set of features and capabilities, making it difficult for insurance companies to keep track of the applications and potentially duplicate them
SaaS providers seeking to expand their presence in the value chain can potentially dictate the overall vision of an insurance technology stack through aggressive sales tactics pushing insurers to buy more tools (potentially causing more overlap). This can drive the total cost of ownership up and make getting the most out of the technology stack an aspirational goal
3. Issues integrating systems can cause data silos and inhibit the sharing of potentially crucial information, forcing carriers to incrementally spend on integration and custom builds to gather the single view of data and systems that is lacking
Being locked into contracts with providers makes it hard to modernize or move to alternate providers because migration would be costly

Put succinctly, dealing with compatibility issues among applications and the data interplay, and managing contract and upgrade cycles becomes a precarious juggling act. As a result, the great bundling of the entire insurance technology stack is needed!
Alternatively, it does not make sense to put the brakes on the development altogether. Restricting employees' ability to build and buy applications may do more harm than it can potentially help.
Organizations need to provide the foundation for their teams to think about software applications strategically. Below are recommendations for enterprises to seize the multitude of opportunities:
Define a target state vision and align SaaS providers to this vision through a mix of service-level agreements and continuous collaboration
Invest in cloud economics capabilities to manage the cost of cloud spend and conduct exercises to rationalize the SaaS environment every year
Educate business and technology executives on how to avoid SaaS sprawl
IT service providers have an important role to play as solution orchestrators. Working with a core insurance technology provider can offer tight integration to third-party SaaS solutions to manage integration, risk, data access, and cost challenges.
If you have questions or would like to discuss SaaS sprawl, please reach out to [email protected], [email protected], and [email protected].
Explore our upcoming webinar, IT Service Provider 2023 Forecast: The Top 5 Themes for Growth and Wallet Share, for emerging themes, challenges, and growth pockets in the technology services market.