As the life sciences industry shifts from a traditional model to a hybrid commercial model, Generative Artificial Intelligence (GAI) can potentially be a valuable tool for commercial functions ranging from customer support to lead generation. Read on to learn about the investments providers are making in GAI and leaders' viewpoints when it comes to embracing this technology.     
Watch the webinar, Welcoming the AI Summer: How Generative AI is Transforming Experiences, to learn more about how enterprises can leverage GAI to unlock business value.
Introduction of Generative AI in the life sciences commercial function
While Artificial Intelligence tools increasingly are being used across all industries to revolutionize customer engagement and drive business success, life sciences enterprises historically have been slow to adopt emerging technologies.
However, the life sciences industry is evaluating the potential impact of GAI for commercial functions. Let's explore whether it will reshape the commercial technology landscape or if GAI will succumb to the inherent risks and challenges present in the life sciences industry.
The latest evolution in AI technology, GAI can create unique content in the form of text, images, audio, graphics, code, and more, in response to given prompts within seconds. Its versatile applications have captured widespread attention, with venture capitalists investing US $2.6 billion in 110 GAI-focused startups in the US last year alone.
One of the noteworthy demonstrations of GAI is the Chat Generative Pre-Trained Transformer (ChatGPT), launched by OpenAI, which has gained significant attention and received substantial investments, including a recent funding round of US$ 2 billion in January 2023.
The pandemic has transformed the life sciences industry's commercial model, shifting from traditional in-person interactions to a hybrid approach that combines traditional and digital channels.
To attain a competitive edge, life sciences enterprises are prioritizing delivering hyper-personalized experiences to the end user. As a result, enterprises are prioritizing investments in data analytics and AI tools and are seeking domain-centric solutions over industry-agnostic solutions.
The commercial function serves as the customer-facing function for enterprises by engaging customers across multiple channels, potentially making GAI a highly valuable tool across the commercial value chain with a diverse range of applications and use cases.
Potential use cases of Generative AI in the life sciences commercial function
Enterprises' primary focus is optimizing their commercial processes by leveraging AI tools to analyze large amounts of data, identify patterns, and generate actionable insights for the commercial function, thus driving business growth. However, given the strict industry regulations, human intervention/oversight remains essential for the overall usage of GAI.
Exhibit 1 illustrates the key use cases that enterprises are striving to unlock in the near term.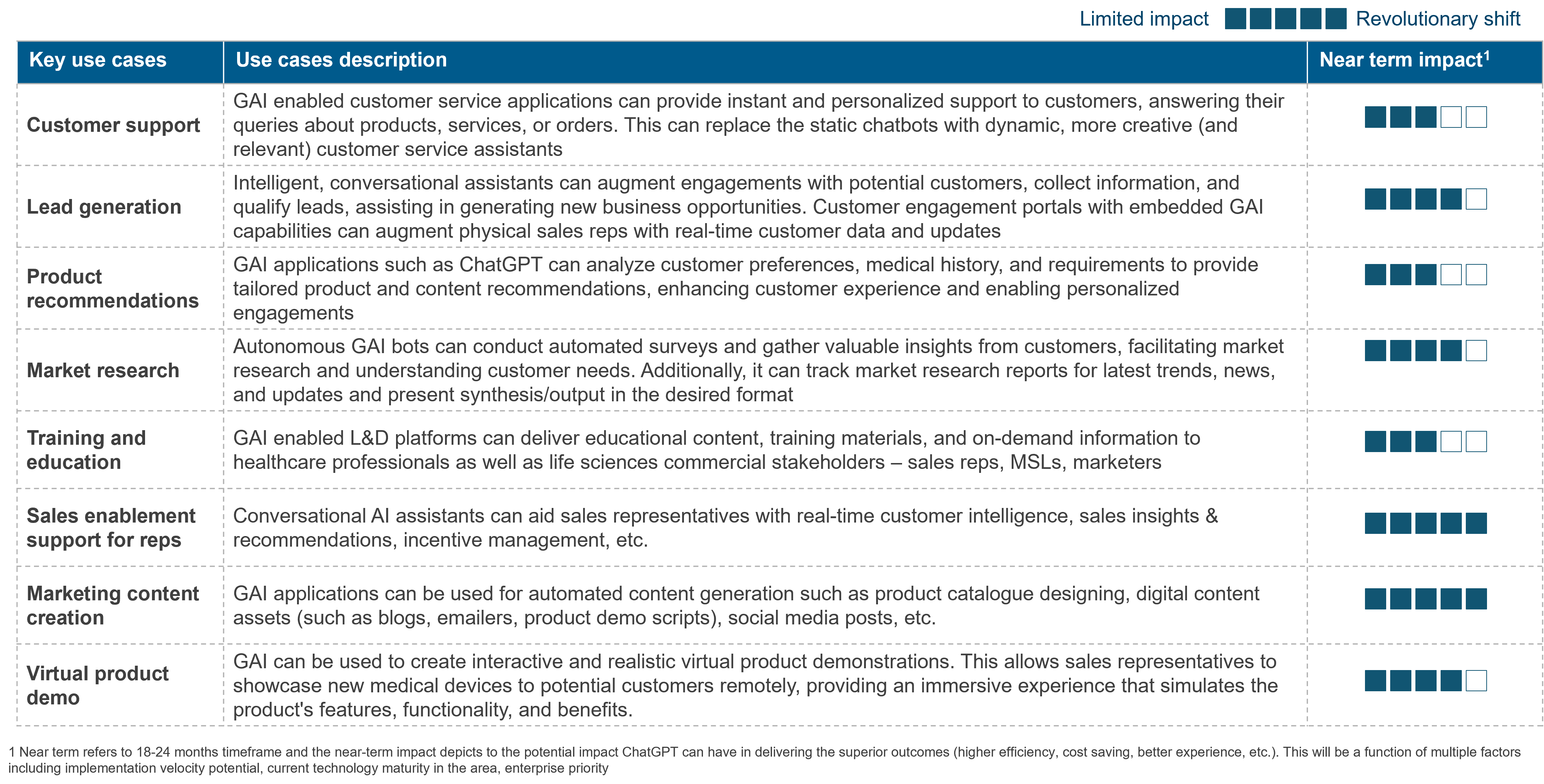 Voice of the life sciences industry in adopting GAI tools in the commercial function
As enterprises explore the range of capabilities offered by GAI, the industry reaction is mixed. Some leaders express skepticism about the accuracy of the information generated, while others are optimistic about leveraging GAI tools to revolutionize customer engagement.
Most leaders believe the current state of GAI tools is not fully ready for adoption. But they anticipate it will play a pivotal role in the future in delivering a seamless omnichannel experience (integrating tools on chat, email, social media channels, etc.) and delivering personalized content (relevant content to customer persona). This will make GAI an integral tool to ease the ongoing transition to a hybrid commercial model.
Exhibit 2 highlights the various perspectives shared by industry leaders about using GAI tools in the commercial function of the life sciences industry.

Please note: As ChatGPT is the most utilized GAI tool, we observe enterprises discussing it more, and over time, we will see a clear distinction between GAI tools and ChatGPT.
Recent activities fostering the adoption of Generative AI in the life sciences
Despite concerns raised by industry leaders, GAI-based tools hold significant potential for delivering compelling commercial benefits in the near term. With continuous technological advancements and extensive training of tools on diverse and reliable life sciences data models, these tools can provide enhanced support for the commercial function.
Life science commercial technology providers and services providers have made the following investments to kick off their GAI journeys:
Salesforce launched Einstein GPT, a GAI Customer Relationship Management (CRM) technology that delivers AI-generated content across various interactions, including sales and marketing functions at large scale
Veeva has integrated a new AI tool specifically tailored for pharmaceutical sales representatives into its platform. This tool enables sales reps to obtain precise information about physicians or hospital practices, empowering them to personalize their pitches
Axtria integrated GPT models into its proprietary products. For example, Axtria DataMAx, a cloud-based commercial life sciences data management product, leverages GPT to drive efficiency and productivity
Doximity, an online networking service for medical professionals, introduced DocsGPT, which leverages GAI to streamline healthcare personnel's communication by addressing product-related inquiries, aiming to reduce reliance on sales representatives
ZoomRx, a strategic healthcare consulting company, has developed the Ferma platform adopting GAI to analyze data from medical conferences, benefiting pharmaceutical companies' medical affairs functions. Some of its clients include Amgen, AstraZeneca, Biogen, and Merck
Microsoft has integrated ChatGPT into Azure to develop new GAI-based tools. In this collaboration, Microsoft brings its expertise in areas such as natural language processing (NLP), computer vision, and reinforcement learning
Cognizant launched the Cognizant Neuro®️ AI platform to assist enterprises in deploying GAI at enterprise scale
Enterprises are widely adopting GAI tools with ongoing efforts to address and resolve concerns related to privacy, potential racial bias in training data, and regulatory compliance.
Stay tuned for the second part of this series on generative AI in life sciences, where we will delve into the challenges enterprises face in adopting GAI tools, analyze the supply landscape, and share Everest Group's perspectives on the roadmap for tool adoption.
To discuss generative AI in life sciences, contact [email protected], [email protected], and [email protected].
Continue learning about GAI in the webinar, Welcoming the AI Summer: How Generative AI is Transforming Experiences.