With their growing maturity, Global Business Services (GBS) organizations in Banking and Financial Services (BFS) have taken on critical roles in the data value chain. To learn how banking GBS organizations have evolved to become best-in-class partners supporting enterprise data transformation and the key attributes they now possess, read on.
Data is a powerful force. Our recent study on data and analytics maturity in GBS revealed that best-in-class GBS organizations that leverage data deliver more than one and a half times the strategic impact in such key areas as improved employee and customer satisfaction, revenue growth, and reduced fraud risk compared to their peers.
Unlocking greater value from existing data is critical in driving transformation for BFS enterprises who are looking to make data available for use at scale, apply Artificial Intelligence and Machine Learning (AI/ML) to business cases, use big data to monitor and improve customer journeys and retention scores, detect and mitigate fraud and risks in real-time, and improve Return on Investment (ROI) according to our studies.
What's the role of GBS organizations in the data lifecycle?
Until a few years ago, most banking GBS organizations played discrete roles across the data value chain. But this has vastly changed. Today, more banking GBS organizations are well-entrenched across the data value chain and have the skills and leadership required to drive the data transformation journey for BFS enterprises, as the illustration below demonstrates.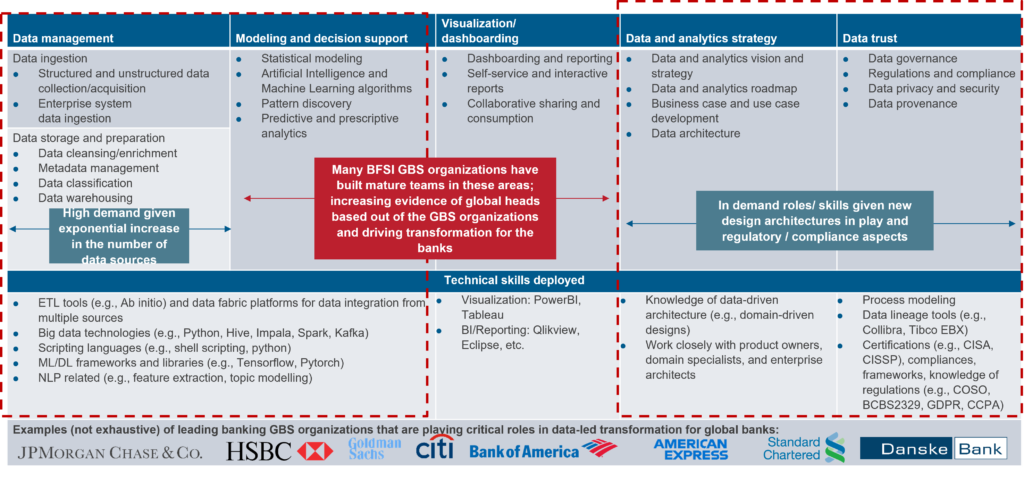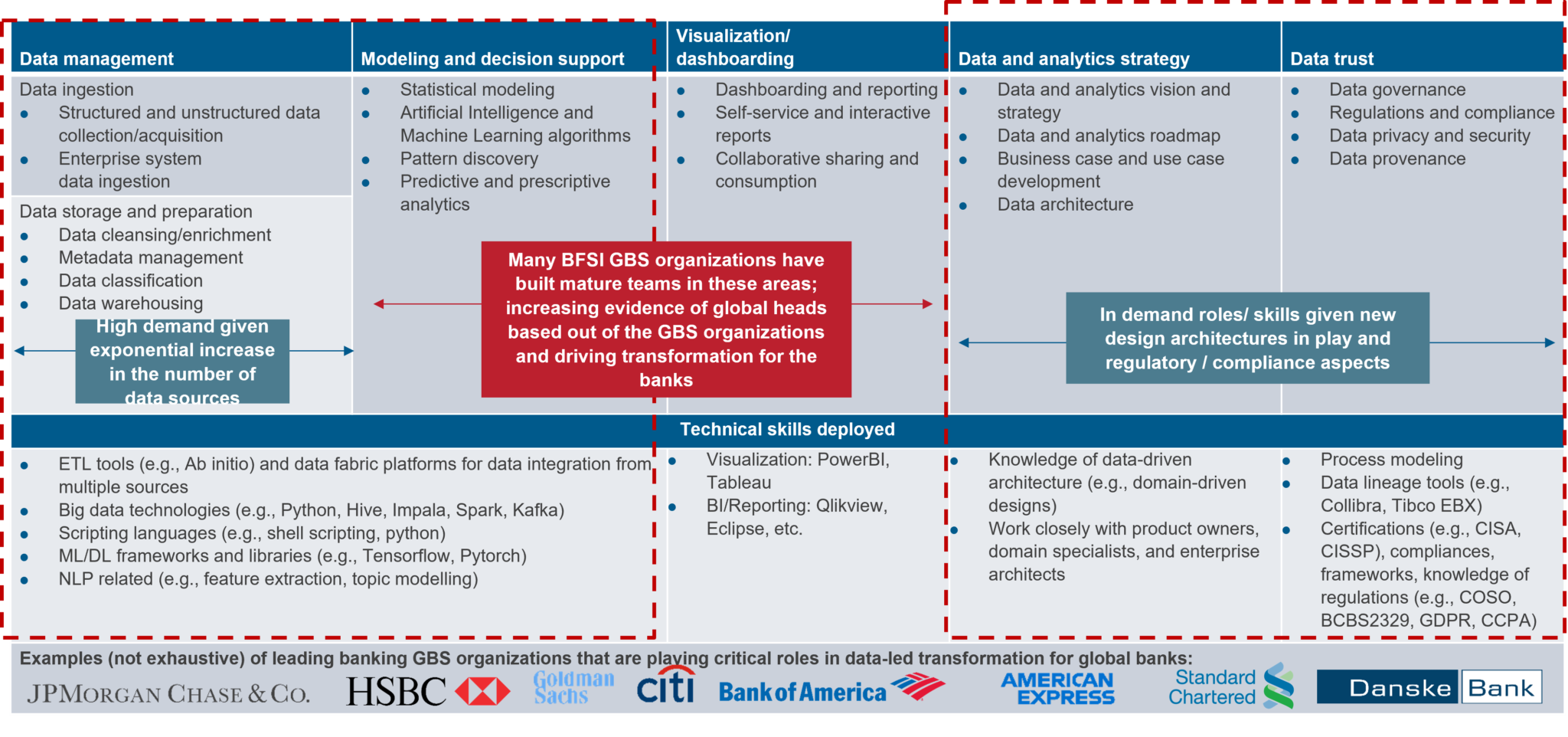 What key factors have contributed to this trend?
Here are some of the reasons we see for this growth:
Post-pandemic demand: Explosive growth in digital transactions has resulted in a vast trove of data that can be analyzed to better understand customer needs
Critical role of data: Data now underpins the success of the subsequent transformation phase for many enterprises that envision bringing together the other critical components of digital transformation such as cloud, AI/ML, front-to-back execution, self-service, resiliency, and mitigating cyber threats
Greater GBS maturity: Global enterprises recognize the leadership potential in GBS centers needed to drive enterprise transformation now exists. This is further accentuated by GBS' ability to adapt to new agile ways of working and, in the process, demonstrate an appreciation of customer-centricity via cutting-edge product and platform development work. All of this is critical in driving the broader enterprise-level vision
What maturity attributes do GBS organizations exhibit in supporting enterprises' data transformation initiatives?
As GBS juggle varied responsibilities, many demonstrate attributes of an ideal strategic partner, including:
Owning end-to-end functions: Many GBS organizations now own complete data transformation responsibilities. For example, a leading US bank GBS hosts a Finance and Accounts (F&A) Data Management team that supports finance business users' data needs. This team is involved in various activities across data management, data sourcing and provisioning, data governance, data lineage, production data validation, and metadata management. Similarly, other examples exist where the GBS leads the enterprise data capabilities and delivery function across multiple corporate functions, such as legal
Driving the future data organization through external collaboration: Many leading GBS organizations are ramping up teams of data specialists and collaborating with the external innovation ecosystem. They are working together to design, administer, and govern data-first setups comprising common data tools, techniques, processes, and data assets explicitly aimed at making data available for use at scale (e.g., accelerate self-service), apply AI/ML to business use cases (e.g., enterprise-wide bots to access knowledge residing across business divisions), and scale-up automation (e.g., 100 percent straight-through processing across front-to-back and reduce risk). For instance, a GBS of a leading US investment bank hosts a Data R&D team in India that collaborates with renowned academic institutions towards developing a scalable, computational system that can extract knowledge from millions of source documents and efficiently structure and represent them for business insights
Applying an engineering mindset to business challenges: As technology solution partners for enterprises, banking GBS organizations are solving business-critical problems by applying an engineering lens to them. For example, a leading European bank applies engineering and data sciences principles (e.g., data discovery) to prepare solution and technical designs from the GBS to meet regulatory commitments around data leakage prevention
Leveraging internal innovation to provide 'in-demand' data skills: In meeting critical challenges like the ongoing talent scramble, GBS organizations are picking up cues from global best practices and implementing them. In one case, a leading insurer moved its actuaries into broader data science positions and upskilled them with predictive analytics capabilities to fill the shortage of internal data scientists needed to extract usable customer insights from its newly formed data lake
Solving business challenges and providing critical insights: GBS organizations play an innovative role in delivering impactful data-led solutions that help enterprises solve many business challenges like the following:

Opportunity sizing and providing customer insights such as revenue and profitability analysis, user journey analytics, and customer service workload predictions
Designing and creating business-critical dashboards to review business performance
Assessing campaign impacts such as leveraging predictive analytics-based models to calculate ROI for planned marketing campaigns
Improving process efficacy by reviewing and streamlining process
Moving forward, GBS organizations need to bring together their leadership and prowess in technology, domain and organizational context, customer-centric approaches, and change management to become true strategic partners in data transformation journeys. Their continued ability to evolve is the quintessential juggernaut that will drive successful data transformation for enterprises.
To share your thoughts on the role of GBS in enterprise data transformation, reach out to [email protected].
You can also learn about how GBS organizations are developing and preparing for 2022 and beyond in our webinar, 5 Success-driving Actions GBS Organizations Need in 2022.