To combat a looming recession, healthcare providers will need to take strategic action, including cutting costs, investing in patient experience, embracing digital technologies, and strengthening outsourcing partnerships. Read on to learn about the healthcare provider trends coming and how service partners can help hospitals and health systems overcome the challenges in an economic downturn. 
Reach out to learn more on this topic or ask questions.
As we covered in our last blog, healthcare payers, particularly commercially-focused enterprises, have to brace for the impending economic downturn. The need to survive becomes even more essential for healthcare providers that are already bleeding under financial challenges.
The first half of the fiscal year 2022 was one of the most challenging times for hospitals in the US as they faced months of high-magnitude negative operating margins (Fig. 1). Although the margins stabilized slightly later, 2023 started on a rough note again owing to labor shortages, rising supply chain costs, and lower patient volumes – eventually leading to a further drop in hospital margins. To add to their challenges, the prospect of an impending recession is likely to exacerbate the situation.
As concerns of an impending recession take hold, patients may begin to reassess planned medical expenses in relation to other household costs, particularly when budgets become tighter. This can be particularly challenging for hospitals, especially given the aggressive cost-sharing measures associated with high-deductible health plans (HDHPs), which can pose additional obstacles to their financial recovery.
Recently, 4 in 10 Americans were compelled to delay or skip healthcare treatments, trim regular household expenses, or borrow money due to rising healthcare costs. These pressures will lead hospitals to carefully re-strategize their investments. Let's deep-dive into some of the changes that hospitals and health systems can expect in a recessionary year.

What healthcare provider trends can we expect in a recession?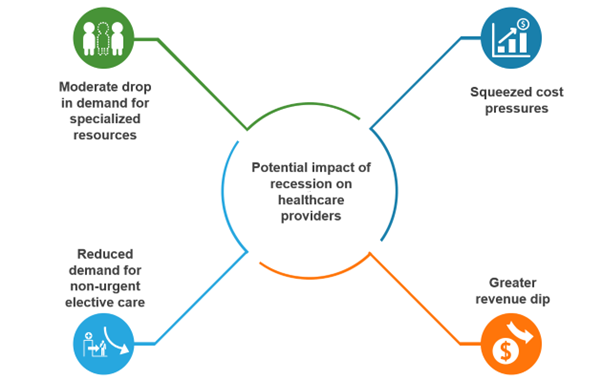 Moderate drop in specialized resources demand: An extreme shortage of clinical resources last year led hospitals to depend heavily on expensive contract nurses, extended overtime hours, and more clinical errors, eventually resulting in worse patient outcomes.
While the demand for clinical resources is expected to continue to keep provider leaders up at night, a full-fledged recession might ease the shortage a bit. Several healthcare institutions reported a rise in nurses in the last recession because some retired nurses started working again or postponed retirement.
However, this is not expected to eradicate the labor problem in the long term as the "experience-complexity gap" will only worsen with an increasingly aging population having complex and chronic care needs
Squeezed cost pressure: Hospitals will continue to see cost pressures hitting their margins because of increased baseline labor rates and supply chain costs. The pandemic and ongoing geopolitical issues elevated the supply chain disruption leading to costlier negotiations for specialized medical products. As a result, medical supply prices were up a whopping 46% at the end of 2021, compared to 2019.
Furthermore, it is important to note that healthcare provider businesses face a considerable amount of exposure to labor costs. This is especially true for more labor-intensive provider businesses like home health, personal care services, and hospice, where labor can account for more than 50% of costs.
Unfortunately, while costs continue to rise, reimbursement rates tend to only increase modestly because pricing negotiations with payers take place over multiple years, and government entities adjust pricing annually. While providers may seek to re-negotiate with health plans midway, pricing corrections may not be substantial enough to adequately prepare for the financial frugality that patients may begin to exhibit
Reduced demand for non-urgent/elective care: An impact on household budgets tends to make patients rethink planned surgeries and, in some cases, delay the avoidable, non-threatening ones as well. A survey conducted during the Great Recession found that families with limited financial means prioritized spending on essential non-medical items and decreased their healthcare utilization.
The survey also revealed several concerning trends in healthcare, including patient anxiety due to the inability to pay medical bills, a rise in missed appointments, an increase in significant stress symptoms, and new illnesses and health problems resulting from a lack of preventive care.
Moreover, with reduced patient volumes, healthcare providers may face increased competition for patients, particularly in the outpatient settings, leading to lower prices and diminished profitability. The competition can be further intensified with the entry of players like Walmart and Amazon expanding their retail clinic presence
Greater revenue dip: A recession leads to an increase in uninsured patients which negatively affects hospitals' revenue streams. During the Great Recession, hospitals suffered a huge rise in bad debt and uncompensated care.
This impact can be more prominent for hospitals with higher exposure to commercial plans. According to the American Hospital Association, the hospital reimbursement rate by private payers increased from 116 percent of hospital costs in 2000 to 128 percent eight years later.
This rate has continued to climb, with hospital systems now charging commercial insurers an average of 208 percent of their costs or even more, findings from a 2019 Rand report that analyzed claims data from private employers in 25 states show.
If unemployment leads to a shift from privately-insured plans to Medicaid, hospitals could lose revenue. While cutting costs to save margins is an option, this might have a spiraling effect as resource and bed shortages would further impact revenues.
These healthcare provider trends will compel suppliers to take a streamlined and targeted approach to survive a recession. Here are some of these strategies:
Four strategies for healthcare providers to combat a recession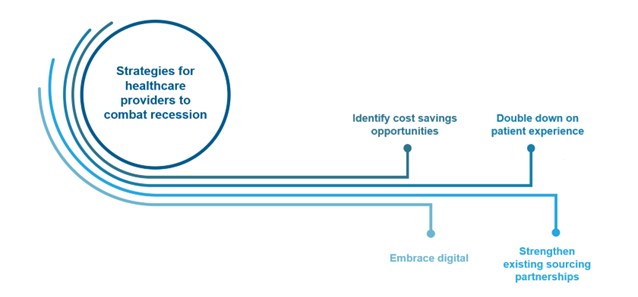 Identify cost-saving opportunities: Healthcare providers will have to conduct robust audits to identify cost-saving opportunities across the front-end, mid-, and back-end revenue cycle processes.
By identifying areas where costs can be cut without impacting patient care, providers can take concrete steps to reduce expenses and operate more efficiently. Providers with in-house revenue cycle management (RCM) operations can consider outsourcing as well as offshoring to benefit from cost arbitrage by identifying the right process, delivery, and partnership for outsourcing. In fact, outsourcing medical coding staff alone can save hospitals 25-30% on administrative costs.
Healthcare providers that have partially outsourced operations can consider expanding sourcing partnerships to other segments after a comprehensive assessment. Several health providers, such as Northern Light Health and Owensboro Health, have accelerated their RCM outsourcing plans in collaboration with service providers
Double down on patient experience: With competition intensifying during a recession, healthcare providers can differentiate themselves by investing in initiatives that improve patient satisfaction and loyalty. Providers need strong customer experience (CX) capabilities and to deliver informed and robust patient communication addressing a range of administrative and clinical issues.
Providers should strategically focus on improving awareness of overlapping needs for better relationship management, segmentation, marketing, analytics, product innovation, and engagement. The CX program should be built on fundamentals of personalization, particularly for complex care needs, as every patient has their own needs and preferences.
Healthcare providers should be open to feedback and actively seek to improve the patient experience by conducting patient surveys, analyzing data to identify improvement areas, and implementing changes based on patient response
Embrace digital: Providers will have to invest in future-proofed digital tools, solutions, and innovative portals that not only improve the front-end patient experience but also eradicate redundancies in the back office.
These solutions can span from point-based, pre-configurable solutions to E2E cloud-based artificial intelligence (AI)-enabled platforms coupled with automation and analytics capable of consuming vast amounts of information from data lakes.
A testament to this opportunity can be seen in Norman Regional Health System's investment in VisiQuate's AI-powered Denials Management Analytics and Revenue Management Analytics to power RCM operations using analytics.
On the clinical side, providers will have to invest in solutions that provide a comprehensive look into patients' care journeys through proactive insights. Areas like remote monitoring and population health analytics should no longer be considered the care of the future and must be leveraged now to improve care coordination. Some of these efforts can be channelized in collaboration with health plans to ensure that care gaps are closed in time
Strengthen sourcing partnerships: Healthcare providers should comprehensively review current sourcing partnerships by taking an outcome-focused approach, adopting the right technological solutions, and creating a dynamic communication channel to manage operations and prioritize escalations.
By clearly defining performance metrics and incorporating a robust governance mechanism, healthcare providers can get the right benefits and meet the anticipated objectives.
What does this mean for service providers?
Service providers in the RCM operations space will have to adopt a unique and differentiated go-to-market strategy to solve these healthcare challenges by taking into account individual as well as market-specific issues.
This can be achieved by having a strong resource base with specialized skills and expertise, such as nursing, coupled with the scale that can support providers based on fluctuating demands.
Moreover, service providers also will have to leverage digital partnerships while simultaneously building their core competencies. By taking these steps, service providers can help hospitals and healthcare organizations weather the coming storm.
To learn more about healthcare provider trends, contact Lloyd Fernandes or Vivek Kumar.
Watch our webinar, Transforming Customer Experience in Healthcare with Hyper-personalization, to learn about hyper-personalized experiences in healthcare that span care management, proactive grievances redressal, and billing and payments.