The recent months have been challenging for retail and Consumer Product Goods (CPG) firms due to the COVID-19 outbreak, with the industry suffering from both demand and supply shocks. However, this situation is actually a blessing in disguise for many shared service centers or Global Business Services (GBS) centers, which have seized the opportunity to showcase their capabilities to adapt to newer and more agile operating models.
As we discussed in detail in an earlier blog, retail and CPG GBS centers have evolved over the years to provide support across the value chain, delivering core processes such as sales and marketing and supply chain management. And digital services increasingly core to service delivery. In fact, about 40% of all new retail and CPG GBS set-ups in the past two to three years have been centered around digital capabilities, analytics and automation technologies in particular.
Many GBS centers have gained confidence and visibility across their enterprises during these turbulent times. In one example, a CPG firm's GBS center swiftly moved to a work-from-home delivery model, while simultaneously helping its service provider get back on its feet by supplying spare laptops and other assistance. The center also took on additional activities from other parts of the enterprise, completing complex tasks such as quarter-close and year-close using a work-from-home construct – a first for the entire enterprise.
The disruptive environment provided many retail and CPG GBS centers the opportunity to elevate the support they provide to their enterprises. We believe these GBS centers can have an impact in a variety of ways, three of which we describe below.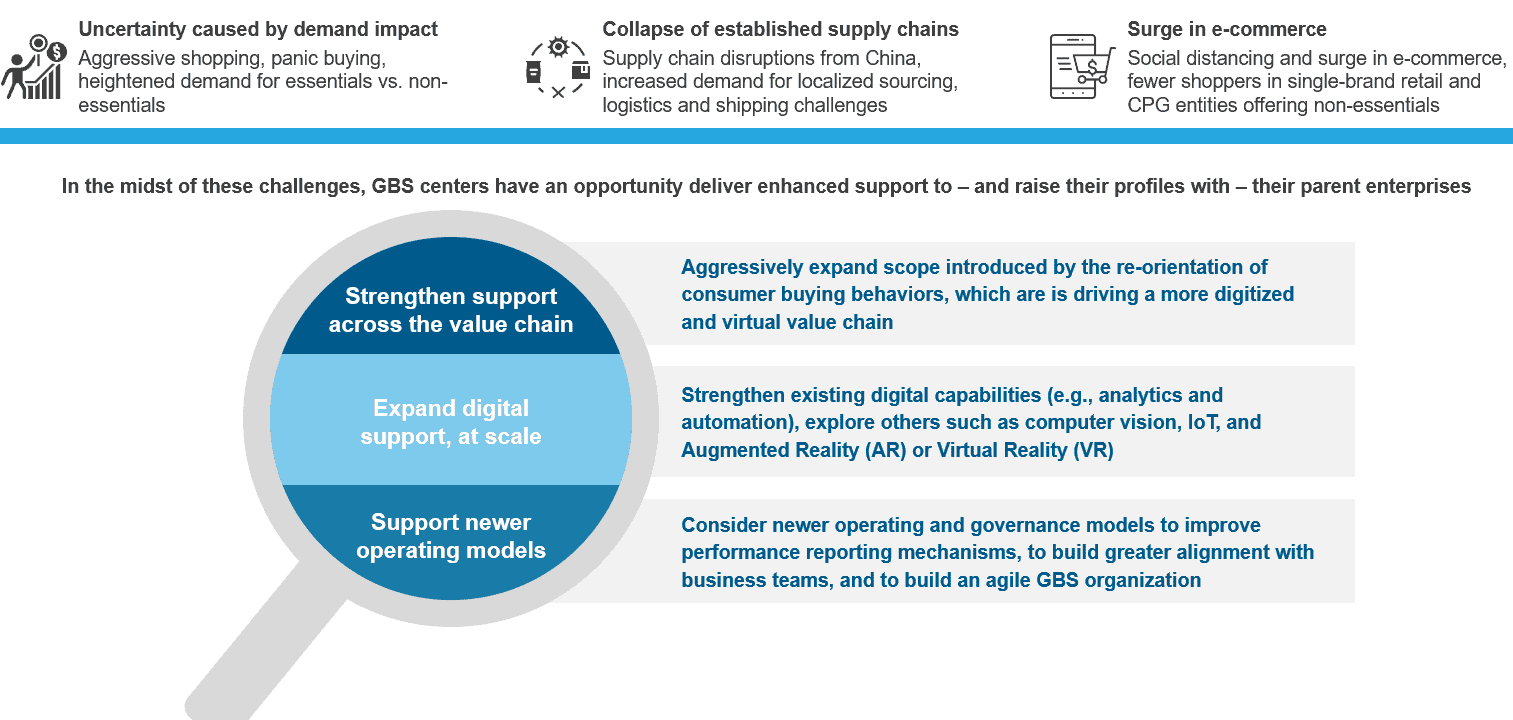 Strengthen support across the value chain
With the re-orientation of consumer behavior and supply chain disruptions, retail and CPG enterprises are likely to adjust several elements across the value chain – from supply chain and logistics to e-commerce architecture. GBS organizations are well placed to lead initiatives related to the revised value chain such as managing e-commerce webpage design, AI-driven customer sentiment analysis, and pricing optimization. The sharp increase in online purchasing also increases the scope of delivery opportunity in areas such as fraud detection, identification of counterfeit products, integrated cashless payment systems, and promotion management, all of which have been in nascent stages of adoption to date.
Expand digital support
In the short run, GBS centers are likely to continue to concentrate on established technologies such as analytics and automation to provide robust solutions in areas such as demand forecasting and customer retention. Supply chain analytics, for example, will become imperative for the organizations. In another example, a leading CPG company's India-based GBS center is using advanced analytics to help its company reduce customer churn and adopt more targeted marketing practices.
Some mature retail and CPG GBS centers, as part of their longer-term strategy, are looking into technologies such as computer vision, IoT, and Augmented Reality (AR) or Virtual Reality (VR). A few large chain retailers have started to implement smart IoT-based solutions for better warehouse management, which has helped to increase staff efficiency, reduce error rates, and reduce turnaround time.
Ride the disruption wave and adopt newer operating or business models
Many GBS organizations are modifying their current workforce and governance strategies – testing virtual/remote working models as alternatives to locations/BCP strategies, deploying a wider array of metrics to measure value beyond the cost benefits, taking end-to-end responsibility for specific services or technologies/platforms (cultivating an intrapreneurial mindset), and identifying opportunities to better collaborate with external ecosystem, to name a few. We are likely to see structural and governance changes in the next 12 to 18 months as GBS organizations look to integrate better with the enterprises as strategic partners.
The virus has impacted some enterprises more than others. Based on our recent research of retail and CPG enterprises with GBS centers in offshore/nearshore locations, about 60% of retail/CPG enterprises (those that are considered "non-essential," or are in a single retail brand) are likely to face increased cost pressures, primarily driven by industry headwinds. In the immediate term, these enterprises are likely to be more selective in terms of strategic investments, and their GBS organizations will need to be proactive in adjusting their operating models, adjusting workforce strategies, and accelerating delivery to provide higher value add.
The next 12-18 months is sure to be a turbulent – but transformational – time for GBS centers; their roles are likely to change. Keep an eye out for our upcoming report on the next wave of evolution for retail and CPG GBS for more details. And reach out to Bharath M or Samartha Agrawal if you have questions or comments.