Delivering new customer experiences has become the centerpiece of many enterprises' strategies to achieve sustainable growth. In fact, our research indicates that 89% of enterprises are using digital technologies to redefine customer experience, allocating as much as 30-35% of their marketing budget to experience design. And this share is expected to increase to 50-55% by 2022.
Enterprise approach to experience design
Designing a successful customer experience is an intricate play of many enabling factors, including a well-planned strategic roadmap, a well-defined organizational structure, strong creative execution, the right mix of technology solutions, and use of the right channels, as illustrated in the exhibit below.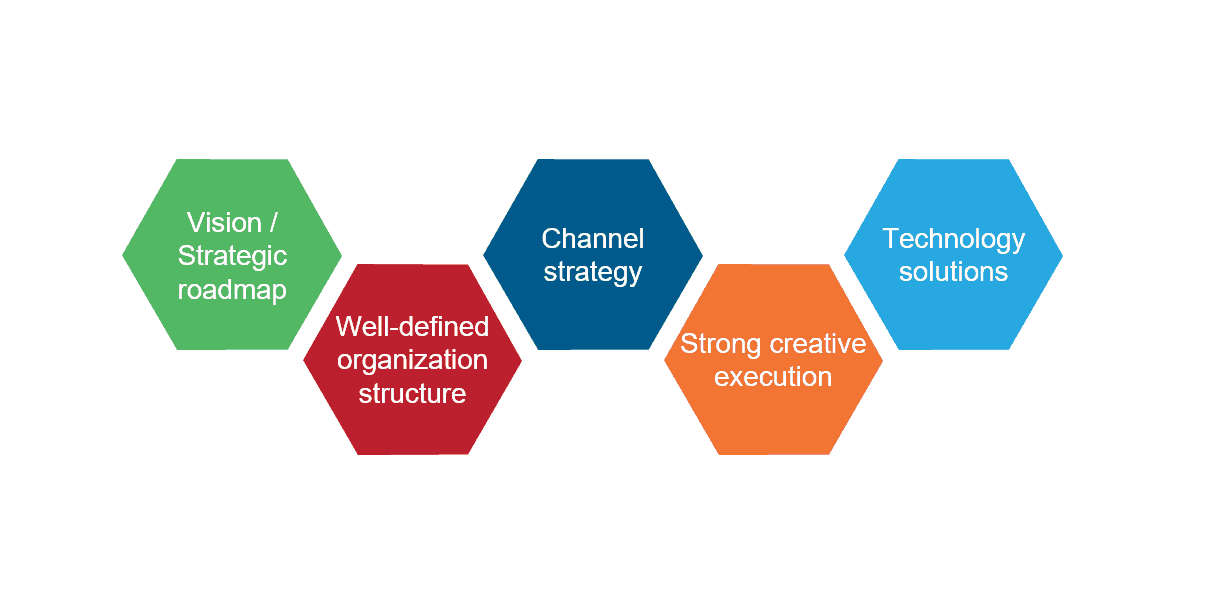 Given this complex interplay of multiple factors, enterprises are actively engaging with service/technology providers, such as design agencies, consultancies, IT service providers, and technology providers, to deliver an enhanced customer experience. However, the number and range of providers involved in delivering the desired experience are creating an extremely fragmented vendor ecosystem; our research shows that an enterprise might work with as many as 100 design agencies across various customer experience initiatives globally. While the aim is to partner with players best suited to deliver on a particular aspect of an engagement, a fragmented ecosystem results in a siloed, disconnected approach to design and lack of success metrics ownership.
Let's take a look at the area of website design, where one service provider could be responsible for User Interface (UI) design (including user research, defining user flows, creating wireframes, etc.), another for content creation (animations, text, videos),  and a third IT service provider for platform selection and development. A website's key success metrics are as closely linked to UI as to the underlying technology and a persuasive content strategy. Thus, if the website does not bring these aspects together seamlessly and does meet user expectations (in terms of the bounce rate and time spent per page, among others), which service provider should be held accountable?
Thus, defining and owning the success metrics are the key to any experience engagement's success.
How are service providers – and enterprises – responding?
Realizing that they can no longer cater to just one aspect of the value chain, both design agencies and IT service partners are bolstering their design and technology portfolios to deliver business value and act as strategic, one-stop partners to their customers. Thus, design agencies are ramping up their technology expertise to build data, analytics, and platform capabilities, while IT service partners are actively acquiring design agencies to build UI/UX, content, digital media design/execution, and design consulting capabilities. To take an example, over the last six years, Ireland-based digital agency Accenture Interactive has carried out 30+ acquisitions to boost its media, digital, and creative credentials across the globe. Another example is the London-based design agency WPP, which appointed its first-ever CTO in October 2018, committing itself to build a robust technology and data strategy.
However, even as service partners rush to build end-to-end capabilities, buyers remain largely unconvinced. They are continuing to partner with individual service partners for their experience engagements. Some doubt the ability of their IT service partners to deliver a strong creative impact, while others believe that design agencies cannot truly understand underlying platforms/technology solutions to deliver viable solutions.

Is a solution in sight?
It is imperative for enterprises to understand that experience design is KPI-led design. Hence, they must push service providers to define and own KPIs that reflect the overall engagement's success. Moreover, buyers should engage with service providers that possess robust end-to-end experience management capabilities. Service providers can acquire such capabilities by offering a broad solutions portfolio (either developed in-house or through a partnership network) across creative and technology execution. Doing this will pave the way to successful experience design, consolidation of the vendor portfolio, and higher service provider accountability.
What has your journey been? Share your thoughts on designing experiences for your customers with me at [email protected].