Developed economies around the world (with the exception of Spain's) are facing generational low levels of unemployment. While that's good news for workers, it's a serious talent deficit problem for employers. How bad is it?
In 2018, the number of unemployed persons per job opening in the U.S. fell below the benchmark of one. In plain speak, that means there are more job openings out there than the number of relevant available people to fill them.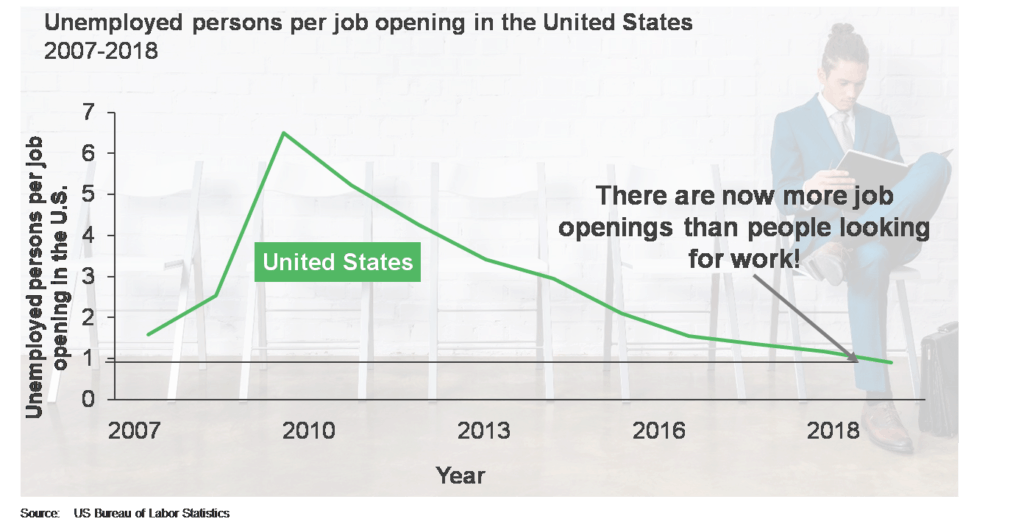 And the Beveridge curve tells essentially the same story in Europe.
Against this backdrop, I was very interested in hearing what solutions and ideas were presented at NTT DATA's "Captaining the Talent" Summit in Lisbon last month. (Full disclosure – NTT DATA arranged my travel for the event.) The event featured a range of speakers from all walks of life – from the former captain of New Zealand's national rugby union team to British perfumer Jo Malone to TED Speaker and eminent neuroscientist Mariano Sigman.
The common thread among all the sessions was the question on every senior executive and leader's mind: how to navigate the choppy waters in a talent-deficit world.
Key Takeaways
Actively addressing FOMO is vital to talent acquisition and retention: Today's millennial and younger employees have constant FOMO, or fear of missing out. They often question whether they're working on the most exciting project, if their firm is solving for the toughest problems out there, and if they themselves are doing the most they can. To acquire and retain these employees, you need to go beyond workplace "gimmicks" like massages, pet-friendly offices, flex hours, and daily ice cream. Your employees need to be invested your company's mission, and you need to make a genuine effort to make them feel empowered, not just rewarded.
Bridging the physical environment must be seamless: Most enterprises fixate on the consumer experience, but often forget that any digital transformation has to be valuable to their employees as well. Employees face friction in executing daily work tasks as they grapple with legacy systems. As their expectations from work and the workplace change, enterprises need to ensure they embrace consumerization of IT and help employees feel more productive and engaged through internal digitalization – from admin/expense/travel tools to more effective knowledge management, trainings, etc. At Everest Group, we firmly believe that true digital transformation has to essentially move from Customer Experience to Stakeholder Experience, enabling significant improvement for four personas – customers, employees, partners, and society.
Unlocking true motivation needs reimagined incentives: Traditional rewards and recognition mechanisms are limited in the impact they create, and a one-size-fits-all approach no longer cuts it. Intriguing science behind motivation and its dynamics suggest that you need to work more creatively to enable channels that allow your employees to tap into their search for meaning, e.g., creating a difference in the world they live in. And you must embrace more intelligence and empathy, enabled by technology, to provide a more personalized experience for your employees, like offering them customized learning avenues and opportunities.
Enabling true diversity goes beyond a checklist: More often than not, the diversity and inclusion conversation comes down to virtue signaling…a board seat here, a person of color there. But true diversity has to include diversity of thought as well. Successful organizations democratize idea incubation so that even new/young employees feel empowered to contribute and create impact through avenues such as hackathons and internal crowdsourcing initiatives.
Closing Thoughts
What we face today is a talent deficit of a unique nature. In the mature markets, there isn't enough talent to go around, while the future of work in a global technology environment brings a significant reskilling/upskilling challenge for traditional offshore/nearshore geographies. The common underpinning theme is the irrevocable shift in the profile of people that work in this environment. Talent is changing across the life cycle – from sourcing to retention to relevance – requiring a rethink of traditional talent management practices. How we respond is going to create an irrevocable difference in the future of work.