EXL Service announced yesterday that it had entered into a definitive agreement to acquire Outsourcing Partners International (OPI), one of the last standing pure-play Finance & Accounting Outsourcing (FAO) service providers.
On the face of it, EXL and OPI come across as fairly similar companies – pure-play BPO providers with strong FAO and analytics capabilities, both with strong capabilities in serving financial services clients. OPI will broaden EXL's delivery footprint in Eastern Europe and South East Asia, but beyond this I don't see any complimentary capabilities. So why this acquisition? I believe the answer lies in scale. With the FAO market maturing, it is becoming increasingly important to have sufficient scale to be able to serve large buyers and compete with the big boys, while at the same time having the economies of scale to be able to serve the mid-market effectively.
However, what is interesting to note is the effect of this acquisition on the already crowded FAO service provider landscape. In Everest Group's recently concluded FAO Annual Report, we classified 20+ FAO service providers on our Performance | Experience | Ability | Knowledge (PEAK) matrix into the categories of "Leaders", "Major Contenders", and "Emerging Players" based on their market success and overall capability. We had noted in the report how competition was heating up in the "Major Contenders" category, and how service providers such as TCS, WNS and Wipro were mounting a strong challenge to "Leaders" on our FAO matrix. While EXL and OPI were individually showing strongly in the middle of the "Major Contenders," pack, our analysis shows the combined entity will be propelled into the league of service providers strongly contesting for a coveted seat in the "Leaders" category.
Service providers on either side at the threshold of the "Major Contender-Leader" divide – e.g., Capgemini, HP, Infosys BPO, TCS, Wipro, and WNS – need to sit up and take note of this acquisition. There is now a new kid on the block with the scale and capability to give them a run for their money (this, of course, provided EXL manages to integrate the operations seamlessly considering both companies have very different corporate cultures.)
At the same time, buyers are bound to ask how this new entity will be different from the rest. The painful answer is, I don't see any differentiation arising from this acquisition beyond the increased scale that will allow EXL-OPI to play in the "wannabe" big boys' league.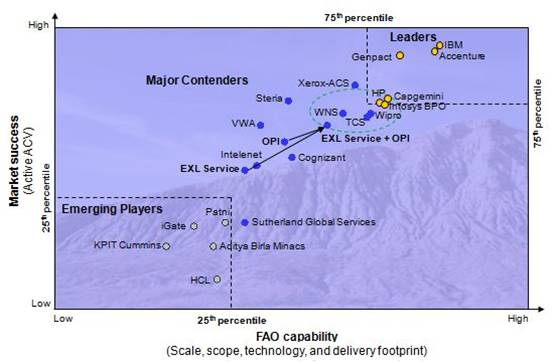 Something about this pattern of acquisitions in FAO intrigues me. First, Genpact was being touted as a strong candidate for acquisition, with rumors doing the rounds that Cognizant was keenly interested. Genpact completely squashed all the rumor mills with back-to-back acquisitions of Headstrong and smaller cloud computing start-up Akritiv Technologies, virtually wiping off the "to-be-acquired" tag. Rumors abounded about EXL being on the bidding block after having gotten itself valued, and that HCL was emerging as a strong suitor. However, EXL reversed the scenario by acquiring OPI. Now that brings us to WNS, another pure-play BPO player that has been rumored to be on the bidding block for many years now. Any bets on whether WNS will go out on a limb and acquire, rather than being acquired, just so my carefully constructed pattern will remain intact?