Now in its 12th year, Medidata NEXT brings together several thousand life sciences professionals across seven global events to discuss the future of clinical trials. Here are my take-aways from the New York City edition, which occurred over two days in late October.
Clinical + commercial data is the future: As the life sciences industry moves toward outcome-led business models, companies can unlock significant value by collapsing the silos between clinical and R&D and sales and marketing. Bringing together commercial and clinical / R&D data allows them to generate more meaningful insights into patient behavior and preferences, and spark the discovery process for newer therapies and approaches. A number of life sciences firms have already begun tapping into this powerful data combination. For example, Medidata earlier this year acquired SHYFT Analytics, the maker of a cloud data analytics platform specifically designed for the pharma and biotech industries. And IQVIA started down this path with the OCE platform after the merger of Quintiles and IMS and subsequent company renaming.
Platforms are becoming mainstream: Everybody's jumping on the platform bandwagon. Examples include the Accenture-AWS-Merck research platform, ZS's REVO Analytics, and Medidata's Intelligent Platform for Life Sciences. The hallmarks of these and other platforms in this space are the combination of products and services in a utility-based construct, where customers can plug in and plug out based on need. Customers at Medidata's NEXT event voiced a pressing need for technology partners to underwrite the risk of innovation by orchestrating the ecosystem (aka guaranteed outcomes).
Moving from real world data to real world evidence: Life sciences enterprises are starting with low hanging fruit such as EHR-to-EDC integration through various sites to unlock value from data. To truly move the needle from data to evidence, and thereby help life sciences firms navigate outcome-based contracts, ecosystem participants – including enterprises, technology vendors, service providers, data providers, intermediaries/brokers, and patient advocacy groups – need to put more skin in the game and focus on end outcomes, such as patient experience, satisfaction, and clinical/health impact.
CROs Are A-Changing: The CRO market is at an interesting inflection point as the traditional model has a limited runway for growth. The IQVIA model of combining clinical and commercial expertise is a sign of things to come, and CROs are doubling down on technology adoption to navigate this change. Another example is Medidata's announcement of a five-year agreement with Pharm-Olam to unify operational systems to support study executions on the Medidata Cloud, providing a single, unified view of clinical trials to all stakeholders.
Crowdsourcing clinical trials – are we there yet?: The industry is abuzz about the possibilities resulting from developments that aim to advance patient engagement, such as ePRO and advancements through Apple Watch and ResearchKit. While a crowdsourced clinical trial is some time away, several important steps have already been taken to help bring patients to the center of the clinical trial design and process, and assume greater ownership of their health outcomes. One particularly interesting use case is that, following GSK's and its partners' Patient Rheumatoid Arthritis Data (PARADE) study, Apple has obtained FDA clearance (not approval) to investigate the feasibility of using a mobile app to recruit and enroll patients in a study and gain insights about rheumatoid arthritis in a real-world setting.
Accelerating cloud adoption: While life sciences firms have been putting an increasing number of enterprise applications and data on the cloud, they have been hesitant to do so with R&D and clinical data. However, the recently announced Accenture-Merck-AWS research platform signaled a changing wave of initiatives. For example, AWS and Google's and Microsoft's cloud platforms were prominently present at Medidata NEXT. We expect these lead steers in the market to accelerate the cloud movement in the life sciences industry.
Partnerships are key to unlocking value in the digital ecosystem: Life sciences firms need to forge closer bonds with payers, providers, patient advocacy groups, etc., to truly bring the vision of a converged ecosystem to life. Several prime examples of this shift have emerged in the past year or so. One is the outcome-based contract struck between Amgen and healthcare services company Harvard Pilgrim for the cholesterol drug Repatha. Another is Medidata's work with the Biden Cancer Initiative (BCI) community to coordinate a consortium of clients to share IoT data in order to analyze determinants such as quality of life and disease progression.
The pivot to patient-centricity hinges on trust orchestration: While life sciences firms have been trying to become more patient-centric, there's a sizable trust deficit with their core constituents. In fact, as the following exhibit illustrates, the pharmaceutical industry ranks at the bottom of the perception scale among adults in the U.S., second only to the federal government. As life sciences companies collaborate more closely with payers and providers, the ecosystem needs to reaffirm trust with patients and other stakeholders. Trust assurance is going to be key for the future of a converging healthcare ecosystem. In this context, how life sciences firms coordinate care with payers and providers will be crucial in reinstituting trust with patients and enabling care coordination.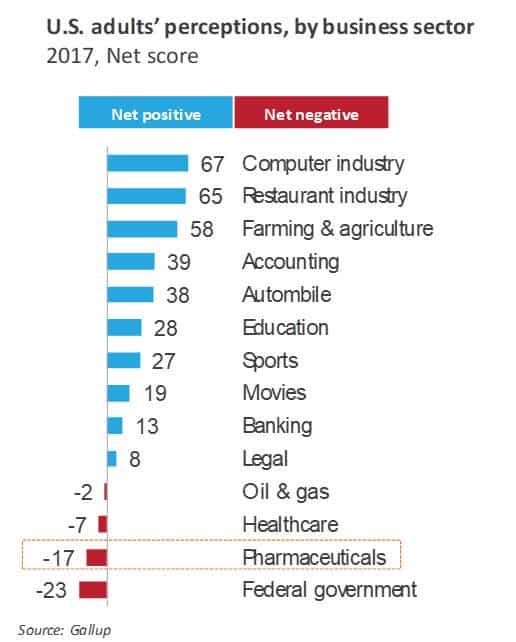 The life sciences industry stands at the cusp of change. To truly move towards a patient-centric and outcome-based ecosystem, stakeholders need to collapse the traditional stack, break through silos, and embrace collaboration.
Market stakeholders, including Medidata, have made an interesting set of investments, on a platform of growth, in these areas.
Check back here often to see our analysis of how various life sciences stakeholders are collaborating to coordinate care and assure patient outcomes, ultimately to advance the future of life sciences.