When U.S. President Donald Trump met with the CEOs of a host of major pharmaceutical companies in late January 2017, one of his primary declarations was that drug makers should bring manufacturing and production, much of which is done in countries like India and China, back to the United States.
While moving FDA-certified production factories and establishing new supply chains back onshore is an extremely difficult, years-long ordeal, failing to take some type of proactive step to appease the Trump administration could open the door to potentially unfavorable actions for the major pharmaceutical companies. Think patent reforms, price lock-downs, consumer advertisement bans, and import/export tax mandates, all of which could wipe out the lucrative margins from U.S. consumers.
But there's one easy step pharma companies can take to mollify the administration's overarching agenda: start moving services jobs – such as IT, finance, and HR – back to U.S. turf.
Aprrox. 110k to 140k pharma industry services jobs have been offshored, with the majority residing in India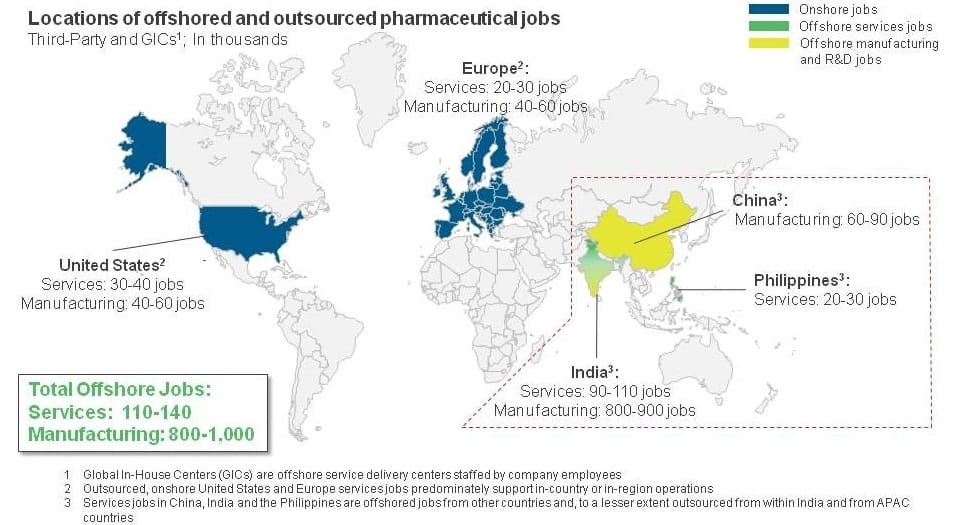 If you look at the dollars, cents, and sense of doing so, it really is win-win. Consider:
Services jobs are the least likely to disrupt core business operations if brought back onshore
They're comparatively easy to move, as they're essentially labor-based and mostly centralized in offshore service centers
Doing so would not only provide gainful employment to more U.S. workers, but also signal a commitment to invest in the U.S. workforce and worker productivity
Pharma companies could avoid a negative impact to their bottom lines (i.e., a 50-70 percent labor arbitrage) if they effectively leverage digital technologies and capabilities to transform their delivery models as they repatriate the services.
Let's take a deeper dive look at this last bullet point. True that India's and other low-cost regions' skilled workforce and cheaper labor made them attractive locations for offshoring pharmaceutical services jobs. This labor cost advantage has shielded pharma companies from having to take the painful and arduous path towards step-change improvements in workforce productivity, which requires significant investments and service redesigns. After all, why automate if you can get two or three offshore workers for the price of one U.S. worker?
But the world has changed. Digital service models are transforming how services are delivered and consumed. For example, when was the last time you filled out a deposit slip at a bank? Mobile deposits rule the day now. These transformations are happening across the services functions, and are opening the door to operational savings and productivity improvements.
Higher US labor costs can be mitigated by leveraging digital capabilities to transform the service functions being migrated back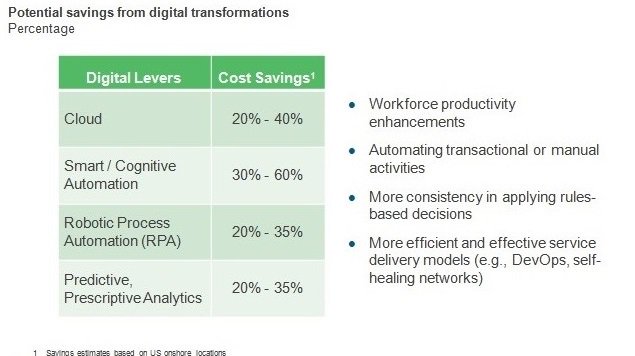 By moving and transforming their services, pharma companies wouldn't bring back all of the jobs they initially offshored, but would create higher paying, higher skilled, and highly productive U.S. services jobs. And, this could be done relatively quickly and on a cost neutral basis with no impact to their bottom- or top-lines, while simultaneously leveraging digital technologies to transform their service delivery models.
It's true that uncertainty abounds around what levers the Trump administration will pull to entice or force the pharmaceutical industry to align to its core tenant of creating U.S. jobs and "Making America Great Again." But wait-and-see is a dicey game to play when it comes to the pharmaceutical industry's most lucrative market.
Everest Group's advice is to get ahead of the game – starting today. Take a fresh look at your company's global talent management strategy and shared services construct to identify your degrees of freedom. Then start engaging your technology and services organizations to assess how you can bring some or all of these services jobs back to the U.S., and at the same time offset the higher labor costs with digital technologies and delivery models. It might just save your CEO from seeing an early morning Tweet from President Trump stating, "Horrible company!"
Learn more about the importance of bringing pharma jobs to the United States in Stephen Chen's executive viewpoint, Will Big Pharma Heed the Call to Bring Jobs Back Home?