Everest Group's Top GBS Employers™ across India, Poland, and the Philippines report illustrates the top global business services companies selected for best work environment and job satisfaction rating by employees. Read on to discover what the workforce looks for when choosing an employer and view the complete list.
As the battle to find the right talent and skillsets resumes, GBS employers must build an exemplary brand to stand out among their peers to attract and retain top talent. The talent shortage worldwide is here for the foreseeable future and is a constraint against growth goals. Developing and implementing a talent strategy should be at the top of any employer's priority list. One tactic that many are turning to is closely tracking and honing their brand, or how talent perceives them in their local market.
Developing a solid brand perception will not only address the talent shortage challenge but also help draw in a strong and resilient workforce, so organizations will survive uncertainty and thrive in intensely competitive environments. The top global business services companies are incorporating the key components and top requirements that talent are gravitating towards – work environment, compensation, career development, and diversity – and are critical in building employer brand perceptions and meeting evolving workforce expectations.
The top global business services companies selected across India, The Philippines, and Poland
Everest Group analyzed the employer brand perceptions of 200+ leading GBS organizations across India, Poland, and the Philippines to discover what a top employer brand perception encompasses, view the full report. The study examined multiple dimensions, including compensation, career progression, senior management, work-life balance, culture and values, and diversity.
This first-of-its-kind study also analyzes the performance of each of the top global business services companies in the local talent markets based on attrition rates, joiner-exit ratio, and overall employee satisfaction ratings.
Finally, we assessed what top global business services companies are doing to differentiate themselves in talent markets, targeting the most desired themes from talent: work environment, compensation, career development, and diversity.
Why GBS organizations need this information today
Workforce expectations have transformed dramatically over the past few years, and organizations have to evolve their employer brands to meet those expectations. The pandemic brought about the work-from-home (WFH) era, dispelling many negative notions around WFH, and set a standard of work-life balance, flexibility, and autonomy that employers must deliver. Our research shows that over half of today's organizations expect over 40% of their employees to continue working from home or in a hybrid style over the next two years or so.
More and more employees today are also choosing to work for companies that not only have sustainability goals and strong culture and values but adhere to diversity, equity, inclusion, and belonging (DEIB) practices, which ensures employees have equal opportunities and ultimately feel more valued.
And at the top of the list, employees want to work for organizations that offer career paths, opportunities for upskilling, and fair compensation.
The Top GBS Employers™ rankings provide an outside-in proxy on how prospective candidates pursuing tech and ops careers perceive employer companies – helping firms baseline their employee value propositions (EVP) effectiveness vs. their immediate peers.
How are the top global business services companies being ranked?
Recent employer perception studies have been too broad, with no specific view capturing tech talent's concerns. This analysis is based on publicly available information, including Glassdoor, Indeed, and LinkedIn, and the latest feedback capturing prospective employees' perceptions about top GBS organizations. The rankings from the report provide a comparative snapshot of leading firms' market perceptions among the tech and ops workforce. We ranked each GBS employer on employee satisfaction grade, compensation and benefits, work environment, career opportunities, and diversity and inclusion focus and investment.
The top ten across India, the Philippines, and Poland
By assessing the ratings and feedback from popular public sites and critical sources for employees conducting employer research, we narrowed down the top ten in India, the Philippines, and Poland:
Across India, the overall top GBS employers are Google, Mondelez, Microsoft, Bank of America, SAP, JPMC, P&G, Target, American Express, and Novartis
In the Philippines, the overall top GBS employers are Henkel, SAP, JPMC, Telstra, P&G, SunLife, Wells Fargo, American Express, Chevron, and 3M
And in Poland, we saw Mondelez, Microsoft, SAP, Standard Chartered, Google, Cisco, Bayer, AstraZeneca, ING Group, and P&G come through as the top GBS employers
See the full report for a complete view into the rankings in the different regions.
Key takeaways from the research
Throughout every market assessed, it's clear that compensation, work environment, and career development are among the top sought-after aspects when choosing a new employer and have the most impact on employer brand perception.
Employers with the highest rankings offer relatively high entry-level compensations and robust training, set benchmarks to allow for pay increases, perform salary corrections, and have opportunities for fast-track promotions, especially at lower experience levels. High-ranking companies also offer flexibility and options for remote work and the chance to work across teams for cross-functional exposure. Other perks among the highest ranked employers are opportunities to work on the latest tech stacks and develop techno-functional and behavioral skills, along with good 401K matching and health insurance options, market-competitive benefits, and decent paid time off.
Employers that incorporate these practices will significantly increase their overall employer brand perception and discover more success in finding and retaining talent.
Top global business services companies can also leverage Everest Group's Talent Performance Framework to optimize their talent management strategies and build future-proof talent models.
Exhibit one: Everest Group's Talent Performance Framework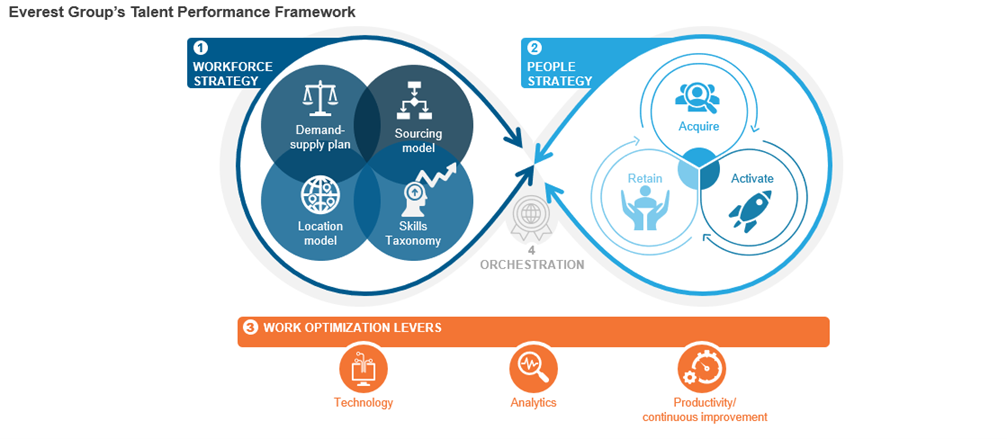 To learn more about Everest Group's Top GBS Employers or to discuss the Talent Performance Framework, reach out to [email protected] or Contact us.
Also, join us for our Conversations with Leaders LinkedIn Live series, a part of Everest Group's GBS Leadership Exchange, Episode 3 | Who Are the Top GBS Employers?, featuring GBS executives who have shown significant leadership and innovation in GBS. In this session, Rohitashwa Aggarwal, VP of GBS Research and Advisory at Everest Group, and Shweta Mohanty, VP and Head of HR for SAP, India, will discuss the Top GBS Employers, and what they are doing to set themselves apart.