While India's tier 1 cities have dominated global services delivery for more than two decades, the country's tier 2 and tier 3 cities are gaining traction to become the next hot spots. Read on to learn why these locations are grabbing the attention of investors and enterprises.   
India has operated as the largest behemoth for the global services industry since outsourcing's start, driven by an almost unparalleled talent-cost advantage and conducive business environment. Tier 1 cities, such as Bangalore, Hyderabad, Delhi-NCR, Mumbai, and recently Pune and Chennai, have seen most of the growth and continue to attract firms seeking complex skillsets.
However, the triple whammy of high turnover, shrinking pipelines, and rising inflation kept the talent market in flux for most of 2021-2022. As these cities near saturation, tier 2 and 3 cities are emerging as the new growth hubs.
A spate of infrastructural developments has put these cities on the global map for attracting investment. Widespread adoption of hybrid working, satellite offices, co-working models, and plug and play workspaces increase the potential for hiring from tier 2 and 3 cities.
Enterprise preferences for diversifying workforces and leveraging gig models, and reverse migration from metropolitan cities to hometowns post-pandemic further fuels the growth of tier 2 and 3 cities.
While tier 1 cities occupy more than four-fifths of the global services industry, the collective market share for tier 2 and 3 cities has notably increased from 11% to 18% from 2019 to 2022, as shown below: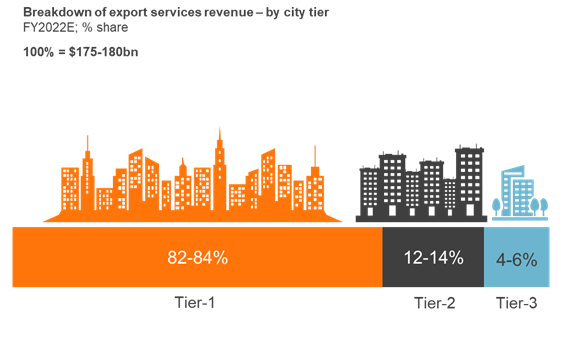 Let's explore the race of cities within each tier:
Tier 2 cities
Ahmedabad and Kochi lead the tier 2 city clusters offering a moderately large talent base (79,000-plus graduates) and medium market maturity for most functions. This area has the most established global services delivery ecosystem but the least cost arbitrage among tier 2 cities. GIFT city in Ahmedabad has particularly gained traction due to dedicated government initiatives to attract investment. Jaipur, Indore, Coimbatore, Chandigarh, and Thiruvananthapuram follow next with a healthy mix of IT and business process services (BPS) delivery leaders such as UST and Wipro scaling up to 2,000-plus full-time equivalent (FTE) employees in these locations. After that are Bhopal, Lucknow, Nagpur, and Vishakhapatnam, which are characterized by smaller pools (limiting the availability of mid-to-senior talent and scaled ramp-up) and a larger share of domestic delivery.
Tier 3 cities
Bhubaneshwar and Vadodara lead the tier 3 cities segment offering a moderately-sized talent base (35,000-plus graduates) and low to medium market maturity for IT-BPS functions. The government is investing in IT and digital initiatives in a bid to attract more major companies to Bhubaneshwar, Odisha's capital city. An IT and IT-enabled Services (ITeS) park is being built in Vadodara through a collaboration between the Gujarat government and Larsen & Toubro (L&T) aimed at creating some 10,000 jobs by 2027. Other tier 3 cities, such as Mysore, Madurai, Mangalore, Nashik, Raipur, Tiruchirappalli, and Vijayawada, offer a smaller talent pool with a lower scalability potential of approximately 250 FTEs.
Overall, we are bullish on the long-term prospects of India retaining its position as the mecca for global services delivery. We expect tier 1 cities to continue to flourish and tier 2 and 3 cities to drive the next growth wave for the global services industry.
To learn more about the relative attractiveness of different cities in India, please read our latest report, India's Services Delivery Overview – Tier-1 Hubs Continue to Grow, Tier-2/3 Speeding Up.
To discuss the global services industry, please reach out to Parul Jain ([email protected]) and Aarushi Rishi Raj ([email protected]).
To learn about global services delivery in LATAM, watch our LinkedIn Live session, Locations and Talent Strategy – Let's Talk: Nearshoring to Costa Rica.