With pension risk transfer (PRT) activity hitting post-pandemic record highs of $53 billion in North America market volume last year, this growing market represents a massive untapped opportunity for technology and services providers to leverage their retirement and pension expertise to deliver new solutions. Read on to learn about the possibilities this option opens. 
Even with the general shift towards defined contribution (DC) plans, defined benefits (DB) assets still contribute to the majority of retirement Assets Under Management (AUM) in the US. However, defined benefit plan providers often struggle to guarantee the security of retirement benefits because of the following risk factors:
Unpredictable investment returns due to variable interest rates, market volatility, and the geopolitical environment
Volatile interest rates
Increasing life expectancy and longer service tenure of plan participants
Underfunded pension liabilities
To shield against this unpredictability, plan sponsors are adopting pension risk transfer strategies to guarantee retirement and pension benefits for DB plan members. Under this approach, DB plan providers transfer their entire/partial pension liabilities to other firms, usually a life insurance firm, to remove their obligation to pay plan participants guaranteed retirement income or post-retirement benefits.
In the past four years, PRT transactions have increased as DB plan providers seek to de-risk huge pension liabilities. Many large and mid-sized plan sponsors are hedging these risks through PRT transactions with the intent of transferring or terminating existing DB plans.
The pension risk transfer market peaked in 2022 as retirement plan sponsors urgently felt the need to secure pension benefits in an increasingly uncertain world following the pandemic.
The growth momentum is expected to continue due to favorable transaction terms for sponsors and insurers' continued desire to de-risk pension assets. North America accounted for approximately two-thirds of global PRT sales (US$60 billion) in 2021 and grew by 40% in 2022. In both these years, almost half of the PRT transactions were near US$1 billion or more, according to the LIMRA Secure Retirement Institute.
Pension risk transfer types
The following two PRT transactions are most prevalent in the market:
Buy-in – The insurance firm takes the liability of benefit payments for plan participants to the plan trust. The sponsor retains fiduciary and administration obligations and holds the pension plan contract as an asset on its balance sheet
Buy-out – The insurance firm takes the liability of benefit payments for plan participants entirely and all of the administrative responsibilities. This is the most common transaction type, as the entirety of pension obligations are transferred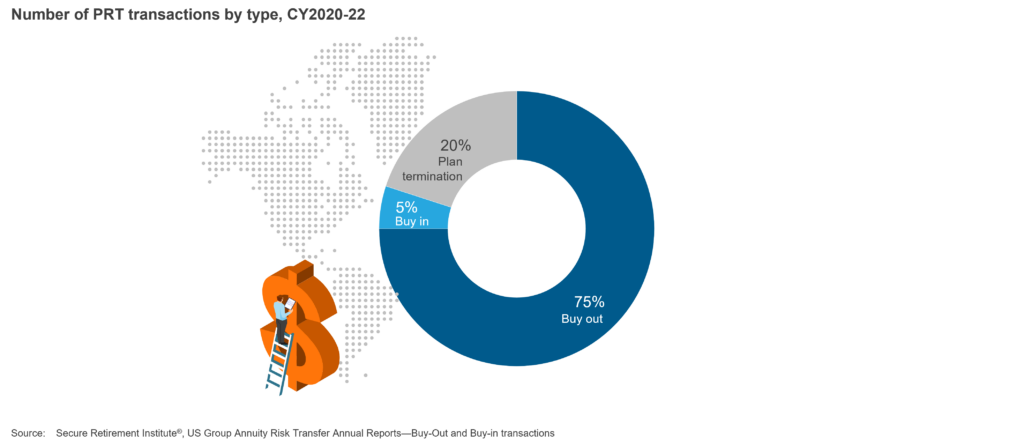 Implications of pension risk transfer for services and technology providers
Transferring pension liabilities to an insurer comes with many challenges. Providers have several opportunities to support insurance enterprises, recordkeepers, plan sponsors, and third parties involved in such transactions in the following key areas:
Technology systems: Insurers need support to transform their technology landscape to meet the increasingly complex market requirements, including data migration, fund transfer, benefits administration, contracts and provisions management, and pension administration for the full participant lifecycle.
Varying technology maturity levels among recordkeepers, insurers, and plan sponsors presents a big challenge. A service provider or platform provider's solution can help with the entire process of transferring liabilities (sometimes along with plan termination) and all the relevant data, provisions, rules, funds, and critical participant details. This presents an opportunity for system integrators (SI) and platform providers to work together to efficiently manage the process lifecycle
Strategic partnerships: As this business achieves scale, insurers will strategically view this as an alternate revenue stream. Insurance firms can partner with technology and service providers to enable user-friendly onboarding, payment/annuity processing, automated query resolution, and analytics-based PRT transaction pricing, as well as building newer underwriting and actuarial capabilities for deciding PRT transactions' premiums
Regulatory compliance: Technology and service providers need to assist insurers and sponsors in complying with the changing regulatory environment, varying state and regional taxation laws, and accounting nuances of different transaction types such as buy-ins and buy-outs
Cyber security: The significant amount of sensitive participant data being exchanged between recordkeepers, insurers, and sponsors' systems poses substantial security risks. With the varying complexities and formats for different plan sponsors and record keepers, traditional file formats of participants' data are difficult to maintain. Technology and service providers can securely manage the migration of pension data from on-premise systems to cloud, on-prem systems to other on-prem systems, and between different cloud environments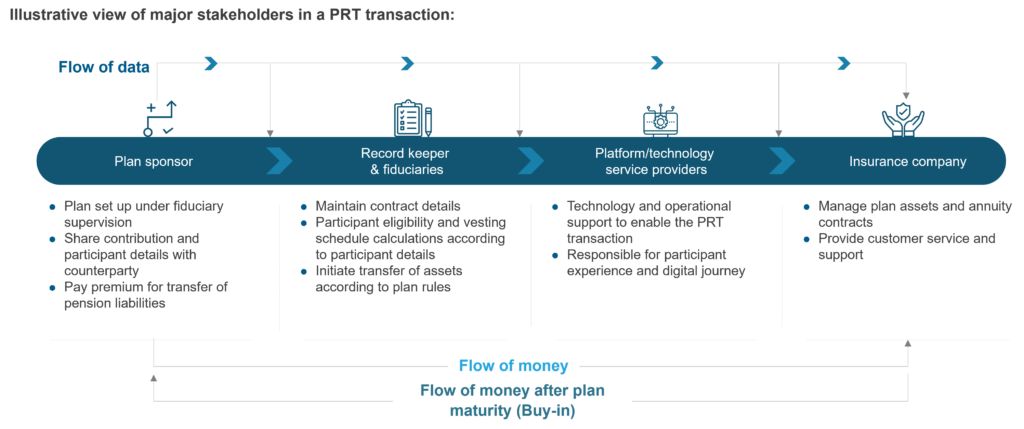 With the transaction volume increase in the PRT market expected to continue, technology and service providers have many opportunities to seize this underserved industry segment by leveraging their existing business expertise in the retirement and pension domain to build new solutions catering to this market.
To discuss pension risk transfer further, please reach out to [email protected] and [email protected].
Learn about the evolving digital requirements for the insurance industry in the blog, Reinventing the P&C Insurance Claims Value-Chain: Moving to the Claims of the Future Vision.