As the insurance industry undergoes a paradigm shift post-pandemic, digital transformation can improve customer experience and engagement. Insurance intermediaries have an exciting future ahead if they can successfully adopt Artificial Intelligence (AI), mobile apps, big data, and analytics to better understand their customers and provide personalized products. Partnering with service providers will help insurers overcome barriers and improve efficiencies. Read on to learn more.
Reach out directly to discuss or for more information.
Insurance intermediaries (agents and brokers) play a crucial role in the industry by helping customers find the best insurance policies to suit their needs and connecting insurance companies to potential customers.
The overall intermediary market is vast with nearly 500,000 licensed intermediaries registered in the US, according to the National Association of Insurance Commissioners (NAIC), and 12,000 insurance brokers registered in the UK. The market is valued at more than $130B in the US and £13B-plus in the UK, as per IBISWorld and the UK Financial Conduct Authority. McKinsey estimates that 84% of sales in US property and casualty and 90 percent of US life policies go through agents or brokers.
This industry is undergoing a paradigm shift post-pandemic due to the increased adoption of digital direct-to-consumer (D2C) channels, remote work, and other trends. The intermediary business is evolving to maintain its growth momentum with rapid execution of quote to bind, hyper-aware consumers, increased competition, and declining margin profile.
Digital transformation is taking center stage on the intermediary side of business due to factors like the increased availability of customer data, demand for customized products, the rise of low-code/no-code solutions, increased use of self-serve options, increased use of D2C channels, rise of embedded and usage-based insurance, telematics, analytics, and advanced risk management solutions.
Role of service providers in helping intermediaries overcome barriers
While these changing industry dynamics push intermediaries towards adopting digital transformation, they still face the following barriers: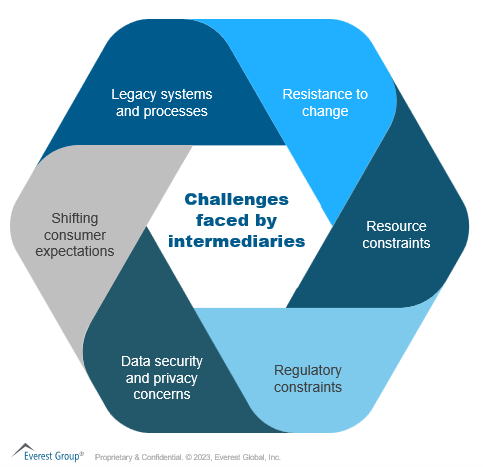 Legacy systems and processes: Insurance intermediaries have used outdated systems and procedures for many years, and the migration to modern systems is further delayed by a lack of funds
Resistance to change: Some insurance intermediaries are unwilling to adopt innovative technology and business models or lack the right knowledge and experience with digital technologies
Resource constraints: Putting modern technologies or business models into practice may require a substantial cash commitment or access to specialist skills that are unavailable with today's talent crisis
Regulatory constraints: Various regulations like personal data protection, sales standards, and solvency requirements limit intermediaries' flexibility and ability to innovate
Data security and privacy concerns: Intermediaries must safeguard sensitive client information and adhere to several data security and privacy laws
Shifting consumer expectations: Insurance customers demand more information than ever before and expect customized products through their preferred channel (digital, in-person, sales partner), better user experiences, shorter turnaround times, and digital touchpoints for the end-to-end process
Competition and customer retention also hamper the growth of intermediaries.
Service providers can help intermediaries overcome these barriers as illustrated below: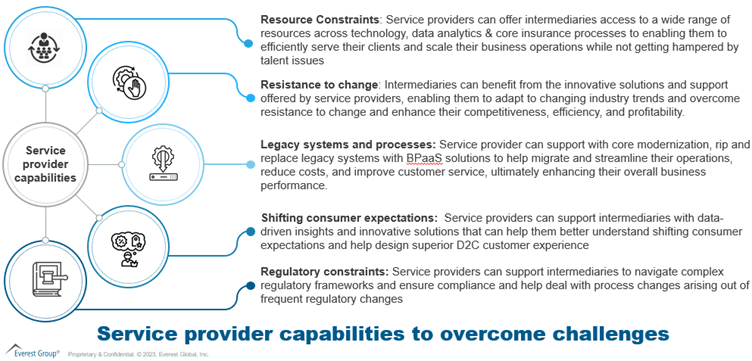 Digital technologies transforming insurance intermediaries 
The following technologies can help intermediaries enhance the services they provide to customers:
Digital onboarding with interactive workflow and digital policies: The entire intake process should be digitized, reducing the intervention needed by intermediaries and showing customers the complete user journey from bind to quote. Insurance policies that allow electronic signatures also will accelerate the overall process.
Artificial Intelligence (AI) and Machine Learning (ML): Applying AI/ML for chatbots, fraud detection, personalized recommendations, and other processes can help insurance intermediaries enhance customer experience, boost efficiency, and offer more customized services.
Mobile technology and User Experience (UX)/User Interface (UI): To meet customers' increasing desires to access services on the go, intermediaries need to provide access to policies and the ability to submit claims and pay bills available via mobile devices and applications.
Big data and analytics: Leveraging data and analytics will help intermediaries better understand their customers and provide more personalized recommendations. For example, agents may use data on a customer's driving habits to provide personalized auto insurance recommendations.
Real-time insurance quotation and comparison tools: Using innovative technologies that automate the insurance underwriting process will allow intermediaries to deliver real-time insurance quotes and pricing comparison tools. Digital tools leveraging algorithms and data analytics will help agents/brokers instantly evaluate risk factors and determine
Claims management: Insurance intermediaries can play a key role in automating the claims management process by helping customers with online claims filling systems, automated claims triage, automated claims adjustments, and real-time communication.
By partnering with service providers or using third-party platforms and tools to accelerate their use of modern technologies, insurers have the potential to achieve large-scale cost savings and headcount reduction benefits. Depending on the adoption, insurers can achieve cost arbitrage generating a Return on Investment (ROI) of 1.5 to 3 times.
Intermediary of the future
Insurance intermediaries' future likely will be shaped by a combination of technological advancements, changing consumer behaviors and expectations, regulatory developments, and economic conditions.
Intermediaries need to adapt to the following five changing trends to thrive: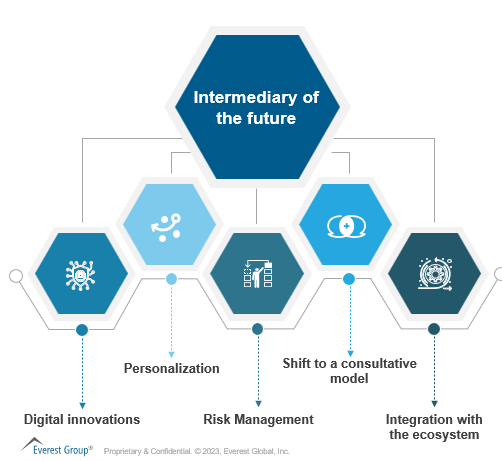 Embrace digital innovations: The Internet of Things (IoT), AI/ML, blockchain, big data analytics, and other innovations increasingly are becoming mainstream and changing the way intermediaries operate and evolve.
Increase personalization: Data analytics can help intermediaries better understand their customers to provide more personalized recommendations and, in turn, find opportunities to cross-sell and upsell. Insurance plans must be customized to address clients' unique needs and risk profiles.
Prioritize risk management: By gaining insight into customer risks, intermediaries can offer proactive risk management services. They should also identify emerging risks, such as cyber threats, and collaborate with clients to develop comprehensive risk management strategies and insurance solutions.
Shift to a consultative model: Insurance intermediaries must evolve from their traditional focus on selling policies into offering advice and guidance as consultants. They need to become trusted advisors, providing insights and recommendations to customers, such as risk management, insurance policy options, and financial planning since insurance is often a crucial part of an individual's financial plan.
Integrate with the ecosystem: To stay competitive and meet evolving customer expectations, agents/brokers have to bundle services and offer financial planning and risk management in addition to traditional insurance products in a seamless customer experience.
To discuss digitization opportunities for intermediaries, please reach out to suma[email protected] and [email protected], and stay updated by accessing our latest research on Insurance Business Process Services.