Improved supply chain visibility can help global pharmaceutical and medical device suppliers overcome the many logistics challenges they face post-pandemic. Internet of things (IoT) and blockchain technologies offer promise to address the growing demand for product traceability and transparency. Read our second blog in this series to learn more.
The COVID-19 pandemic exposed major supply chain weaknesses in the life sciences industry as the industry experienced skyrocketing demand for innovative medical products.
Enterprises struggled to keep operations running amid the pandemic without adequate supply chain product visibility or unified systems to provide needed data to improve logistics performance.
Most companies lack the analytical tools to completely integrate and analyze data from various systems at all levels – from the plant's local work centers to the world's end-to-end supply chain.
As a result, the massive data generated during the pandemic provided little usable information and insights.
Supply chain visibility: right time for real time?
Supply chain visibility can help enterprises overcome these challenges and build more robust and effective supply chains by tracking medical products in transit and providing a clear view of the inventory and activity.
Let's look at the factors that are driving enterprises to invest in supply chain visibility.
Product loss and recall: Theft is costly to the industry and needs to be stopped. The pharmaceutical industry experienced its largest theft in 2020 when $1.2 million worth of oncology drugs were stolen from a cold storage warehouse. In the second largest theft that year, $600,000 in pharmaceuticals were taken from a distributor.
 The industry also is being hit by losses due to expired, non-compliant, or recalled products that have problems with temperature parameters or other issues. According to the U.S. Food and Drug Administration (FDA), 281 drugs and 50 medical devices were recalled during the two years of the pandemic
Counterfeit products: Increasing numbers of fake drugs and medical devices have found their way into customers' medicine cabinets. Counterfeit drugs are valued at an estimated US$200 billion annually. Since the World Health Organization (WHO) established a global surveillance and monitoring system in 2013, it has received 1,500 reports of substandard or falsified products. Of these, antimalarials and antibiotics are the most reported. Geographically, 42% come from the African region and 21% each from the Americas and Europe.
Local regulatory frameworks are being implemented to provide more product visibility. For example, the Indian government has mandated life sciences enterprises include Quick Response (QR) codes on Active Pharmaceutical Ingredients (APIs), effective January 2023
Regulatory frameworks: The Drug Supply Chain Security Act (DSCSA), amended by the FDA in 2013, mandates enterprises to create an electronic system to track and trace certain prescription drugs. Manufacturers and trading partners are required to encode their products with unique identifiers on the individual packages and track products at the unit level by November 2023.
Similarly, the European Union (EU) Medical Device Regulation (MDR), which regulates the production and distribution of medical devices, mandates MedTech enterprises place a Unique Device Identifier (UDI) for better visibility and tracking of products across the supply chain
A recent analysis found the top 15 global pharmaceutical companies emit 55% more greenhouse gas emissions per million dollars of revenue than the automotive sector. Medical waste has also become a significant issue, particularly with the spread of single-use personal protective equipment and testing kits. As a result, life sciences enterprises are taking initiatives to build more transparent supply chains to track and trace carbon emissions, medical device decommissioning, and secondary package waste
Everest Group's view of end-to-end supply chain visibility solutions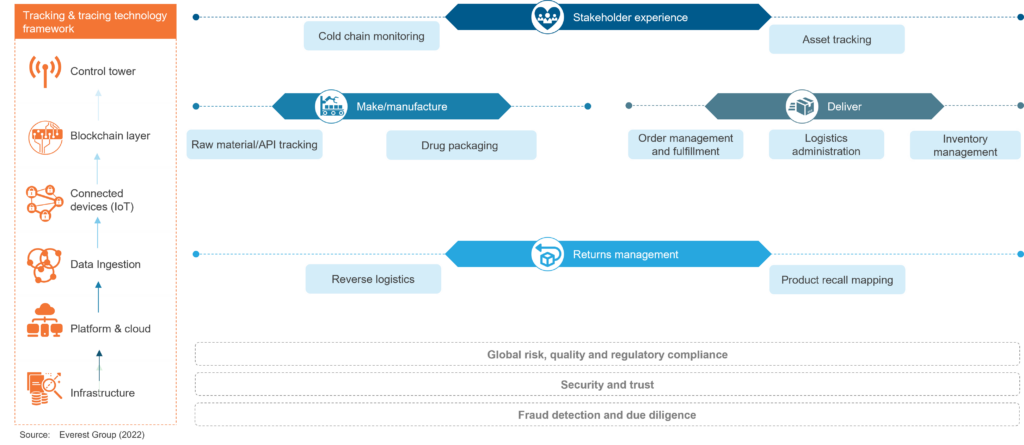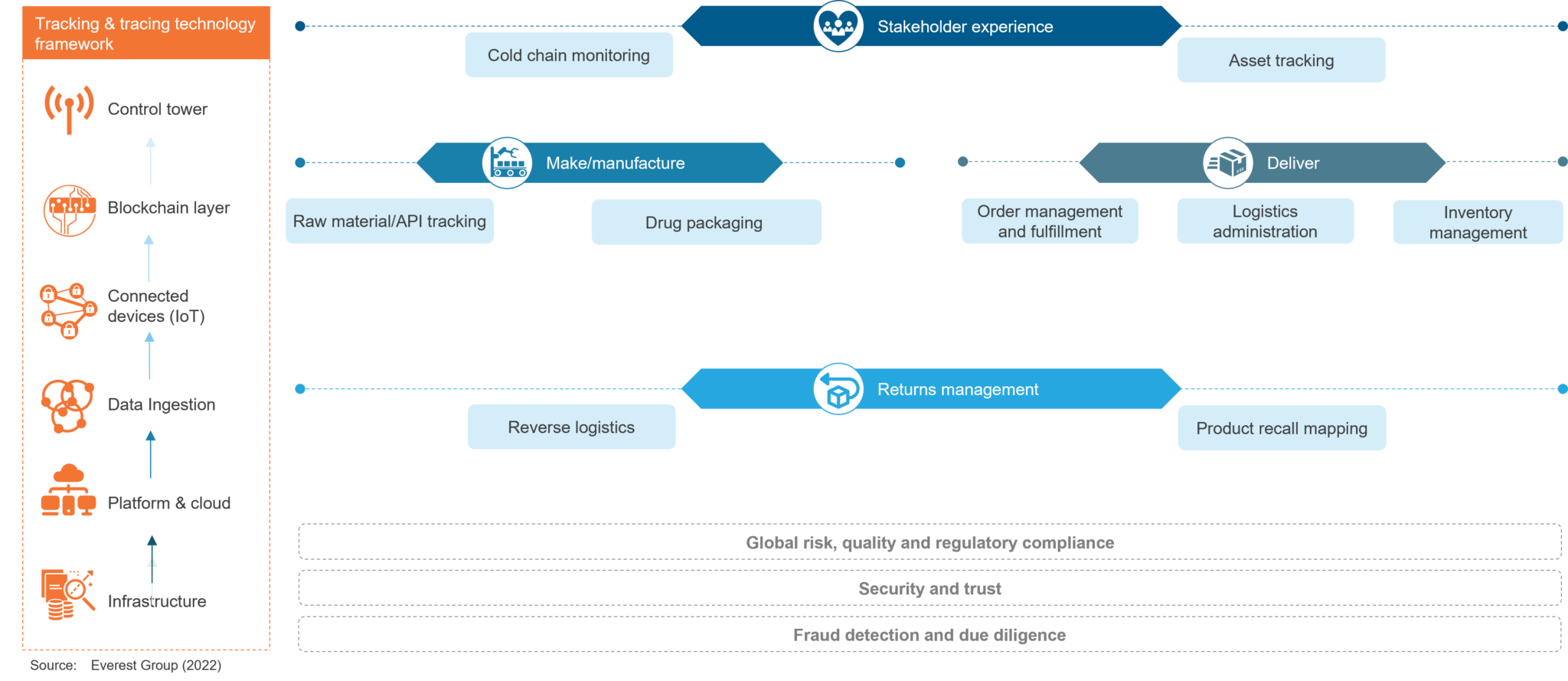 Let's explore more on the supply chain visibility framework:
Make/Manufacture – Inbound logistics that includes procuring raw materials, drug packaging, and moving finished goods to the supply chain
Use Cases: Addressing drug serialization and aggregation, strategic sourcing, fleet tracking, drug e-labelling, artwork management, and API tracking
Deliver – Outbound logistics that include order confirmation, shipping, last-mile delivery, and customer service
Use Cases: Addressing drug expiry monitoring, network management, demand forecasting, and warehouse management 
Stakeholders experience – Unifies vendors, suppliers, distributors, pharmacies, patients, and others in the life sciences supply chain with one platform 
Use Cases: Asset tracking, anomaly detection, and condition monitoring alerts
Returns management: Communicating with end-customers, stakeholders, and life sciences enterprises to obtain and restock goods. Having visibility of goods in reverse logistics helps enterprises make calls on whether to discard, repurpose or recycle drugs and medical devices
Use cases: Case and compliance management, returns tracking and scheduling, conditional monitoring alerts, and drug serialization
Service provider landscape
IT service providers are increasingly offering solutions to address these needs as these instances gain traction. One example is HCL's serialization and authorization solution that helps track product returns in real time.
Recognizing the need for greater insights into supply chain performance, enterprises have invested in Enterprise Resource Planning (ERP), Laboratory Information Systems (LIMS), Electronic Batch Records (EBR), Manufacturing Equipment Systems (MES), Quality Management Systems (QMS), and other IT systems to capture transactional and performance data.
Information sharing, data interoperability, security, and trust are the major hurdles for life sciences enterprises to implement supply chain visibility solutions. Blockchain and the Internet of Things (IoT) offer promising prospects to tackle these challenges by maintaining the continuity of information, realizing the link between physical and information flow, and providing fraud detection alerts.
IBM, KPMG, Merck, and Walmart successfully completed an FDA pilot program in 2020 that found blockchain technology can be used to meet the DSCSA requirements to track and trace prescription drugs and vaccines distributed in the U.S.
We recommend life sciences enterprises partner with IT service providers that have point solutions for supply chain visibility or engage with niche platform providers to build end-to-end supply chain visibility solutions.
Keep following this space as we explore the technology in supply chain visibility platforms, and see our prior blog on Five Factors Transforming the Life Sciences Supply Chain and Creating IT Opportunities.
What are your views on life sciences supply chain visibility? Reach out to [email protected] and [email protected] to discuss.
You can also learn about planning for a sustainability in your organization in our webinar, Sustainability and the CIO's Office: A Powerful Connection.