The FIFA World Cup 2022 was a global arena for marketers and brands to display revolutionary technologies that create immersive fan experiences based on Web 3.0. But to be game changers in the sports industry, organizations will need to digitally transform their fan engagement, media, partnerships, sponsorships, and content, effectively rewriting the sports marketing playbook. Read on to learn recommendations and winning examples to ensure you don't drop the ball.   
With over a million fans having visited Qatar for the World Cup, the tournament is expected to have been one of the largest sporting events for brands in the digital world. A plethora of brands and tech companies competed to score points by creating unique fan experiences at stadiums and off-location.
What differentiated this World Cup from others is how brands harnessed the hype with a range of digital assets, virtual worlds, Augmented Reality/ Virtual Reality (AR/VR) tools, and other Web 3.0-based solutions. In this blog, we explore this further and share some innovative use cases.

Digital technology is unlocking unprecedented opportunities in the global sports industry, valued at approximately $2.3 trillion. But to fully capitalize on this growth, sports organizations will have to go through a digital overhaul in four major areas.
Fan engagement
Organizations are leveraging technology to move from reactive to proactive fan engagement in the following ways:
Elevating the fan experience: Seamless fan engagement, both off-venue and on-venue, has become critical in providing a great fan experience, especially post-pandemic. Today's fans expect more personalized and customized experiences across multiple channels. Cloud-based solutions and technologies such as AR/VR are being deployed to deliver these experiences to fans.
Developing robust loyalty programs: Sports fans have an unwavering loyalty towards their favorite teams and players. These fans are a notch above traditional customers as the sport is linked to their sense of identity.
Sports organizations are investing in loyalty programs to reward fans for their commitment and passion for the sport. These programs are also using digital assets such as Non-fungible Tokens (NFT) to incentivize their most loyal fans. Additionally, they are leveraging these platforms to create year-round engagement with fans to establish loyalty that extends beyond the game season.
Media management
The rise of digital media, coupled with the pandemic, has had a transformational impact on sports broadcasting and media.
Increased adoption of digital streaming platforms: Overall linear TV viewership has been declining due to factors such as the rise of streaming platforms, changes in the media landscape, and consumer behavior. This is no different in sports. Major leagues are signing digital broadcasting deals with streaming platforms, leading to increased ad spend on these platforms.

Leveraging influencer marketing: Sports has given rise to some of the world's biggest celebrities, to say the least, and social media channels have turned them into influencers who are more accessible to their fans than ever before (Football star Cristiano Ronaldo recently became the first person in the world to surpass 500 million followers on Instagram, and these are not just followers, they are fans driven by passion!). Brands are leveraging platforms such as TikTok and Instagram to cultivate a personalized connection with fans through simpler technological innovations and highly engaging content.
Building digital infrastructure: A strong digital infrastructure in the form of websites, mobile apps, and Customer Data Platforms (CDP) is not only crucial to reach the target audience, but it is also a rich source of first-party data for sports organizations.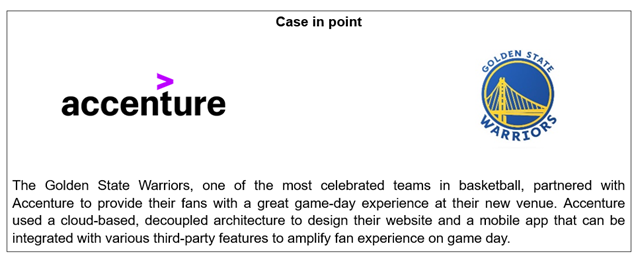 Partnership/sponsor management
Partnerships and sponsor management in the sports industry is also evolving past its traditional confines:
Moving from sponsorships to partnerships: Organizations are putting skin in the game to improve fan experience and build awareness for their brand through more purposeful and riveting partnerships, instead of just sponsoring a sporting event or branding jerseys and venues.

Evolving merchandising play: Sports merchandising includes sports-related equipment, clothing, and collectibles, among other things. E-commerce and social commerce are changing how fans purchase merchandise and with the advent of digital assets like NFT, the nature of the collectibles also is changing.

Content management
When games change in a fraction of a second, delivering content that resonates with fans at the right time and place is imperative. Here's how it is being done:
Data-driven content: Technologies such as (but not limited to) optical tracking and wearables have given organizations access to newer and richer data points. While this data can help with decision making and team strategies, marketers are widely leveraging it to create content that can give fans unique insights and a more nuanced understanding of the game.

Dynamic and real-time content: Just like fast-moving sporting events, fans expect dynamic and real-time content. Organizations are relying on cloud-based solutions and AI-enabled tools to deliver the in-moment excitement and thrill associated with any sport.
A winner's playbook to enable marketing in sports
To enable the new era of sports marketing, sports organizations need to build systems driven by intelligent automation, omnichannel experiences, and data, see the exhibit below.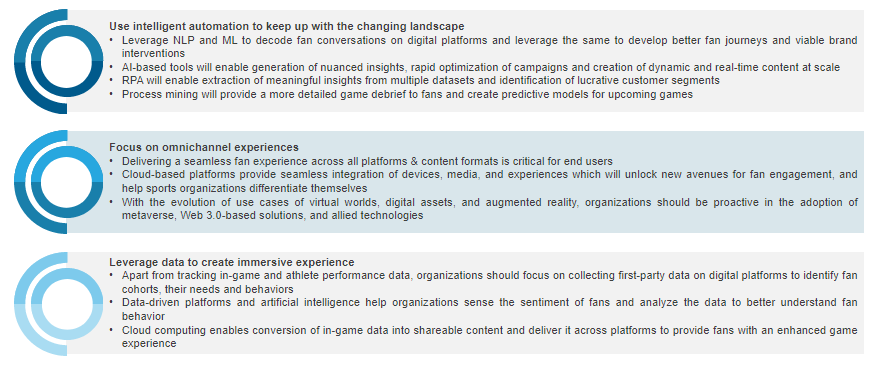 Sports has always been and continues to be a force that brings people across demographics together. Digital advertisers and sponsors who manage to extend the passion, excitement, and loyalty fans have for their teams to their brands will see incredible results over time.
The stage is set, and the ball is now in the marketer's court: will they become MVPs? Or have-beens? Only time will tell.
To discuss evolving marketing trends, contact Nishant Jeyanth and Mustafa Pitolwala.
Learn more in our webinar, How are Leading Organizations Delivering Exceptional Customer Experience?