I'm often asked about Everest Group's work with large enterprises and buyer organizations. That's why I am excited that we are focusing this issue of our newsletter on how we engage with these clients to help them navigate their most complex operational and global services challenges. Whether for pricing assurance, locations strategies, sourcing and vendor management, technology selection, customer experience, or talent management, our team of seasoned analysts combine their expertise with innovative research methodologies to provide deep insights into the latest trends, technologies, and best practices in these areas. We work with clients on these topics through our custom projects as well as our annual memberships.
For example, our Pricing Assurance practice regularly works with enterprises on strategic engagement reviews and proposal reviews that provide holistic assessments of existing contracts or sole-sourced proposals. These reviews cover pricing, performance, contract terms, delivery metrics, and transformation agendas and set the stage for meaningful negotiations.
Similarly, our Global Business Services team works with global enterprises to ensure the optimization of in-house delivery operations. From technology investments to talent strategies and delivery location choices to business continuity, our research team has been tracking and advising in this space for over 15 years.
You'll learn more about these membership areas and others, such as vendor management, Outsourcing Excellence, IT Talent, and CX Excellence. I encourage you to read on and ask questions – there's a lot to unpack!
Best Regards,
Katrina Menzigian
Vice President, Analyst Relations Engagement
From the CEO's Office
Everest Group's CEO, Peter Bendor-Samuel, joined our Analyst Relations webinar on January 12, 2023, and offered his sentiments on how we work with the AR community.
Buyer's Corner
Everest Group launched its Pricing Assurance suite of offerings almost 15 years ago in response to inquiries from large enterprise clients. As market needs have evolved, so have our guidance. One of our most sought-after capabilities is our Strategic Engagement Reviews and Proposal Reviews. This work involves conducting a holistic bespoke review of either an existing contract or an upcoming proposal. The review covers pricing, but also performance, solution elements, contract terms, delivery metrics, and the transformation agenda. The intent is to provide enterprises with a current and calibrated view of their engagements that can inform their own planning decisions and next steps.
READ HOW THIS GLOBAL QUICK SERVICE RESTAURANT (QSR) CHAIN WORKED WITH EVEREST GROUP TO RIGHT-SIZE AND RIGHT-PRICE THEIR ENTERPRISE SOFTWARE SOLUTION IMPLEMENTATION
Talent Spotlight
One of the key leaders on the team is Achint Arora, Pricing Assurance Partner, who says, "I'm passionate about helping clients get the best value for the services they need and want." Achint is featured as our Talent Spotlight and you can read more about him here.
CONNECT WITH ACHINT ON LINKEDIN
Analyst Relations Best Practices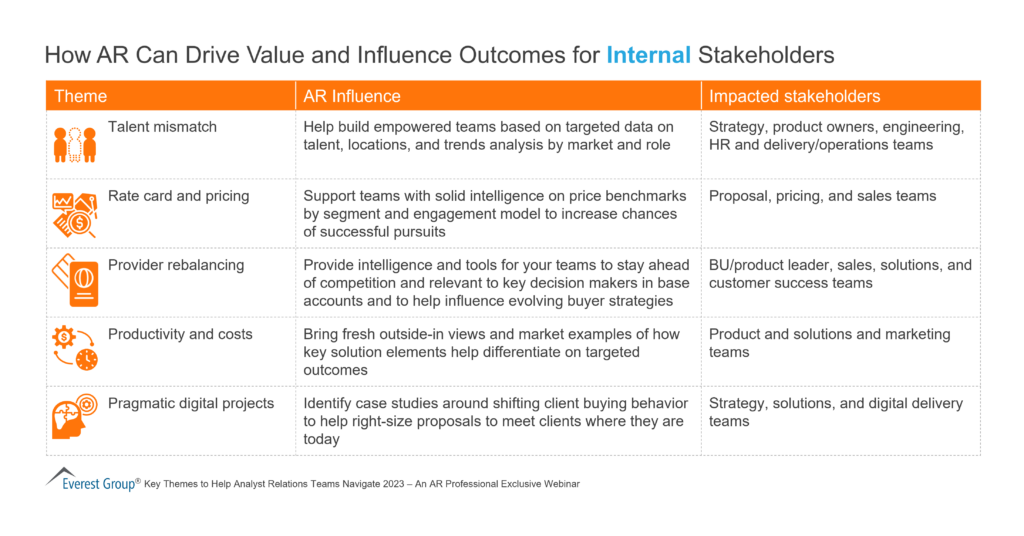 During our January 12 webinar, Key Themes to Help Analyst Relations Teams Navigate 2023 – An AR Professional Exclusive Webinar, we discussed how AR teams can better drive value and influence outcomes in the context of the key themes our research teams believe will shape 2023. We shared the above Analyst Relations Best Practices during the webinar that day, but you can view the full webinar here.
Help us improve your experience with Everest Group!
Please take our poll to help us learn, "What's the overall level of effort you associate with working with Everest Group?"
PEAK Matrix® | Recent Releases
Marketing Services PEAK Matrix® Assessment 2023
Analytics and AI Services Specialists PEAK Matrix® Assessment 2022
Risk & Compliance in BFS IT Services PEAK Matrix® Assessment 2023
UK Contingent Staffing Services PEAK Matrix® Assessment 2023
SAP Business Applications Services PEAK Matrix® Assessment 2023 – Europe
Application and Digital Services (ADS) in Life and Annuity (L&A) Insurance – PEAK Matrix® Assessment 2023
Revenue Cycle Management Platforms PEAK Matrix® Assessment 2023
Thought Leadership
ChatGPT – A New Dawn in the Application Development Process? | Blog
Pillars of Metaverse Regulations | Market Insights™
The Pricing Bulletin: IT Services Pricing Expectations in Early 2023 | Video
How Net Zero Consulting Will Propel Companies' Sustainability Objectives | Video
Tier-2/3 Cities Account For $36 Billion of IT Exports | In the News
Digital Doppelgängers and Evil Twins: How Brands Can Guard against Identity Theft and Fraud in the Metaverse | In the News