Imagine a utopia where minimum human intervention is needed to run an entire shop floor. In this world, manufacturers have total control and visibility of all products, machines predict equipment failures and correct them, shelves count inventory, and customers check themselves out. While such a supply chain model seems improbable and far into the future, the likes of Amazon, Walmart, and Toyota, are already on their way to achieving this vision. At the center of their supply chain initiatives making this possible is the Internet of Things (IoT.)
The supply chain is considered the backbone of a successful enterprise.  However, firms find it increasingly challenging to establish a robust supply chain model. The disruptions caused by COVID-19 have further made matters worse as 'disconnected enterprises' struggle to gain complete supply chain visibility. The pandemic has established that supply chain disruptions and uncertainties will become more frequent going forward.
Supply chain challenges
The current supply chain landscape faces numerous challenges that need to be addressed.  These issues are illustrated below:

 Future-proofing the supply chain using IoT
As enterprises strive to develop a resilient supply chain, IoT will occupy the center stage. An interconnected supply chain will bring together suppliers/vendors, logistic providers, manufacturers, wholesalers and retailers, and customers dispersed by geography. The technology ensures improved efficiency, better risk management, end-to-end visibility, and enhanced stakeholder experience.
A seamlessly connected supply chain provides advantages at every stage of the value chain for each of the stakeholders. The exhibit below showcases a connected supply chain ecosystem: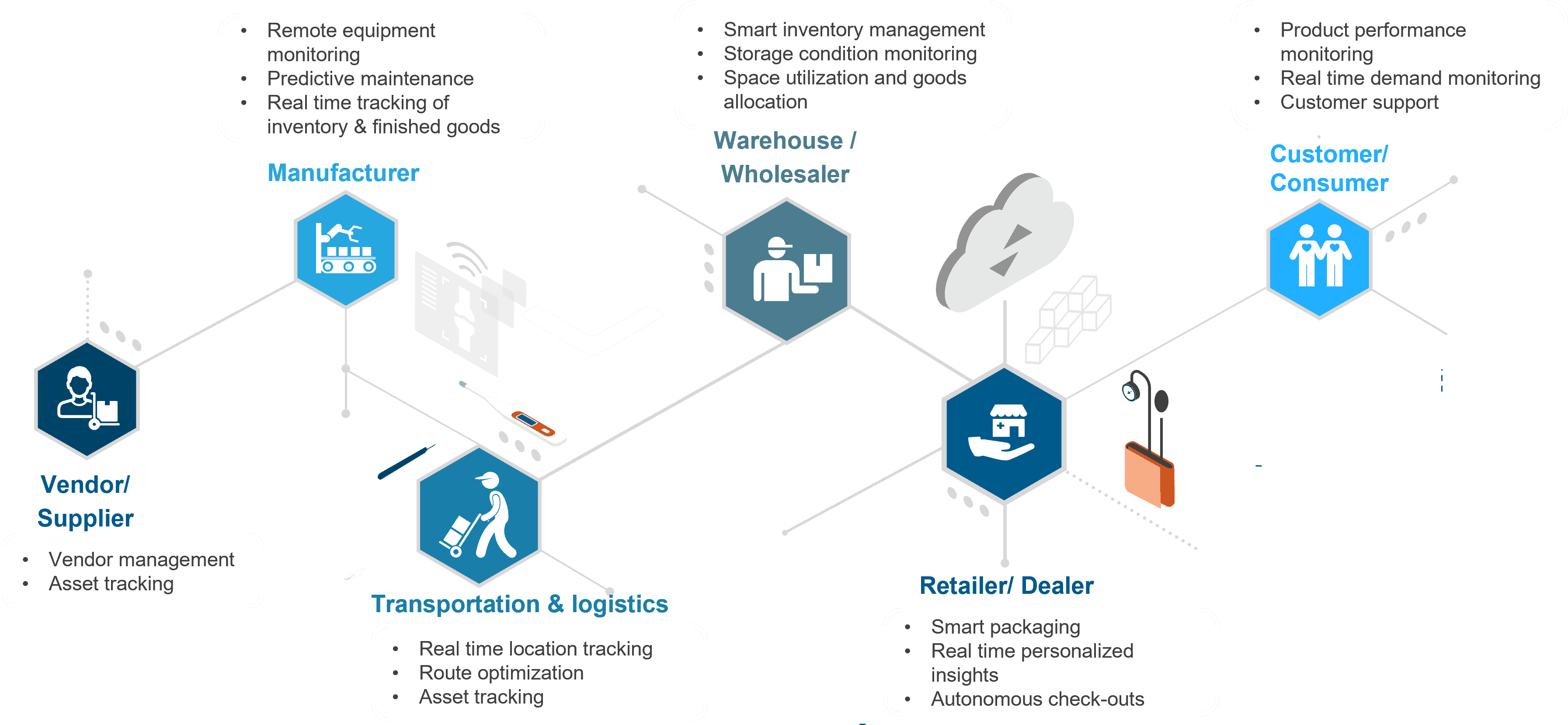 Let's look at how some companies are capturing the benefits IoT:
Real-time location tracking
Using real-time data (captured from GPS coordinates) tracking the movement of raw materials/finished goods, IoT technology aids firms in determining where and when products get delayed. This helps managers ensure route optimization and better plan the delivery schedule. IoT, in combination with blockchain, helps secure the products against fraud. For example, Novo Surgical leverages IoT for optimally tracking and tracing its 'smart surgical instruments.' This has reduced errors, decreased surgical instrument loss, increased visibility and efficiency, and improved forecasting of demand for the firm.
Sensors on machines constantly collect information around the functioning of the machine, enabling managers to monitor them in real time. By analyzing parameters such as machine temperature, vibration, etc., manufacturers can better predict machine downtime and take necessary actions to mitigate this. For instance, Toyota partnered with Hitachi to leverage the vendor's IoT platform and use the data collected to reduce unexpected machine failures and improve the reliability and efficiency of equipment.
Smart inventory management
IoT sensors in the warehouse assist in tracking the movement of individual items, providing an efficient way to monitor inventory levels and prevent pilferage. Smart shelves contain weight sensors that monitor the product weight to determine when products are out of stock. Walmart has been leveraging smart shelves in its retail stores to manage its products more efficiently and improve the shopping experience.
IoT technology uses sensors that can monitor and adjust warehouse parameters such as humidity, temperature, pressure, and avoiding spoiling of items. Leading e-commerce players like Amazon and Alibaba have been pioneers in leveraging IoT to optimize warehouse management.
 Charting the journey for a connected supply chain
As enterprises aim to future-proof their supply chain, they will need a structured path following these five steps below:
Develop a business case: Enterprises need to determine the current gaps in their supply chain and identify the extent of digitization of their supply chain to develop the business case for a connected supply chain.
Secure buy-in from supply partners: Successful implementation of IoT in the supply chain requires the various partners to collaborate and adopt the technology together. Securing a buy-in from each member of the value chain – vendors/suppliers, OEM players, logistics operators, and retailers – is imperative for firms to realize the complete benefits. Compatibility of the technology platforms leveraged by the various supply partners is essential to develop a seamless supply chain.
Invest in security: Invest in security and data protection initiatives early on to avoid supply chain breaches. Performing regular security and vulnerability assessments across the value chain and investing in next-generation technology-based security solutions is essential.
Leverage other technologies: While IoT has a plethora of benefits across the supply chain, consider leveraging next-generation technologies such as blockchain, artificial intelligence, and edge computing in confluence with IoT to further enhance the capabilities of the use cases.
Partner for implementation: To overcome concerns around skills and address data reconciliation challenges, consider partnering with IoT providers with expertise in the supply chain arena. Service/solution providers also are instrumental in bringing a security layer that can aid in addressing data security concerns and governance issues.
Since IoT is an interplay of multiple devices and machines, a successful IoT implementation requires firms to invest in sensors, cloud/edge infrastructure, IoT connectivity networks, data management and analytics solutions, and application development and management. Enterprises can accelerate their IoT supply chain journeys by partnering with solution providers with strong expertise in IoT products and services capabilities in the supply chain arena.
Are you embarking on your connected supply chain journey? Please share your thoughts and experiences with us at [email protected] and [email protected].