Despite the struggles that COVID-19 threw at all industries across the world, the GBS market not only made it out, it advanced in 2020. Now, in 2021, it continues to be an integral element of the sourcing model, accounting for 27 percent of the global services market.
Everest Group's GBS State of the Market Report: Top 2021 Priorities for GBS explores the current GBS market, how it arrived where it is today, and peak initiatives for 2021. The report examines landscape and adoption trends for a clear view forward for GBS, including top expectations of enterprises and the role that GBS organizations can play to strengthen their influence within the enterprise.
The report is based on Everest Group's proprietary GBS database of more than 3,500 offshore/nearshore GBS centers. Throughout this blog, we'll examine a few of the report's many compelling findings.
Keeping pace with an agile approach
It was encouraging to discover that both outsourcing and GBS models continued to grow in 2020, albeit at a slower pace than in 2019. More than 200 GBS centers were established across onshore and offshore/nearshore locations in 2020, with the addition of 40,000+ full-time employees (FTEs). Some of the new GBS center set-ups in 2020 include Qualcomm, Microsoft, and Barclays, to name just a few.
Enterprises are increasingly leveraging the GBS model to establish digital hubs and ER&D (engineering and R&D) centers to create successful digital customer and employee experiences. The resiliency and growth shown from the GBS market in 2020 helped to deepen confidence from enterprises. For example, when COVID-19 propelled digital initiative adoption forward across most verticals (technology and communication, Banking Financial Services and Insurance (BFSI) firms, manufacturing, retail and CPG, and healthcare and life sciences), GBS organizations saw it as an opportunity to step up and deliver higher value-add digital services for enterprises. These services included expanded digital capabilities in areas such as advanced automation, analytics, cloud, platform-based engineering, etc., to meet evolving enterprise expectations and priorities.
Accelerating digital offerings is one way that GBS organizations can continue to drive operational resiliency and better position themselves as strategic business partners for change management initiatives within enterprises in 2021. This image illuminates how GBS markets are steadily moving in a direction toward digital transformation.

GBS activity across locations
After the initial shock of the pandemic, Q4 of 2020 witnessed rapid recovery, especially across India, Rest of Nearshore Europe, and Rest of Asia.
The below image portrays GBS market activity by delivery location and the number of new set-ups. Interestingly, only 13 percent of the companies that set up GBS centers in tier-2/3 locations in 2020 already had GBS centers in tier-1 locations; the remaining 87 percent of companies were exploring the offshore GBS model for the first time.
Additionally, 40 percent of GBS organizations in the report are examining geographic diversification, and 30 percent are looking into the adoption of small-scale/satellite centers to better manage both risk and future cost structures.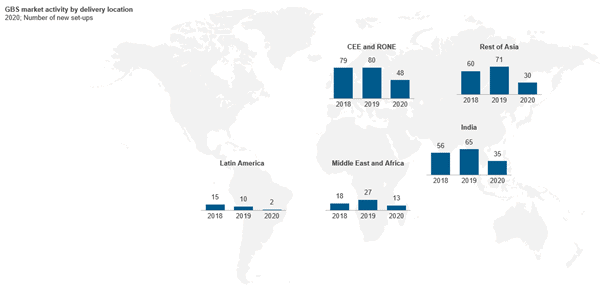 GBS across industries and functions
Across industries, the technology and communication vertical continued to dominate the market, contributing to more than half of the new center set-ups in 2020. The BFSI firms were next in line, accounting for one-third of the headcount (FTEs to date), followed by manufacturing.
Forging into 2021 and beyond
The GBS market stood its ground as the pandemic swept through, and in the end, it has come out a more evolved industry with overall improvement in performance. However, GBS organizations will need to continue to evolve in the aftermath of COVID-19 and as the needs of enterprises shift. GBS organizations should focus on:
Refining overall productivity as it will be the next frontier beyond scaled arbitrage
A robust, futuristic workforce strategy that can unlock high-talent capabilities
Taking a larger picture view of WFH to confirm the model aligns with overall talent goals and targeted growth
Creating a holistic and design principle-led global workforce strategy
A clear path for digital transformation, which will be paramount throughout 2021 and years after
Ensuring cost-competitiveness to avoid third-party economic comparisons
Opportunities where GBS organizations can strengthen and expand their influence with enterprises and meet evolving expectations, for example, moving from being viewed as just the enterprise's helper to an entity that can help shape ideation, design, and even influence major initiatives
Explore complete details of the GBS State of the Market Report: Top 2021 Priorities for GBS by downloading the full report here.
We'd love to hear about your GBS strategy, please reach out to us at [email protected] or [email protected].