Millennials and Gen Xers currently account for a majority of the earning population worldwide. As a result, the largest demographic cohort looking to manage wealth or create retirement income is shifting from baby boomers to these population segments (see the exhibit below), which are generally more involved, aware, and digitally oriented than preceding generations. The new investor generations demand information at their fingertips, anytime, anywhere – something impossible to achieve with traditional wealth management methods.
Exhibit: estimated shift in wealth from baby boomers to Gen X and millennials from 2016 to 2046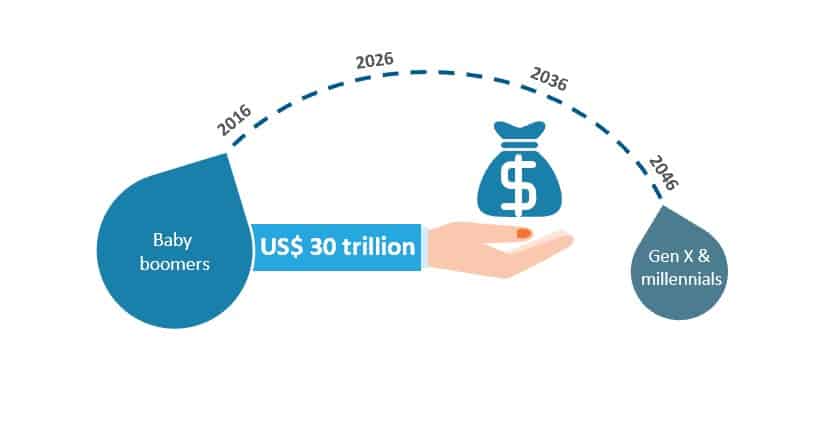 The impact of COVID-19 on wealth management
The COVID-19 outbreak has brought some key challenges in wealth management to the forefront. First, it has highlighted gaps in traditional wealth management methods, accentuating the pressing need for digital transformation. COVID-19-induced restrictions have severely impacted agent availability and as well as customers' ability to visit advisers. Firms that can leverage digital tools to balance business continuity challenges with customer expectations will be able to differentiate themselves from others in the current climate.
Second, revenue erosion resulting from the COVID-caused recession, combined with an increase in business costs, may drive consolidation in the industry, as smaller firms will find it difficult to stay afloat. We are already seeing a shift in asset classes' preferences. High Net Worth Individuals (HNWIs) and Ultra HNWIs (UHNWIs) will be impacted, as the wealth managers' diverse portfolios are impacted. More than half of respondents to a UBS Group AG survey of wealthy investors said they feared not having enough liquidity in the event of another pandemic, and a similar percentage expressed worry about leaving sufficient money to their heirs.
What wealth managers need to do
Wealth managers need to increase their focus on services such as workforce management, operations continuity, customer communications, digital, goal-based planning, and portfolio impact advisory to persist through the current challenging situation. At the same time, they shouldn't lose sight of the perpetual risks to business, such as cyberattacks, money laundering, and other security threats. Wealth management firms will need to ensure – even in the absence of physical interaction and with limited agents – that leadership maintains the confidence of both customers and employees.
Digital will remain the overarching theme to address these challenges. In recent times, Business-Process-as-a-Service (BPaaS) for back-office operations and robo-advisory have gained traction, though the solutions' scale and magnitude continue to remain low. While BPaaS helps firms bolster their critical operations,  technology leverage can be increased further via more digital products, automated cybersecurity systems, smart portfolio creation, trade analytics, and trade simulations for efficiency improvements, productivity gains, bandwidth creation, and customer satisfaction in the next normal.
As wealth management firms look to achieve these objectives, they will require support to quickly and efficiently adopt digital, set up the required infrastructure, move workforce interactions to virtual mediums, revamp operations and traditional workflows to minimize human intervention, and hedge location-based risks. They will have to carefully prioritize tasks and implement digital step-by-step, so as not to abruptly overhaul traditional methods and processes. For this, they could opt for off-the-shelf products or customized solutions, or choose an external provider to do it all.
To tide themselves over the crisis and prepare for what's to come, we recommend that wealth management firms:
Instill confidence in their clients and employees and shield themselves against other risks to survive this unprecedented situation. It will also be vital to take additional precautionary measures to maintain investor confidence. Given investor loyalty to certain firms, it would be useful to focus on maintaining the customer base rather than acquiring new customers
Align themselves with and adopt emerging digital industry trends, including robo-advisory, automated workflows to close sales, remote due diligence, and subscription-based advice models
Ease the pressure on their bottom lines by focusing on reducing cost-to-serve; automating their middle and back offices could serve as a starting point
Continually assess their investment philosophies; while COVID-19 is a crisis like no other, firms must draw lessons from previous crises to diversify their assets and maximize their investments in passive funds that make reasonable margins
At present, digital transformation is no longer a strategy to cater to a specific customer segment but the very means to survive. It will help meet customer experience standards and preferences in relationship management, query resolution, and communication. For employees, digital tools will enable more robust decision-making and goal-based planning for portfolios, as well as help monitor them real-time to enable faster turnarounds and higher returns.