The BFS industry started 2020 in a cautiously optimistic mood, hoping for a rebound in global economic growth. But then the COVID-19 outbreak swept the world into a state of emergency. The current challenge is far greater for BFS firms than was the Great Recession, as they need to crack the code of how to deal swiftly with both demand- and supply-side shocks. In this scenario, banks face a dual mandate of:
Playing a central role in stabilizing the economy
Ensuring business continuity to maintain normal operations
Breaking down the impact of COVID-19 on the BFS IT services market
To illustrate the variation in pandemic impact across different BFS lines of business (LoBs), we analyzed the severity of impact and speed of recovery for each line. Our assessment of severity of impact involved modeling factors such as the COVID-19 revenue and profitability impact from both a near-term (3-6 months) and a medium-term (6-12 months) perspective. We gave more weight to the medium-term impact as the near-term uncertainty makes the modeling of impact very difficult.
And we mapped impact severity against the speed of recovery by gauging the time it will take for these LoBs to bounce back to the pre-crisis state; this is a function of the health of these business segments before the crisis, as well as expected changes in customer sentiment and buying behavior once the crisis is over.
Our analysis found that BFS LoBs cluster in four zones, each of which exhibits unique characteristics and will face a distinct set of technology and IT services implications. Taking it counterclockwise from the bottom right quadrant:
Aggressive cost take out – Lying on the bottom right, the LoBs in this zone will face the highest degree of impact; we also expect their pace of recovery to be painfully slow. To aid in their recovery, these LoBs should rethink their operating models and get back to basic principles: focus on the core business of provisioning financial services, think of delivering more value to customers, and move away from non-core elements like engineering or IT services innovation.We expect to see heightened asset-heavy deal activity in this segment, as these LoBs will need cash to invest and rejuvenate growth in select focus segments. And they'll be looking for financial engineering support through activities such as takeover of legacy assets, shared services carve-outs, and even signing of long-term integrated technology plus operations support engagements that are centered around specific business outcomes.
Modernization –This zone at the top right comprises LoBs that we expect to rebound faster to pre-crisis growth levels. From an IT services standpoint, we expect these LoBs to focus on cost savings in the near-term by seeking price cuts on rate cards and pausing some change initiatives. However, soon enough, these segments will get back to modernization initiatives. Hybrid cloud will play a critical role, as these LoBs will place significant emphasis on digital enablement to fuel their long-term growth.
Growth – Odd as this may sound, we expect these business segments to benefit from the crisis in the near term. For example, as governments across multiple geographies have announced relief packages for small businesses that are facing unprecedented economic disruption, banks are needed to facilitate these SBA loans. Financial services firms that have proactively invested in creating a scalable infrastructure and stronger business continuity plans are better positioned to take advantage of this opportunity by generating significant fee income. Enterprises with large LoBs in this zone will also be on the lookout for inorganic expansion and take advantage of the reduced evaluations. Enhancing customer experience, driving product innovation, and improving agility to quickly respond to market demands will be the key investment themes.
Transformation – This zone comprises LoBs that will recover most slowly from this crisis. Hence, these business segments need to rethink their business models and diversify their revenue mix to sustain themselves in the long term. For instance, retail/consumer transaction banking will face profitability challenges due to reliance on interest-based income, and some of the fee-based commoditized businesses, like retail wealth management, have been under stress due to downward fee pressures. As a result, enterprises with large LoBs in this zone will look to transform themselves and invest from a long-term growth perspective.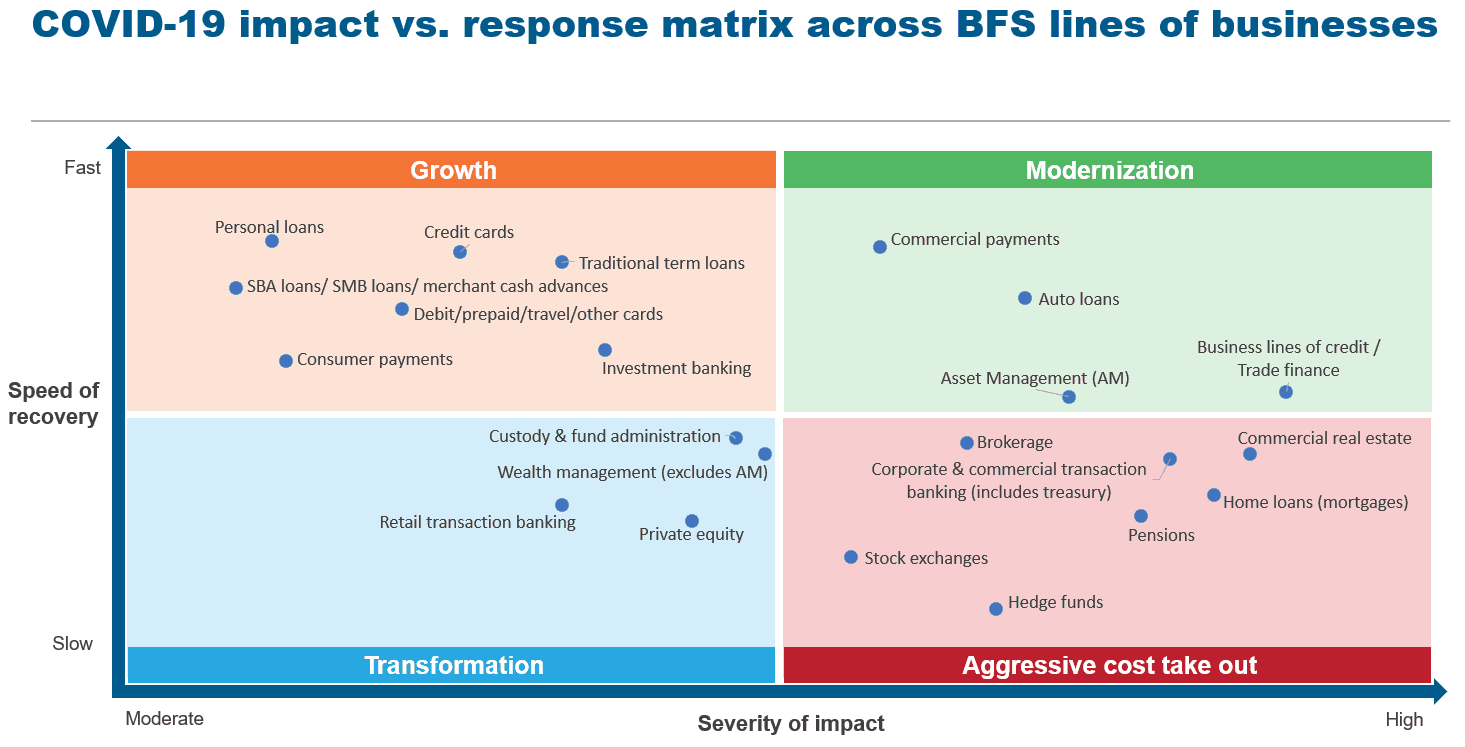 Implications for BFS enterprises
At an industry level, we expect BFS firms to completely focus on running the business initiatives in the near term. Our research suggests that banks have put nearly 60 percent of change projects on hold. Most of these suspensions are temporary and will restart once the crisis abates; however, we believe that the prioritization and nature of these change projects will mutate due to a shift in business priorities and budgets.
As an immediate response to the current situation, designing and executing customer assistance programs should be the top priority for BFS firms. In the medium term, the firms' focus should gradually shift to modernization of legacy systems that slowed down banks' agility and ability to respond to this crisis. Post COVID-19, BFS firms will need to reimagine their products, pricing, and channel strategies to fulfill evolved customers' expectations.
Our recommendation for BFS enterprises is to cautiously evaluate their exposure across each of their LoBs and carve out a holistic IT strategy that takes into account not only the near-term implications, but also their long-term business philosophy.
Please share your views on the impact of COVID-19 on the BFS industry segments with us at [email protected] and [email protected].