Mexico continues to be the destination of choice for global services delivery across Latin America. Indeed, our  research for our "Global Locations Annual Report 2019: Demand for Next-Gen Services Defining Locations Strategies" report found that 26 percent of LATAM's new set-ups established during 2017 to 2019 were in Mexico, including those by Atento, Continental, Harman International, Hexaware Technologies, Neoris, Tech Mahindra, and Zensar.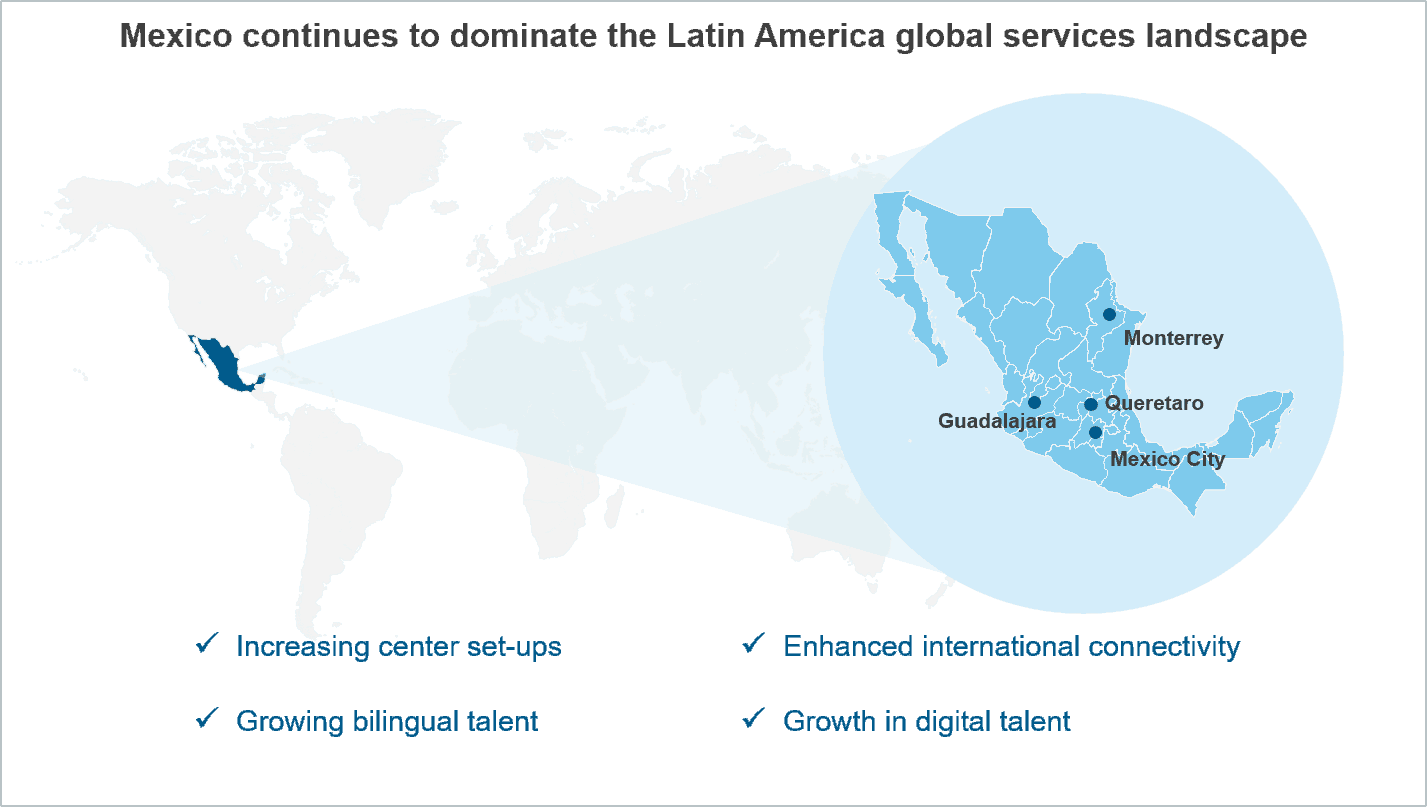 There are multiple reasons that Mexico is the top LATAM global services delivery destination. First, while voice and non-voice business process services continue to grow moderately, the country is the leader in digital due to an increase in support for services including analytics, cloud, mobility, big data, IoT, and artificial intelligence. Second, very few locations offer a better cost-talent proposition to North American enterprises than does Mexico. And third, the fact that it's a nearshore location makes it highly attractive to North America-based companies.
So, what are the top delivery destinations in Mexico?
Mexico City has the largest share of the Mexican market and is the most mature location in terms of breadth and depth of IT and business process services delivered, including IT consulting, digital, accounting, tax, and actuarial services.
However, despite being the country's capital city and biggest business hub, Mexico City lags behind most of its Mexican counterparts in quality of life aspects including crime rates, traffic congestion, and air pollution. And, it ranks second to last of 32 cities assessed across Mexico on "ease of doing business." All of this, coupled with the fact that clients care most about the talent capabilities in the destination, is opening the door for several other Mexican cities to carve out greater portions of the Mexico services delivery pie.
Let's take a quick look at these dark horses.
Guadalajara
Guadalajara, often referred to as the "Silicon Valley of Mexico," continues to grow due to its availability of IT-related talent and delivery of key skills such as IT-ADM, cyber security, and IT consulting. Large pools of talent from adjoining areas have been migrating to the city. Today, Guadalajara is home to some of the top service providers, including HCL Technologies, IBM, and TCS.
Monterrey
Monterrey continues to grow in the finance and accounting space and is one of the country's most mature locations after Mexico City. The city also delivers some of the more complex functions including tax and accounting. Given its proximity to the U.S. border, the English language proficiency and scalability potential of its global services workers is the highest in the country. The city also offers the best overall business environment, primarily due to better quality of life, infrastructure, and connectivity.
Queretaro
With its proximity to Mexico City, Queretaro has grown steadily as a delivery location across functions over the past several years. The city has had maximum percentage growth in graduates across Mexico since 2015, albeit on a smaller base. However, its development is still nascent, so it's largely being leveraged as a smaller spoke to a larger hub within the region. From a cost standpoint, most global companies view it as a low-cost alternative, primarily driven by lower people- and non-people costs.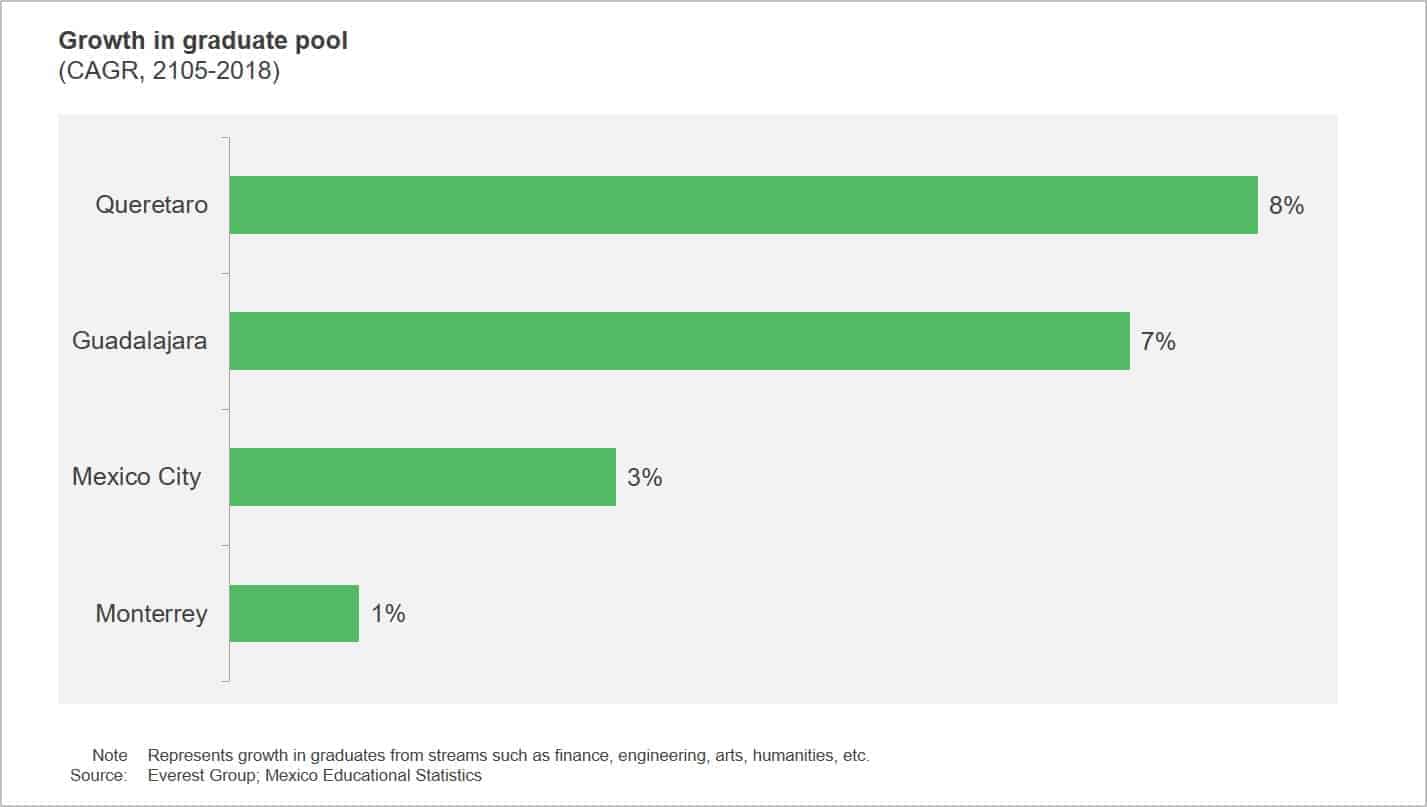 To learn more about the dynamics shaping the global services locations landscape, please read our recently published report, "Global Locations Annual Report 2019: Demand for Next-Gen Services Defining Locations Strategies." We developed the report based on deep-dive discussions with regional investment promotion bodies, leading shared services centers, service providers, recruitment agencies, and other market participants.
For more information on Mexico as a global services delivery location, please contact us at [email protected], [email protected], or [email protected].