On June 10, 2019, Salesforce announced an agreement to acquire Tableau, a leading interactive data visualization company, for US$15.7 billion in an all-stock deal. Here's our take on it.
Strategic Intent behind the Deal
The announcement is a masterful move to aid Salesforce's hyper growth agenda to become a US$28 billion company in three years' time. In the past 15 months, Salesforce has accelerated the data pivot through its acquisitions of Mulesoft in March 2018 and now Tableau, for a combined value of $22.2 billion.
Given its ambitious topline growth goals, Salesforce has hedged its bet against a pure cloud play. Tableau, which is not a cloud company, runs most of its products on-premise, with over one-third deployments in the cloud. However, last year, Tableau announced that its products will also be available on hyperscalers' cloud platforms (AWS, Microsoft Azure, and GCP.) Addressing the ubiquity of data in a modern enterprise and recognizing the transition in software consumption pattern, Salesforce is taking an "anytime, anywhere" analytics approach to cater to enterprise's hybrid cloud-first mandate.
In addition, Tableau's strong performance against rivals including IBM Cognos, MicroStrategy, Oracle BI, and QlikView makes a strong case for the acquisition, given Salesforce's big bet on its Customer 360 initiative and its broader foray into empowering clients with data analytics and visualization capabilities.
Enhancing the Data Analytics and Experience Pivot
Salesforce, a veteran in the CRM space, is repositioning itself as a digital experience (DX) platform, wherein it intends to become a one-stop, end-to-end solution for enterprises' DX needs. It has been making strategic acquisitions over the years to plug in the gaps in its DX platform portfolio to achieve this goal.


Because Tableau and Salesforce's in-house analytics tool, Einstein Analytics, can easily interoperate, the company will be able to sell a well-packaged data analytics offering. Tableau's niche capabilities in data analytics will not only deliver an improved data management solution but will also help enterprises form data-intensive strategies and optimize the overall stakeholder experience. And, the acquisition gives Salesforce new up- and cross-sell opportunities, as enterprises will be able to purchase CRM and business intelligence (BI) capabilities from a single vendor.
Gaining a Full View of Enterprise Data
Looking at the timeline of Salesforce's acquisitions, we see a strategic shift from targeting digital marketing and commerce space toward enhancing enterprise data lifecycle management. Since 2018, Salesforce's top deals have been to expand its coverage in the data and analytics space. Undoubtedly, the move has given Salesforce a shot in the arm when it comes to showcasing its capabilities across the data management value chain. Tableau sits atop of its acquisitions, plugging in multiple outside data sources and offering an easy to use UI for data visualization.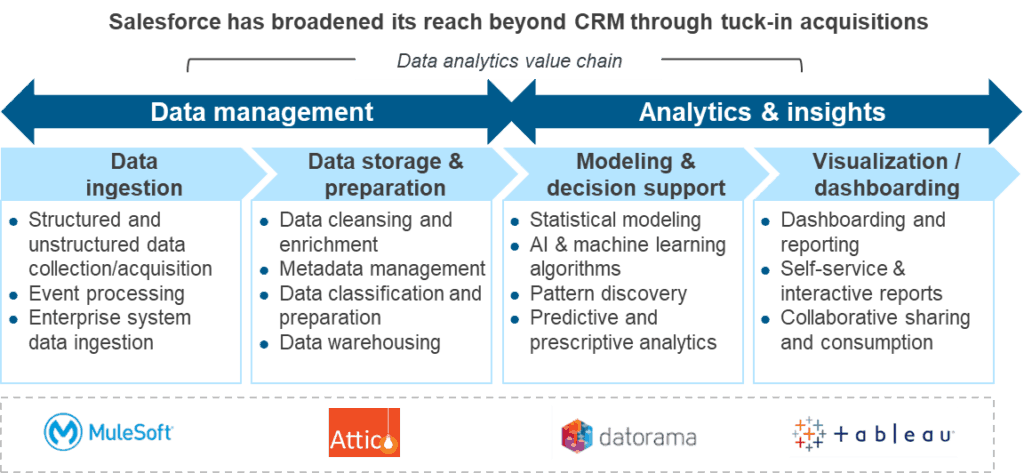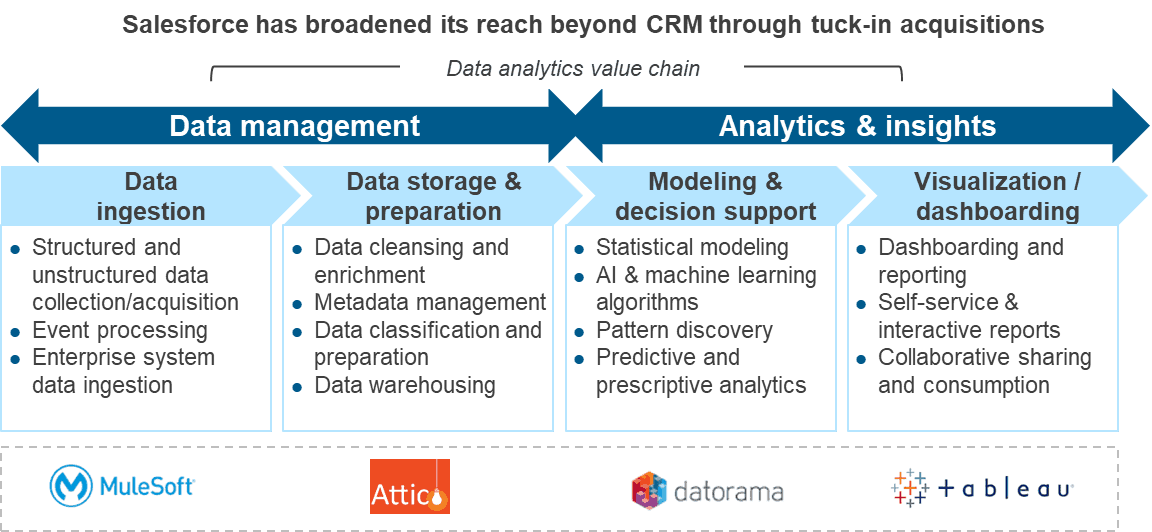 Indeed, Salesforce's acquisition of Tableau is a strategic next step after its 2018 acquisition of MuleSoft. While Salesforce leveraged Mulesoft to create a "Salesforce Integration Cloud" that allows different cloud applications to connect via APIs, Tableau can help it gain deeper insights in this data, in turn driving enterprises toward data-driven decision making.
Data Orchestration Meets Cognitive
We give a thumbs up to this deal, particularly for what it means to the market going forward. Why?
The move fits well with Salesforce's agenda to move into machine learning-driven analytics. Essentially, it will now have a strong BI tool, underpinned by AI, that will democratize enterprise access to next-generation data modeling and analytics capabilities.  A Tableau-integrated Salesforce Einstein Analytics offering should be able to deliver an intelligent, intuitive analytics and data visualization platform that leverages enterprise-wide data to help enterprise customers, employees, and partners with well-curated insights.