The Global in-house Center (GIC) model continues to grow across industries, functions, and emerging markets ‒ from the financial services and technology industries to most verticals, from call center and R&D to a diverse set of functions, and from India to most emerging markets.
As the model continues to grow, with GICs evolving from low-cost service delivery centers to strategic entities driving value beyond cost savings, they face strategic and operational challenges: demand fluctuation management, talent management, driving further optimization through adoption of industry best practices, and knowledge management, to name just a few.
Third-party service providers can come into play here, helping GICs overcome these challenges by providing:
Additional cost savings through economies of scale and delivery pyramid optimization
The flexibility to ramp-up and ramp-down the capacity based on demand
Expertise in tools/technology and best practices on processes/control mechanisms
Large global footprint and language capabilities to serve for all regional centers across geographies
Niche skills such as digital and analytics
In this hybrid sourcing model, the GICs use service providers and/or manage their delivery on behalf of the parent organization. This also includes situations in which the GIC is driving or supporting sourcing initiatives (e.g., service provider selection or contracting) on behalf of the parent organization.
Everest Group, in collaboration with the Shared Services and Outsourcing Network (SSON) and NASSCOM, recently conducted a survey on hybrid sourcing adoption trends in offshore GICs. Eighty percent of the respondent GICs have adopted hybrid sourcing, leveraging service providers predominantly to manage volume fluctuations, lower costs, and access best practices. As the graphic below shows, most (80%) responded that hybrid sourcing is meeting or exceeding their expectations.
Our research shows that service delivery improvements and governance enhancements are the top priorities for the GICs. Therefore, it is not surprising that GICs collaborate with service providers across three key associated areas – supporting service provider delivery, supporting/implementing the parents' service provider sourcing program, and identifying global sourcing opportunities and designing the sourcing model strategy. As GICs evolve in their operating models, they are likely to look for more opportunities to work with service providers in these priority areas to enhance the overall impact.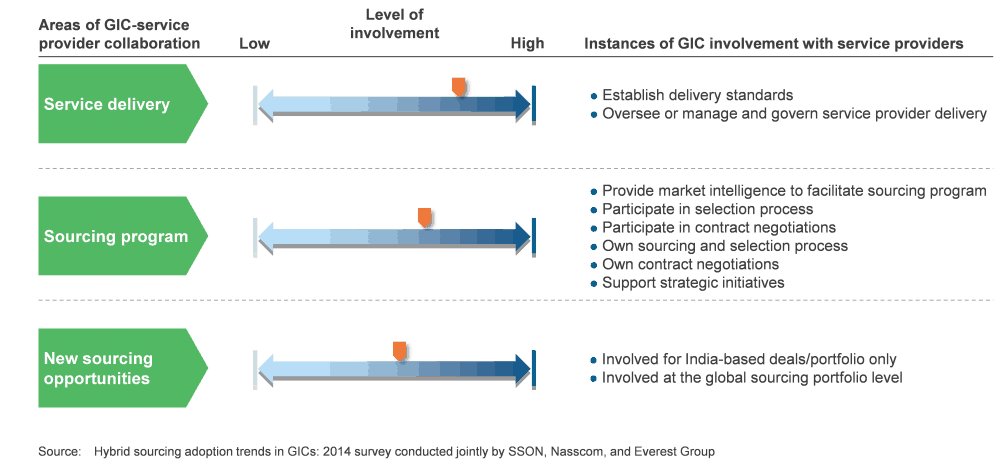 Going forward, it is safe to assume that there are multiple opportunities for service providers to work with the GICs. However, further adoption of hybrid sourcing in GICs will be driven by their ability to influence the mandate from the parent organization, and service providers' ability to assess the opportunities. Understanding GIC maturity will also be a critical factor driving these collaboration opportunities.
Everest Group has recently released a report on adoption of hybrid sourcing that provides a detailed landscape of current adoption and future trends for this model. For more information, please download a preview of the report, "Adoption of Hybrid Sourcing in GICs – Driving Impact through GIC-Service Provider Collaboration."