At its first analyst event under the leadership of CEO Ravi Kumar, Cognizant openly discussed the company's past problems, emphasized its renewed focus on relationship management, shared clients' success stories, and previewed new products. Read on for reflections based on the Everest Group team's interactions with Cognizant leaders at the event.  
Contact us directly for questions and or more information.
After a challenging past six years, the recent Cognizant event highlighted the company's commitment to growth and improvement. The new leadership team demonstrated its awareness of issues that need repair and reinforced the company's strong focus on bringing its core differentiator, relationship management, to the forefront. Compelling client success stories with renowned organizations like US Bank and Bristol Myers Squibb also were shared with the analysts and advisors who attended the event.
The context for the event was significant given the company's struggles in recent years involving an activist investor followed by a slow growth period precipitated by misaligned priorities. Despite these issues, Cognizant ranked sixth in Everest Group's latest version of the flagship leaderboard of global IT organizations – PEAK Matrix Service Provider of the Year 2023.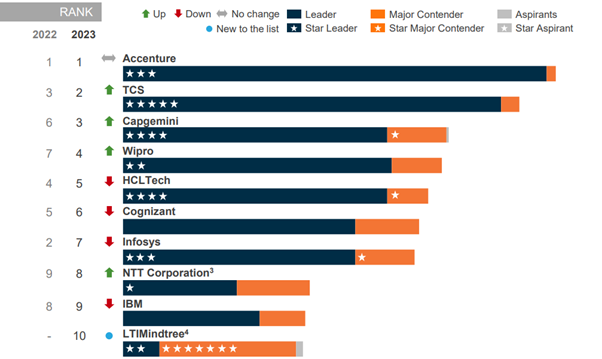 Even with the remaining issues that need to be fixed, the company has sound fundamentals. Here are our takeaways from the main points we heard from Cognizant's leadership at the event:
Self-awareness and commitment to improvement
The company's self-awareness of the challenges it faced and its commitment to addressing them was a key theme that emerged from Cognizant's analyst event. The provider acknowledged how several issues had impacted its performance and reputation in recent years. Rather than shying away from these concerns, it displayed a refreshingly transparent approach, recognizing the need for change and outlining specific actions to address the identified areas for improvement. This commitment to self-improvement demonstrates Cognizant's dedication to delivering exceptional client experiences and driving sustainable growth.
Bringing relationship management to the forefront
Cognizant has long been recognized for its deep client relationships, which have been instrumental to its success over the years. The company emphasized the importance of relationship management as its core differentiator. Cognizant showcased a renewed focus on nurturing and strengthening these relationships, leveraging its vast expertise, industry knowledge, and client-centric approach. By reinforcing the significance of strong client partnerships, Cognizant appears to be picking the right battles.
Compelling client stories: US Bank and Bristol Myers Squibb
Cognizant shared inspiring client success stories that showcased its ability to drive innovation and create value for its clients. One notable example was its collaboration with US Bank, where Cognizant leveraged its digital transformation expertise to help the bank enhance its customer experience, streamline operations, and drive cost efficiencies. Cognizant's partnership with Bristol Myers Squibb was another example shared. Cognizant supported the global biopharmaceutical company in leveraging advanced analytics and data-driven insights to accelerate drug discovery and development, leading to improved patient outcomes. These successes served as compelling examples of Cognizant's ability to deliver tangible business results through technology-driven solutions.
A crucial factor contributing to the sense of stability and confidence at the analyst event was Cognizant's leadership team. Along with Kumar, the other executives speaking at the event included Surya Gummadi, Prasad Sankaran, and Ganesh Ayyar. The leadership team's steady guidance has played a pivotal role in steering Cognizant through transformation and growth. Analysts and attendees noted leadership's openness in addressing concerns and the confidence they exuded in their ability to guide Cognizant.
Lastly, Cognizant gave the community a preview of recent offerings such as Cognizant Neuro AI, its new, enterprise-wide platform designed to provide enterprises with a comprehensive approach to accelerate the adoption of generative Artificial Intelligence (GAI) technology.
By acknowledging areas for improvement and demonstrating a transparent and determined approach, Cognizant conveyed its commitment to growth and delivering exceptional client experiences. The emphasis on relationship management as its key strength reinforced the company's focus. As analysts, we will closely scrutinize Cognizant's progress in these areas and offer insights to buyers and investors in IT and Business Process Services.
Everest Group was represented at this event by CEO Peter Bendor-Samuel, and Partners Abhishek Singh, Achint Arora, Manu Agarwal, Ronak Doshi, and Shirley Hung. Contact this team with questions about IT and BP services markets, enterprise buying trends, and the role of vendors. Reach out to contact us.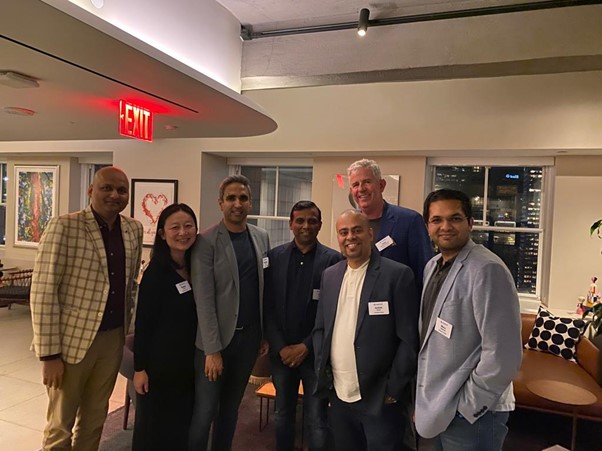 From left, Ronak Doshi, Shirley Hung, Abhishek Singh, Ravi Kumar, Achint Arora, Peter Bendor-Samuel, and Manu Aggarwal
Watch our webinar, Welcoming the AI Summer: How Generative AI is Transforming Experiences, to learn why leading providers are entering the market with significant investments.