The healthcare sector is increasingly interested in harnessing generative AI capabilities to drive operational and cost efficiencies. Leading technology players are heavily investing in this space and partnering with healthcare enterprises to take advantage of its potential. Discover the latest developments, challenges, and outlook for generative AI in healthcare in this blog.  
The adoption of generative artificial Intelligence (GAI) by the healthcare industry has gained momentum in recent months with technological advances such as ChatGPT and Dall-E 2.
To tap into this growing demand for generative AI in healthcare, BigTechs (Amazon, Google, Microsoft, and Oracle) are leaving no stone unturned as they pivot toward developing capabilities at the intersection of healthcare and GAI. Let's explore this further.
Recent healthcare-specific GAI announcements by BigTechs

The frequency of recent investments by these tech giants signals that more funding will follow in the GAI-healthcare space.
BigTechs' partner ecosystem – a key differentiator in developing industry-specific generative AI capabilities
As BigTechs make huge strides in ramping up their healthcare-specific generative AI capabilities, accessing large volumes of healthcare data is a major obstacle. To address this challenge, BigTechs are forging strategic partnerships with niche health tech firms or third-party data providers to obtain healthcare data for training Large Language Models (LLMs).
BigTechs also are leveraging partnerships to foster co-innovation and adopt a joint go-to-market strategy for healthcare-specific GAI solutions. For example, Oracle partnered with AI specialist firm Cohere to develop GAI solutions. Through the partnership, Cohere will train, build, and deploy its generative AI models on Oracle's cloud infrastructure. Oracle plans to deploy new models for healthcare and embed GAI throughout its industry-specific applications.
BigTechs' GAI capabilities are predominantly provider-focused  
Most investments by BigTechs in generative AI in healthcare are focused specifically on enhancing administrative processes for providers and physicians. Some of the prominent use cases are centered around streamlining clinical documentation and drafting automatic message responses to patients, as illustrated below: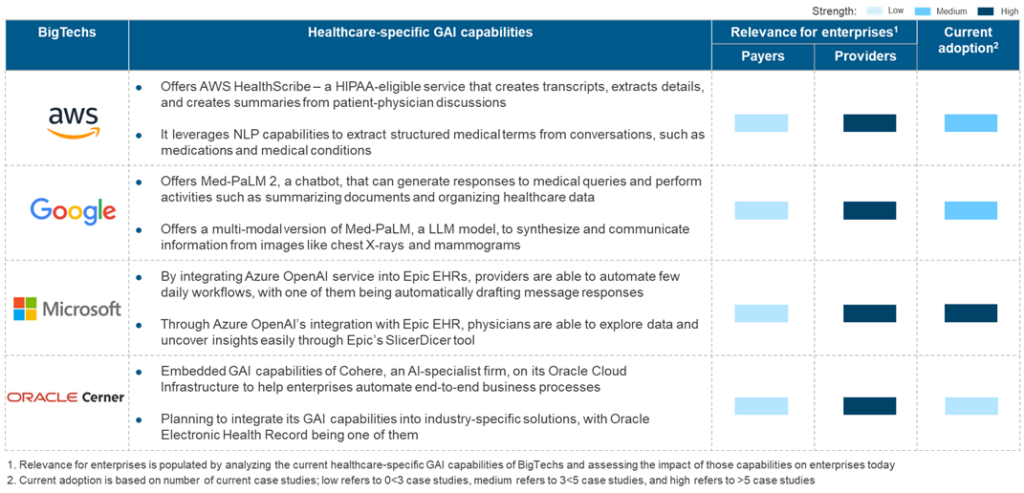 Seeing how the technology giants develop capabilities in care coordination and delivery will be interesting. Providing health and lifestyle recommendations, reminders for medications and appointments, and other proactive communications could significantly transform the way patient care is delivered.
When developing care coordination and delivery capabilities, BigTechs and other technology players must ensure the GAI models are built on huge volumes of patient data. This will significantly reduce the margin for error and help improve patient care outcomes.
Adoption of generative AI in healthcare is currently limited but will surge before long
While investments by suppliers are rising, GAI adoption in healthcare is still in its nascent stages. However, we have observed a few mid-to-large-sized hospitals and providers taking the leap of faith and becoming early adopters. For example, UC San Diego Health and UW Health in Madison, Wisconsin, are adopting GAI solutions developed by Microsoft and Epic to automatically draft message responses to patient queries.
To increase GAI adoption in healthcare, technology players and enterprises will have to jointly address these key considerations:
People – determining and acquiring the right skills
Process – change management and identifying the business functions
Technology – ensuring security and maintaining infrastructure
Most importantly, successfully navigating security challenges will be key to increasing adoption, as enterprises are skeptical about sharing sensitive patient data to train GAI models. Technology players will have to proactively alleviate this concern by ensuring patient data is protected and that the development of GAI models adheres to data privacy and state and federal government security mandates.
Moving forward, what will BigTechs focus on?
While most current use cases revolve around administrative and operational provider functions such as clinical documentation and medical coding, BigTechs are expected to invest in other provider-related functions shortly. Some provider-specific functions that are ripe for GAI investments are:
Billing and payments – Analyzing patient billing data, payment history, and due dates to generate personalized payment reminders for patients
Post-discharge follow-ups – Generating personalized care instructions and sending tailored health reminders to individuals, including medication adherence and lifestyle recommendations
Pre-care and post-care services, such as providing appointment reminders and billing options, could be near-term investment areas for BigTechs. By working together, BigTechs and enterprises can potentially leverage GAI to analyze patient data and proactively recommend care interventions – an exciting concept to keep an eye on.
Surprisingly, we have not seen much traction or activity in the payer segment on the supply or demand side. Considering payers are generally more inclined to embrace technology than providers, we anticipate demand and supply to grow in the short term.
It will be intriguing to watch the types of applications BigTechs create for payers when they dive deeply into this segment. Streamlining contact centers and automating benefit verification are low-hanging fruits BigTechs may target.
We will continue to closely follow how BigTechs' GAI play evolves in the payer market. To discuss generative AI in healthcare, contact [email protected] and [email protected].
Learn more about technology in healthcare in our LinkedIn Live session, How Technology is Reshaping the Delivery of Care in the Healthcare Industry.