The traditional strategies for finding the best recruits for jobs are changing. With the talent shortage across all industries, companies are taking innovative approaches to talent sourcing and acquisition. Where will your next-generation talent come from? To stay on top of the war for talent, read on to learn the emerging tactics and a comprehensive framework to expand the candidate pool. 
Traditional talent sourcing strategies
The commonly used practices for proactively locating the best potential hires for open or future positions are no longer enough with the great need and talent shortage. Traditional talent sourcing strategies have included:
Using internships to lure top prospects and hiring recent graduates
Hiring from within the same industry or location, which offers the benefits of domain knowledge and cultural fit
Relocating talent from other locations for their experience, skills, and ability to learn
Offering flexible employment such as part-time work and fixed-term contracts. While this is a growing trend, alternative talent for most companies is typically less than 15% of the total workforce, especially for IT and niche skills
Innovative talent sourcing and acquisition strategies
The quest for the right skill sets and talent is driving organizations' hiring decisions and motivating them to try new operating models. Based on our latest research on the Philippines market and beyond, here are eight emerging talent sourcing and acquisition strategies to consider:
Acqui-hiring or hiring through Mergers & Acquisitions: Acquiring start-ups primarily to recruit their employees with specific talent
Satellite centers to augment traditional hubs: Setting up small satellite offices to diversify delivery location portfolios, creating extended "spoke" offices without setting up large physical sites to attract talent from a wider area
Collaborating with the external ecosystem: Strengthening connections with academic institutions, start-ups, and service providers to leverage their talent pools to develop holistic solutions, increase agility, and reduce go-to-market time
Work from Home or Anywhere (WFH/WFA): Exploring work from home or work from anywhere models now, particularly since COVID-19 has increased the acceptance and openness to virtual delivery models
Gamification/simulation-based screening assessments: Using gamification-based assessments instead of a traditional interview process with a focus on hiring for learnability and applying skills rather than possessing the core skill itself
Hiring next-generation talent and "problem solvers" through hackathons: Hiring candidates through coding events such as hackathons to attract a wider pool of talent from multiple sources and different backgrounds, and to engage with the student community
Co-creating a curriculum: Partnering with educational institutes to introduce curated courses for developing and attracting talent with specific skillsets
Comprehensive framework to expand the talent pool
Everest Group has developed the following comprehensive framework to incorporate the many ways organizations in the Philippines are widening their access to candidates to meet ever-increasing talent requirements.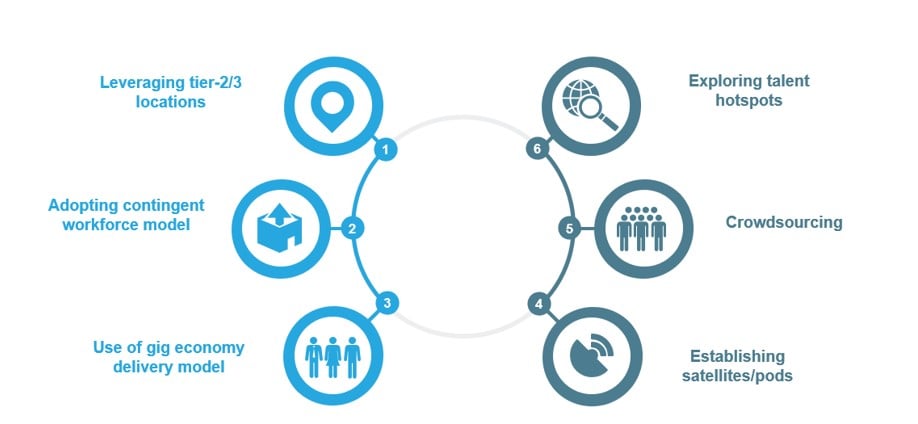 Below are some approaches leading enterprises are exploring:
Leverage tier-2/3 locations: Tier 2/3 locations: Bacolod, Cebu, Davao, Iloilo, and Pampanga (Angeles City, Metro Clark) for the following reasons:
Lower operations costs – Costs in tier-2/3 cities are 10-20% lower compared to a typical tier-1 city because of lower salaries and facility-related expenses
Better work-life balance – Tier-2/3 cities provide a decent alternative because employees don't need to travel to tier-1 cities for employment. The growing adoption of the long-term WFH model may also increase the pool of tenured IT talent operating from these locations
Reduced risk – Tier-2/3 locations can act as Business Continuity Planning (BCP) locations to tier-1 locations, providing opportunities to diversify delivery location risk
Lower human capital costs – Multiple tier-2/3 cities offer a large, untapped talent pool with relevant skills, providing scalability and the potential to reduce people costs
Greater retention – Attrition rates in tier-2/3 locations are 10-15% lower than in tier-1 locations, translating into better service delivery and lower hiring and training costs
Adopt the contingent workforce model: Using contingent workers such as freelancers, independent contractors, consultants, or other non-permanent workers offers cost savings, increased flexibility, and caters to workers' changing preferences. This trend is growing with 36% of enterprises classifying more than
16% of their workforce as contingent workers
Increase the use of gig workers: Accessing next-generation skills in locations where companies do not have a physical presence for short-term assignments, tasks, or jobs
Establish satellites/pods: Setting up small-scale (less than 50 full-time equivalent employees) or sub-scale centers, typically within a shared workspace to tap into new locations. Additionally, these arrangements enhance access to scarce talent and aid in Business Continuity (BCP) goals, provide a platform for possible collaboration, Centers of Excellence (CoEs), and offer flexible workspaces
Adopt internal and external crowdsourcing: Leveraging social media and networks to spread the word about job availability. Crowdsourcing across companies has been on the rise
Explore talent hotspots: Establishing a presence in emerging talent hotspots (e.g., Israel, Lithuania, Egypt) to access next-gen skills
We expect a notable increase in the adoption of these talent sourcing and acquisition strategies over the next six to 12 months by Philippines-based shared service centers and other organizations.
To share your comments and questions on talent sourcing and talent acquisition, please reach out us: contact us.
To learn more about the talent shortage and hear ways to rethink talent strategies and expand reach, watch our webinar, "Is the Talent War Threatening the Success of Your GBS?".