Generative Artificial Intelligence (GAI) holds the potential to revolutionize the experience design and development process by creating unique personalized marketing content. Read on to learn about the opportunities, challenges, and implications of GAI for enterprises and service providers.
You can also hear about the use cases, the limitations and risks, and the industry's predicted response in our webinar, Welcoming the AI summer: How Generative AI is Transforming Experiences.
From rule-based systems merely capable of automating set functions to deep learning algorithms that can accurately comprehend natural human language nuances, Artificial Intelligence (AI) undoubtedly has come a long way.
Today, AI is at a juncture where its capabilities are no longer restricted to automating repetitive tasks. Generative AI – the latest version of this technology – has taken the industry by storm this year by entering the arena of human creativity.
While GAI is flooding the market with a plethora of unique use cases, it particularly has the potential to disrupt the experience design and development process by optimizing the content supply chain and streamlining the UX/UI design process. Let's explore this further.
What is Generative AI?
Everest Group defines Generative AI as a variant of AI technology based on deep learning Generative Adversarial Networks (GANs) and Transformer models, having the ability to provide convincingly unique content in the form of text, imagery, video, audio, and synthetic data.
Although the technology has been around for the last five decades, it has recently gained momentum due to advancements in hardware computation power, maturity of AI models, and availability of high-quality contextualized training data sets.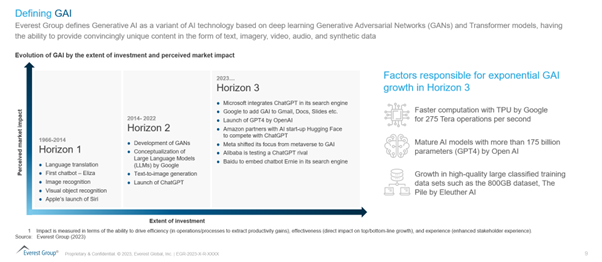 Exhibit 1: Definition and evolution of GAI technologyPropelled by investments from giants such as Microsoft, Google, and Amazon, the market is witnessing a huge influx of start-ups focused on consistently identifying and operationalizing new Generative AI use cases.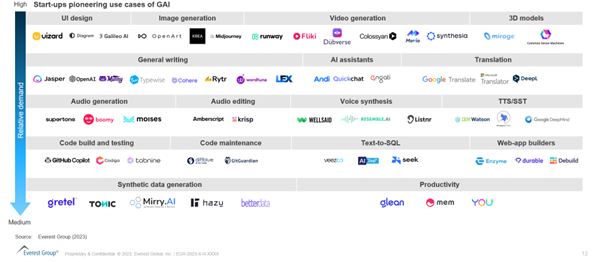 How can GAI help marketers?
As personalization becomes the centerpiece of every marketing strategy, the never-ending demand for real-time contextualized content puts a lot of pressure on creative teams. This is where GAI comes in. Be it content creation or user interface/user experience (UI/UX) design, the technology can create a scalable creative engine for personalized marketing.
The industry is acting fast to streamline the marketing creative process by adopting GAI. Experience leader Adobe has launched the Firefly family of proprietary GAI models that enable image, audio, video, and 3D model creation through mere text prompts. On the other hand, AI leader NVIDIA has introduced the GauGAN tool that can generate realistic images from sketch drawings by artists.
GAI – The brainstorming partner for idea generation across industries
While content remains key, enterprises also are investing in GAI models in vertical markets to power industry-specific use cases to brainstorm and generate creative ideas.
 The following industries are rampantly adopting GAI technology:
Manufacturing: General Motors partnered with Autodesk to use GAI to design a new seatbelt bracket that was 40% lighter and 20% stronger than the original design
Healthcare: GAI also is being applied in drug design with companies such as Insilico Medicine using its Chemistry42 GAI platform to generate novel chemical compounds for new medicines
Architecture: Architecture firm Skidmore, Owings & Merrill (SOM) has created a GAI tool called SOM Computational Design for generating design options for buildings
Retail: Levi Strauss has partnered with Lalaland.ai to design hyper-realistic AI-generated model avatars for promoting diversity in terms of body type, age, and skin color
While AI has leaped in maturity from automating unproductive repetitive tasks to generating unique content via human-led prompts, it still lacks the finesse of a human touch. Therefore, the technology can act as a co-pilot for the creatives, but it's not yet at a stage where it can provide customer-ready outputs through prompts. Instead of instilling fears about the technology replacing humans, enterprises must embrace the magnitude of the impact it can have on workforce productivity.
Mitigating GAI technology risks
The technology is a game changer, but it comes with substantial challenges related to output accountability, model bias, privacy compliance, talent shortage, system integration, and the cost associated with deploying large AI models.
 While Italy has banned ChatGPT and other European nations have expressed concerns about the technology, pioneers such as Adobe and Salesforce are relentlessly trying to mitigate these risks by developing plagiarism checkers, establishing compensation structures for creative professionals, upskilling talent, and adopting fair representation learning models to counter model biases.
Implications for service providers
With announcements of Accenture's GAI Center of Excellence, Deloitte Digital's dedicated GAI practice, Infosys embedding GAI into software development tools, and TCS developing an in-house enterprise-grade solutioning platform using GAI, service providers need to take a cue and move fast to cement a strong understanding of Generative AI functioning and the ecosystem.
Providers also have to bring top leadership up to speed on the Generative AI landscape, flesh out a detailed narrative discovering enterprise priorities, embed GAI in solution and service delivery for efficiencies and productivity, and harness GAI technology's true potential by integrating it with business applications.
For more insights on Generative AI, contact Vaani Sharma.