During the digital transformation journey, a Global 2000 enterprise uses more than 150 software solutions and tools on average to support its product or services delivery. Despite the huge investment, the value realized from this technology is still unclear to most enterprises. Read on to understand the importance of measuring the value delivered by software applications or products with value stream management (VSM) and our 4D framework to implement it.
More than 90% of enterprises have adopted agile development methods in some shape or form, and DevOps adoption is on the rise. But surprisingly, less than 20% consider themselves highly mature agile enterprises. These few have adopted a Scaled Agile Framework (SAFe) to implement agile and DevOps practices across the enterprise with some having DevSecOps and BizDevOps processes for product development. Even then, enterprises are unable to track and measure the organizational-wide technology value. Most of the remaining 80% have agile and DevOps adoption in pockets, making it tougher to align outcomes and realize meaningful benefits.
With the increasing investment overload and absence of tangible outcomes, the critical importance of delivering and realizing value is gaining enterprise attention. Concerted efforts for defining, measuring, and enabling value are needed.
Agile and DevOps adoption is considered by many as the ultimate step toward digital transformation. However, enterprises must realize it is just a starting stage for continuously tracking, measuring, realigning, and improving digital solutions' outcomes and value. This is where the concept of value stream management (VSM) becomes pertinent.
Before we delve deeper into what VSM is, let's understand what VSM is NOT.
People often use value stream management and Value Stream Mapping interchangeability, which is thoroughly misleading. The two are related but not the same.
Exhibit 1: Differences between value stream management and value stream mapping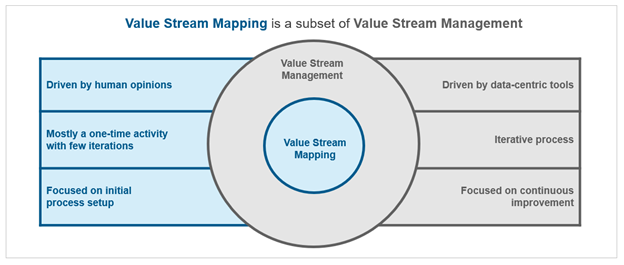 As the graphic above illustrates, Value Stream Mapping is an activity or a subset of VSM. The value streams and processes are defined during Value Stream Mapping and act as an initial step for effective outcomes from value stream management. VSM focuses on a data-centric approach to decision making and promotes a culture of innovation and improvement through a continuous feedback loop and collaboration.
Now that we are clear on what VSM is not, let's delve deeper into what VSM is, why enterprises need it, and how to adopt it.
Value stream management – the next step in the enterprise agile journey
In an enterprise setup, there are broadly two sets of value streams – operational and development.
Operational value streams or business value streams comprise the processes and people who deliver the value to the end user by leveraging systems or solutions created by the development value streams. Operational value streams are defined by the nature of the business and its business unit. Some examples of operational value streams are product manufacturing, software product sales and support, order fulfillment, and support functions.
Development value streams or IT value streams consist of the systems and software developers, product managers, and other IT practitioners who design, build, deploy, and maintain systems/solutions. These systems/solutions are used by either internal customers (members of the operational value stream) or external customers who are direct buyers and users. The definition of processes or steps in the development value stream is standardized and runs in parallel with the phases of the Software Development Lifecycle (SDLC) – plan, build, release, and operate.
For example, order fulfillment in a software product company is one operational value stream involving different teams and processes – from sales enablement, licensing, and provisioning to customer support and renewals. These teams require software systems like a Customer Relationship Management (CRM) portal, service management platform, license management systems, etc., to support their processes. The development value streams will be aligned to build and support each of these software systems, enabling the operational teams to deliver the product effectively.
The SAFe principles apply to the development value streams. However, enterprises currently focus SAFe implementation efforts on delivering good products or solutions with agility versus delivering customer value. To deliver value along with agility, adopting VSM in the development value streams should be the next step. This will act as a management layer enabling more data-driven decision making at the SDLC level. VSM also can be extended to operational value streams.
Today the focus for VSM has expanded to the enterprise level bringing the delivery and operational value streams closer.
Making the business case for value stream management adoption
Aligning development value streams to the objectives of operational value streams is key to delivering optimum value to the end customer. VSM platforms connect people, processes, and technology across the SDLC and can be extended to integrate heterogeneous value streams across the enterprise.
Some of the key benefits enterprises stand to achieve with a successful VSM approach are:
Identify value streams, organize people, and perform cost-benefit analysis during product discovery
Make data-driven investment decisions and prioritize product delivery based on end-to-end visibility
Improve the value delivery strategy based on real-time metrics
While we understand the need for VSM in enterprises, implementing it in a structured manner to gain maximum value delivery is equally important.
Implementing VSM effectively using the 4D framework
Below is a recommended starting approach:
Determine the current state of value flow and define value streams at an enterprise level, starting with identifying the operational value streams and the respective development value streams. Align the operational and development value streams to the final value to be delivered by the value stream. Identify current system behaviors and interdependencies.
Design value stream maps to achieve the future state of value flow right from ideation to the value delivery stage. Organize teams to value streams by bringing together the right stakeholders accountable for each value stream step for a mapping exercise to decide steps, handoffs, and metrics.
Deploy VSM tools to connect all value stream parts to measure the flow of value in real time using metrics that track the time, velocity, load, and workflow efficiency. Expand to integrate with other value streams as necessary. Providers like Digital.ai, ConnectALL, Micro Focus, Plutora, and Tasktop offer VSM tools to consider.
Demonstrate continuous improvement in value delivery by using real-time insights from flow metrics as feedback to realign the strategy to increase throughput, efficiency, and value stream productively. Continuously measuring flow metrics gives all stakeholders end-to-end visibility to make informed decisions on investments and prioritization.
This 4D framework is a starting point to implement VSM. Additional factors like talent, governance, organizational culture, etc., can further optimize the value delivery through VSM. Adopting a performance-oriented, highly cooperative, and risk-sharing-based environment will enable smooth VSM implementation.
With growing enterprise investments in agile and DevOps adoption for software development, it will be interesting to see how adding a VSM layer will change the value measurement and value delivery game in upcoming years. Stay tuned for our upcoming blog further exploring the enterprise VSM adoption roadmap.
To discuss value stream management, contact [email protected] and [email protected].
Read more of our blogs for more fact-based insights and transformative business process.