Business agility has emerged among leading Global Business Services trends as a key driver for growth, innovation, and business excellence. Attaining business agility requires new ways of thinking and working. To learn more about the 4Cs (commitment, collaboration, competence, and construct) that can help GBS organizations rapidly respond to market changes and emerging opportunities, read on.
Looking at the latest Global Business Services trends, business agility is a key lever driving cost optimization, improved operational efficiency, accelerated digital transformation, higher revenue impact, improved customer experience, and other positive business impacts. Mature GBS organizations are increasingly reaping the benefits of agility, often reacting, and adapting to changes and challenging situations faster than ever before.
But business agility doesn't prioritize speed over quality. Being agile doesn't deteriorate quality, limit documentation, or micromanage. Business agility is an organization's ability to rapidly adapt to the market and environmental changes productively and efficiently. Organizations who think lean and embrace agility or possess a Lean-Agile mindset are proving they can overcome challenges and seize emerging opportunities quicker than their competitors.
4Cs to successfully attain business agility in GBS organizations
Through our research with mature GBS organizations, Everest Group has identified 4Cs to attain business agility success as shown below: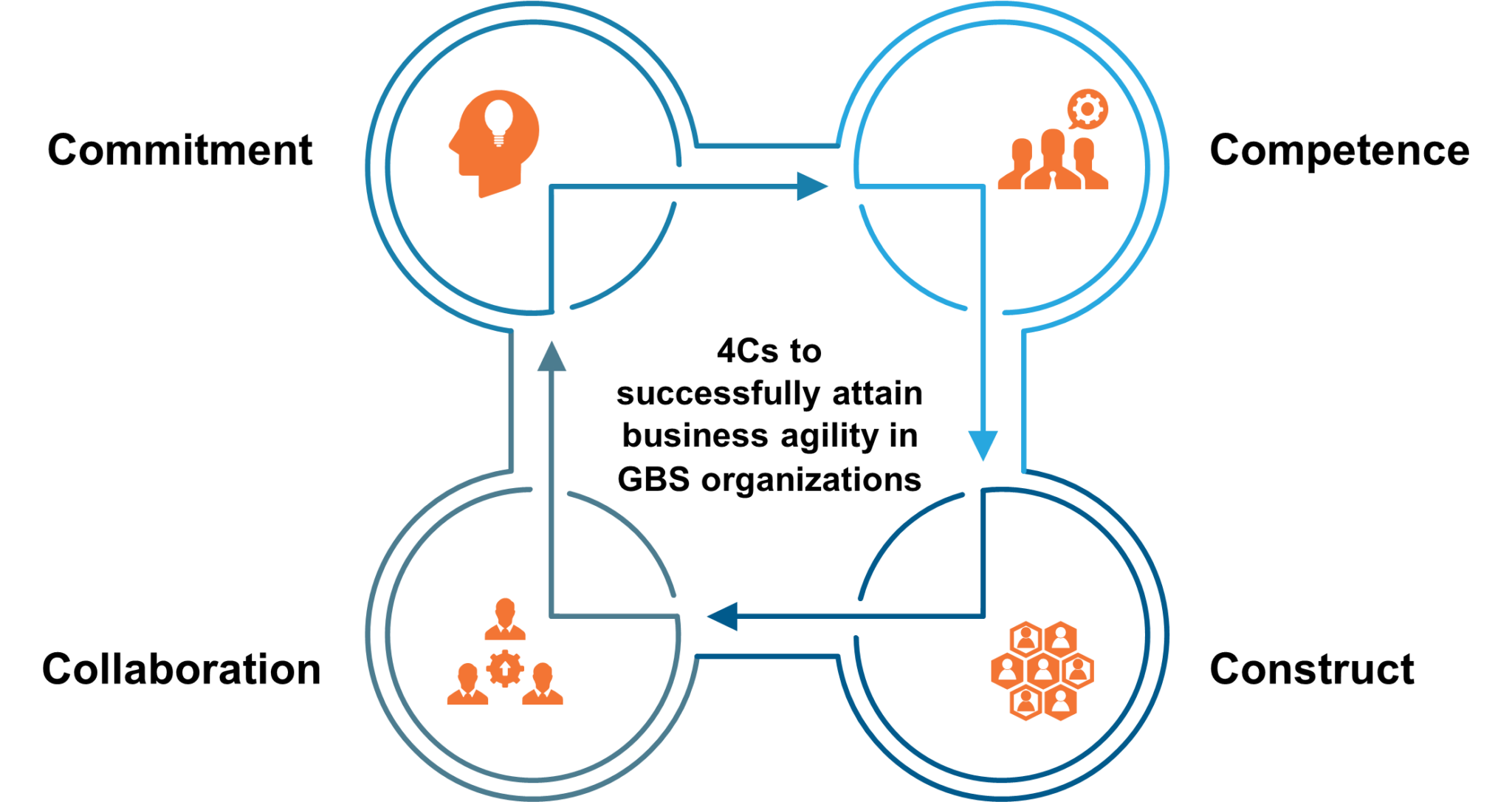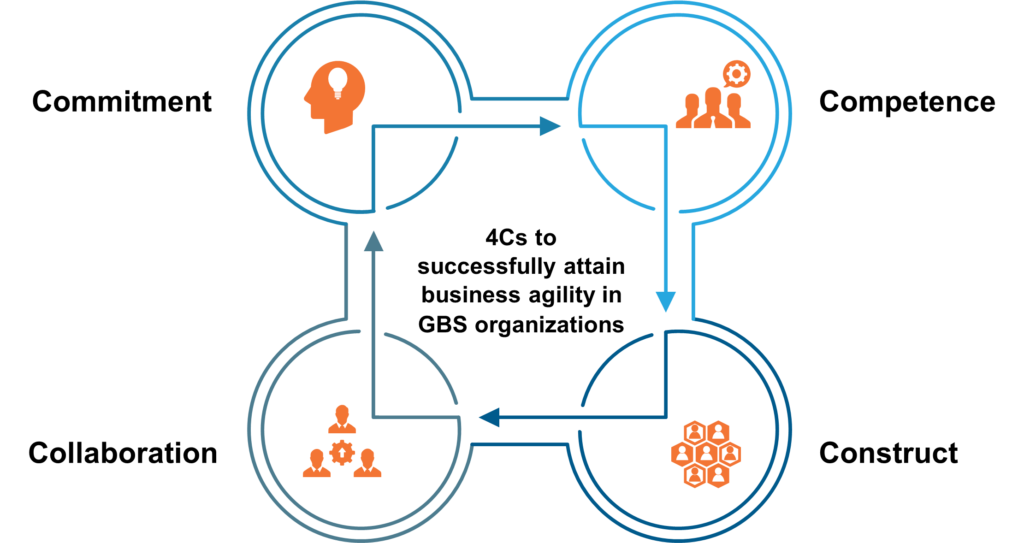 Exhibit 1: Everest Group
GBS organizations need to possess the following characteristics to reach business agility:
Commitment

Change the mindset and increase risk tolerance (over 50% of companies believe resistance to change impedes their progress towards achieving complete agility)
Evolve the organizational culture to scale the agile model

Competence

Focus on talent management by taking an empathy-based approach to leadership and hiring team players
Invest in roles for the future and nurture specialist talent

Collaboration

Leverage internal social tools to drive transparent collaboration across the organization

Construct
Ensure autonomy and evolve the operating model to avoid getting stuck in existing models and being unable to innovate and realize the true potential of agility
Establish open communication channels and/or build a bottom-up communication channel
A shift to agile work
With enterprise expectations evolving and GBS organizations becoming strategic business partners driving higher value and impact, adopting agile work methods has become an urgent need.
Traditional work ways have visibly shifted to an agile mindset. Let's look at how the 4Cs translate to the new agile approaches as illustrated below: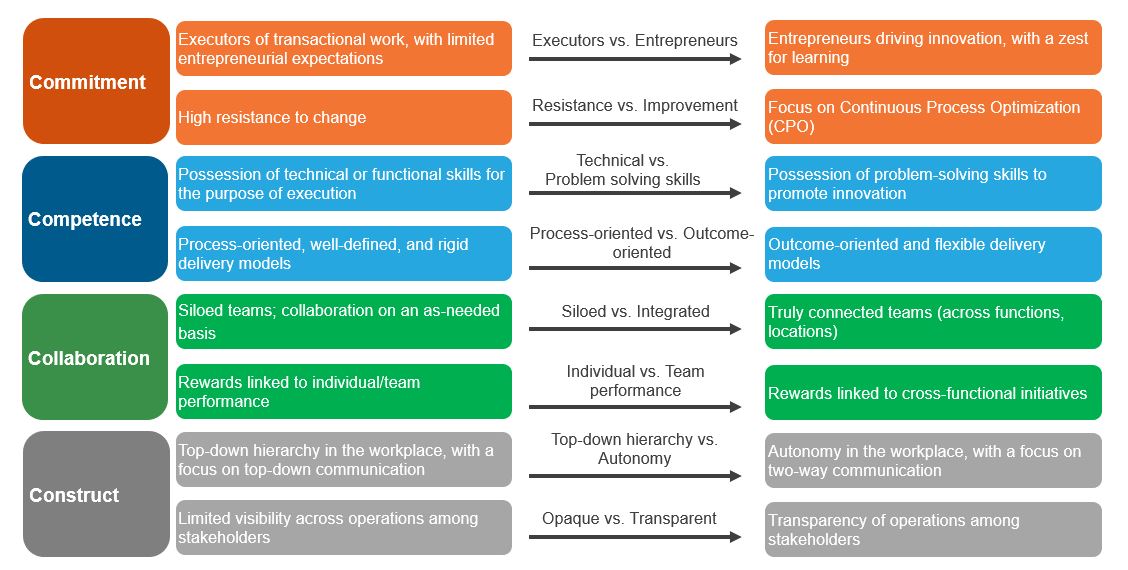 Exhibit 2: Everest Group
Business agility – the path forward for GBS centers
With enterprises viewing GBS as the hubs for innovation, digital transformation, and change, integrating agile working methods will help GBS centers deliver value-based outcomes productively and efficiently. This also will enable different GBS centers to operate as a cohesive network, benefiting from each other's best practices. In today's rapidly changing times, business agility is the path forward for GBS organizations.
To learn about how GBS centers are implementing agility across their operations, read our report 4Cs of Success to Attain Business Agility in GBS Organizations. Please reach out to Aditi Bansal ([email protected]) and/or Meghna Thomas ([email protected]) to share your experiences or discuss Global Business Services trends.
To find out if your GBS is organization evolving to create superior value, take our GBS Evolution Personas Framework assessment.