Recruitment Process Outsourcing Market Suffered COVID-based Contraction of 13% in 2020, But Sharp Recovery Is Underway—Everest Group
The global Recruitment Process Outsourcing (RPO) market contracted 13% in 2020 as enterprises' talent demand decreased substantially during the pandemic. However, according to Everest Group, during this downturn, service providers accelerated the development of their technological capabilities and service offerings and are now poised to usher in a new era—RPO 4.0—as enterprises rebuild their businesses and resume hiring activity.
Everest Group expects a sharp recovery in the RPO market in 2021 and beyond.
The recovery began in the third quarter of 2020 as enterprises, especially those who had downsized their internal talent acquisition function, began to rebuild their workforce and turned to RPO for its flexibility and scalability. The early recovery also was boosted by strong demand from healthcare, pharmaceutical and life sciences segments as well as government/public sector looking to strengthen their workforce for contract tracing purposes.
Rapid growth in 2021 and beyond will be led by increased adoption from new industries such as fast-growing tech, retail, services, and government/public sector. The increased adoption from new market segments such as small- and mid-sized buyers along with increased penetration from traditional RPO adopters will further boost market growth.
Everest Group's State of the Market Report
In its newly published report, "Building for the New Normal: Recruitment Process Outsourcing (RPO) State of the Market Report 2021," Everest Group provides comprehensive coverage of the 2020 RPO market and analyzes it across aspects such as post COVID-19 recovery, regional overview, adoption trends, value-added services and capabilities, and digital trends in permanent recruitment. Everest Group also details the next evolution of this sector—RPO 4.0.
Key Characteristics of RPO 4.0:
Integrated Talent Acquisition Platform: There is increased adoption of a platform-based approach, integrating a diverse range of tools and platforms that together form the talent acquisition technology ecosystem, including Software-as-a-Service human resources systems, applicant tracking systems, candidate relationship management systems and bolt-on tools. Seamless data flow between these tools and platforms will enable service providers and enterprises to leverage advanced predictive and prescriptive analytics and glean meaningful insights.
Total Talent Acquisition: Leading service providers are investing heavily in the development of digital capabilities platforms and associated integration tools for the management of both permanent and contingent workforce.
High-volume, Low-Cost RPO: Leading RPO providers have made dedicated investments and launched highly automated high-volume, low-cost RPO solutions.
Diversity, Equity and Inclusion (DE&I): As DE&I transitions from "nice to have" to a critical part of enterprises' talent strategies, RPO providers can play a key role in building a truly diverse and inclusive workforce by sourcing a diverse slate of candidates and removing inherent biases in the recruitment process.
Distributed and Dispersed Talent: Global preference for the Work From Home (WFH) and hybrid models will be equally applicable to RPO services delivery. RPO providers can play a key role in formulating and executing a strategy to engage and source talent across geographies.
Automation Solutions in RPO: Cognitive automation solutions driven by artificial intelligence (AI), machine learning (ML) and natural language processing (NLP) are helping ensure business continuity and cost reduction.
Blockchain in Recruitment: Blockchain-enabled solutions can ensure security of data and help build trust between candidates and enterprises amid growing data privacy concerns.
Advanced Analytics: With a higher degree of data availability, enterprises and service providers are leveraging advanced data analytics to draw better insights and optimize the recruitment process.
Value-added Services: Strategic value-added services, such as employer branding, talent community curation, and workforce planning, will become crucial as enterprises scramble to compete for limited supply of talent.
Outplacement and Career Transition Services: As enterprises focus on workforce agility and look inward to fulfill their talent needs, RPO providers may expand into outplacement and career transition services space to explore opportunistic growth possibilities.
***Download a complimentary abstract of the report here.***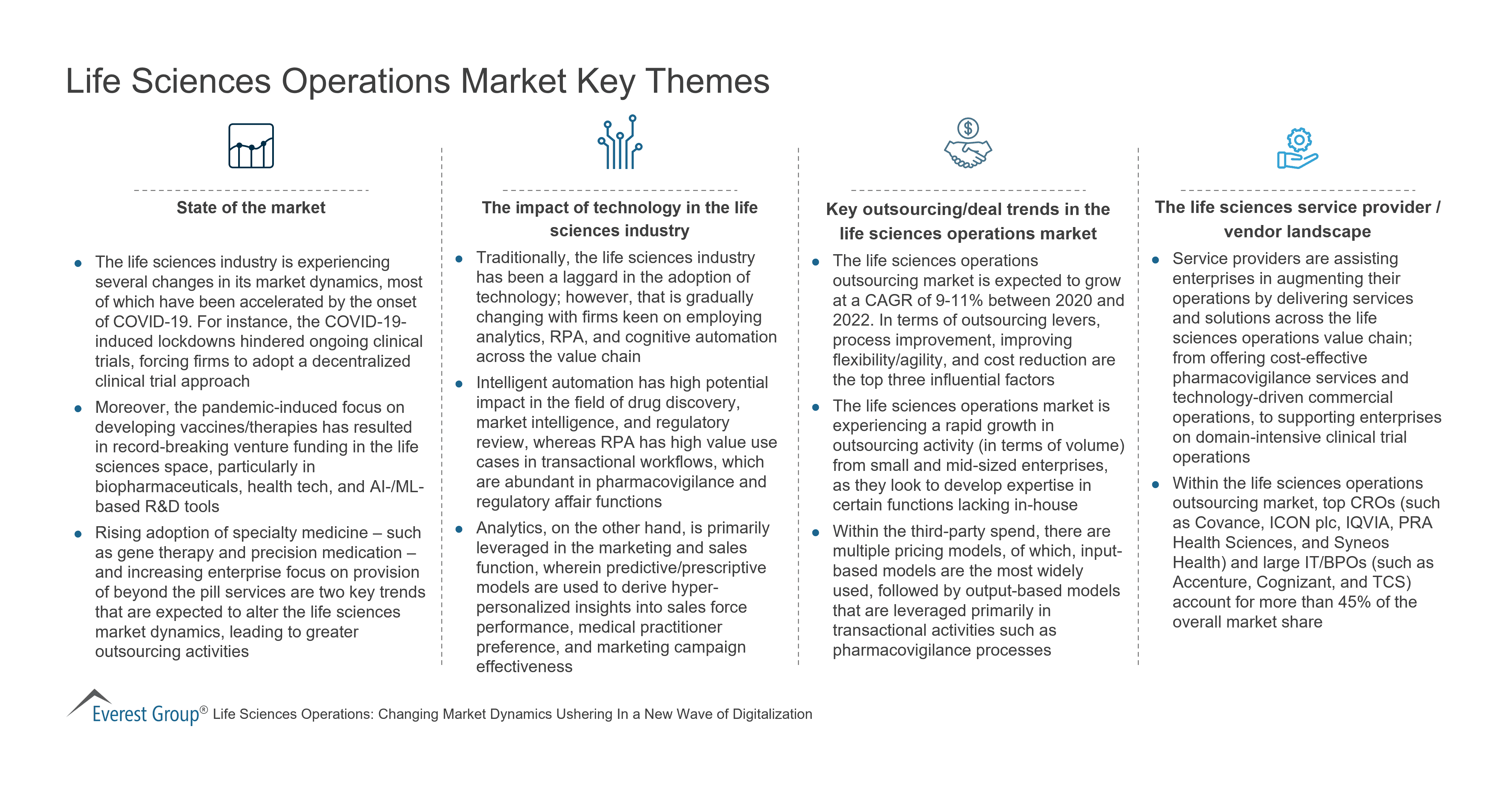 About Everest Group
Everest Group is a research firm focused on strategic IT, business services, engineering services, and sourcing. Our clients include leading global companies, service providers, and investors. Clients use our services to guide their journeys to achieve heightened operational and financial performance, accelerated value delivery, and high-impact business outcomes. Details and in-depth content are available at http://www.everestgrp.com