New Everest Group report explores how Lloyd's of London Blueprint 2.0 initiatives will drive digital surge in UK insurance market, providing growth opportunities for technology vendors and IT service providers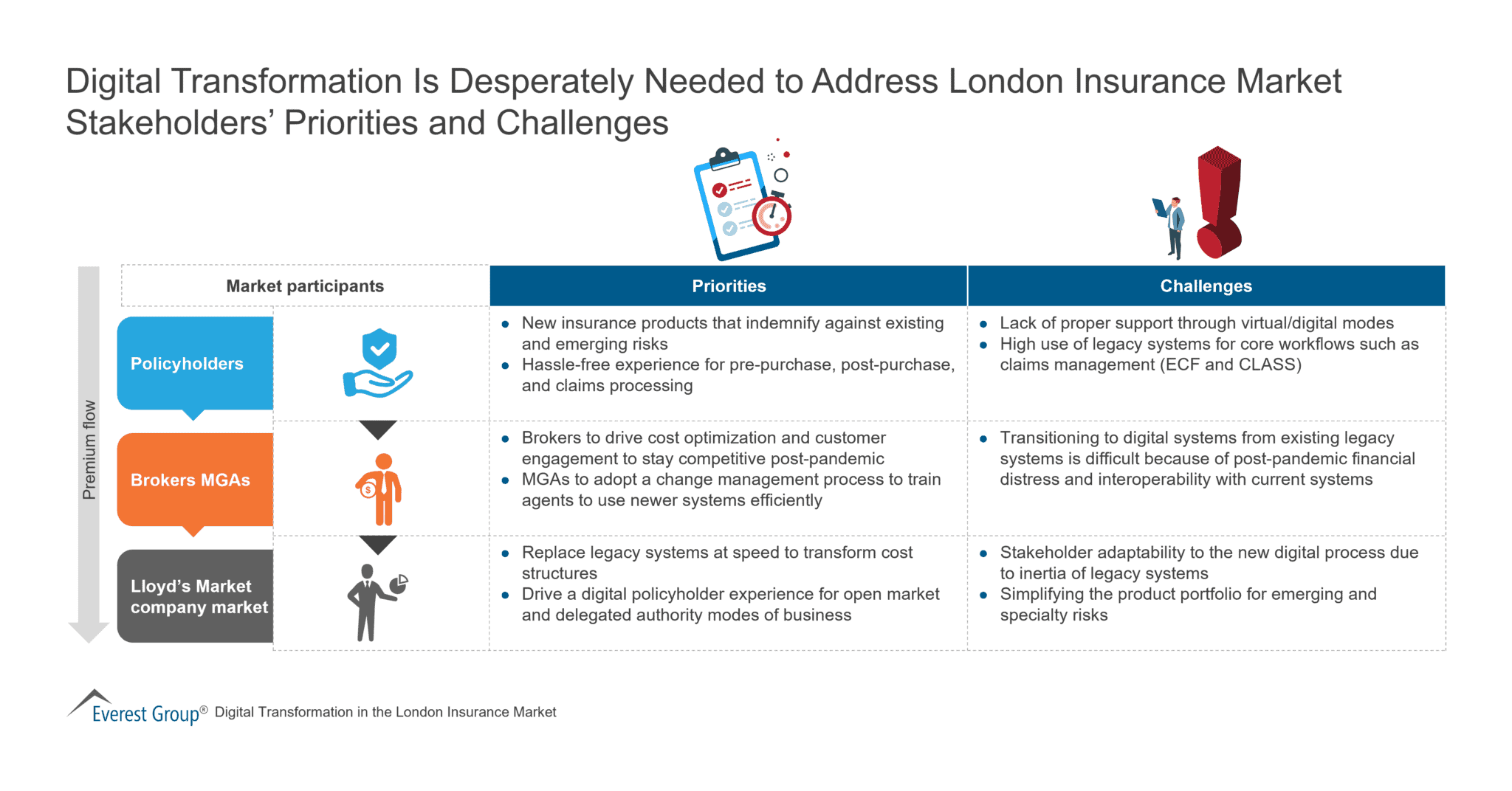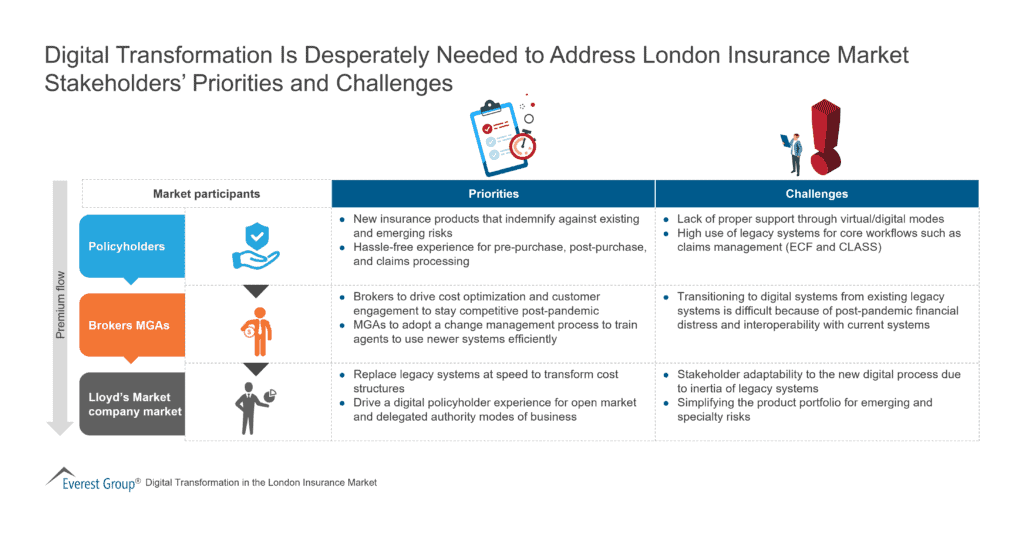 Impact of "The Future at Lloyds"
The Lloyd's of London insurance market is the world's largest (re)insurance hub. In 2019 Lloyd's of London published its "The Future at Lloyd's Blueprint One," describing its plans to build the world's most advanced insurance marketplace by combining data, technology and new ways of working. In November 2020, Lloyd's released "Blueprint Two", which details an ambitious digitalization strategy designed to weaponize technology to remain cost competitive and drive growth and differentiation.
The Lloyd's transformation initiatives are expected to begin a digital surge for the entire UK insurance market, given that around 70% of companies operate in dual markets, i.e., both in London and company markets.
Everest Group's State of the Market Report
In its newly published report, "Digital Transformation in the London Insurance Market," Everest Group examines the market trends in the UK insurance market, including an overview of Lloyd's of London Blueprint 2.0 initiatives and the implications for market participants, technology vendors and IT service providers. In this report, Everest Group also profiles the capabilities of 12 core insurance platforms and 12 leading IT service providers.
Selected Highlights:
The UK insurance market will soon experience accelerated focus on emerging risk underwriting, insurance product innovation, digitization of operations, and ecosystem-led innovation.
Cloud, data and digital platforms are at the heart of the radical transformation envisioned for the London market. Analytics and cloud are currently the main levers of digital transformation for brokers and insurers, with artificial intelligence (AI) and blockchain emerging.
Customer experience, risk underwriting and claims management are three critical functions carriers are looking to modernize to improve their competitive advantage. These functions were represented in 80%, 70% and 50% of transactions between UK insurance carriers and tech vendors/IT service providers in 2020, respectively.
In turn, technology platform vendors are investing in platforms, cloud, analytics and artificial intelligence (AI) in order to gain resonance with UK insurance carriers. These technologies were included in 75%, 50%, 40% and 32% of vendors' 2020 technology investments, respectively.
Technology vendors and IT suppliers need to invest in digital offerings across the insurance value chain, cloud and API capabilities, value-added services and digital talent pool to serve the needs of London market participants
The UK insurance market is expected to bounce back, achieving an estimated 5.2% compound annual growth rate in premiums between 2020 and 2023.
Download a complimentary abstract of the report here
About Everest Group
Everest Group is a research firm focused on strategic IT, business services, engineering services, and sourcing. Our clients include leading global companies, service providers, and investors. Clients use our services to guide their journeys to achieve heightened operational and financial performance, accelerated value delivery, and high-impact business outcomes. Details and in-depth content are available at http://www.everestgrp.com