As part of our research for our recently published Clinical Development End-to-End Platforms – Vendor Landscape with Products PEAK Matrix® Assessment, we noted a distinct accelerating trend: product vendors are increasingly branding products end-to-end clinical development platforms. Product vendors are consolidating all of their clinical development point solutions into a unified platform: Accenture INTIENT, Cognizant Unified Clinical Platform, IQVIA Orchestrated Clinical Trials, Medidata RAVE, Oracle ClinicalOne, TCS Advanced Drug Development (ADD) platform, and Veeva Vault are all being pitched to clients as end-to-end clinical development platforms.
Definition of a clinical development end-to-end platform
An end-to-end clinical development platform includes all of the solutions necessary to perform clinical/safety/regulatory activities with unified data layers that ensure the data is in sync, rather than in siloes. Exhibit 1 is our view of an end-to-end clinical development platform, which consists of digital touchpoints that allow various users access and support core modules to perform clinical startup, conduct, and closeout; regulatory; and safety activities. It also includes tenets that make it a platform, such as modularity, scalability, interoperability, and supporting a unified data integration layer.
Exhibit 1: Everest Group's view of an end-to-end clinical development platform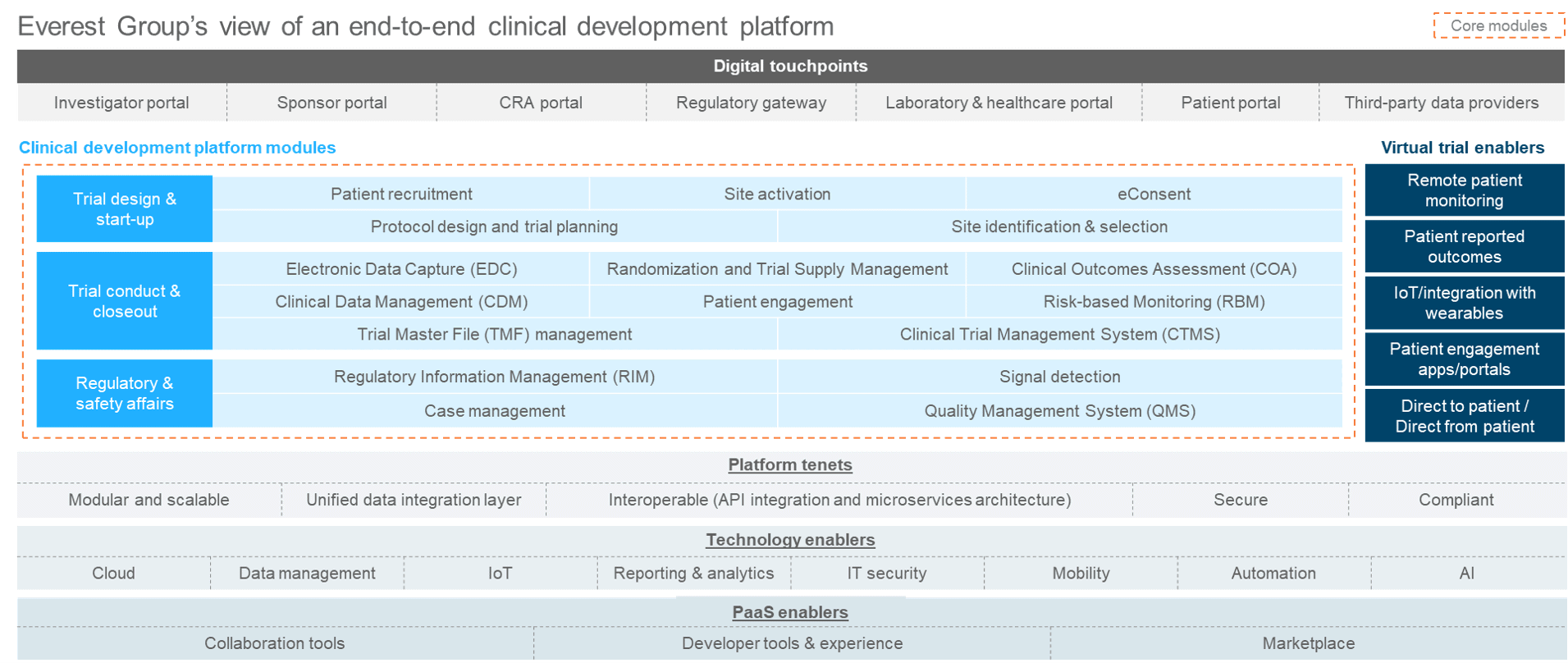 Pharma enterprise view of an end-to-end clinical development platform
Spoiler alert: Pharma enterprises aren't convinced.
The potential benefits that vendors tout include fewer data silos, lower total cost of ownership, and a rationalized product landscape, which reduces the need for integration and custom development activities.
We agree that these are pretty solid business cases for adoption. Except, pharma executives don't believe it. Through interviews with 25 pharma stakeholders engaged in clinical development and buyers of clinical trial products, we found that an astonishing 92% aren't convinced that an end-to-end clinical development platform currently exists. And that presents the next big challenge – only 28% of these organizations would opt for an end-to-end platform if it existed.
The reason? Credibility.
These buyers say that, though the vendors are marketing products as end-to-end platforms, they believe the platforms lack functionality such as modularity, a unified data layer, or interoperability even within their own suite of solutions. They are yet to be convinced about the RoI of adopting such a platform. Buyers further say that most vendors struggle with a support services organization that's in line with the unified platform view. That means that the support organization is still organized in silos, and the platform users would still have to contact individual solution proof of concept individuals with issues they need solved, thus diluting the benefits of a unified platform.
Other challenges buyers cite include:
A preference for a best-of-breed approach: Buyers prefer established leaders for individual components, as they don't believe that a single vendor is considered best-in-class across the clinical product suite.
Maturity: End-to-end platforms are relatively new, and buyers lack conviction about their functionality.
Aversion to rip and replace: Buyers are resistant to change and hesitant to replace existing, well-performing systems with a new system.
Existing long-term commitments: Some pharma enterprises already have long-term commitments with their current clinical product vendors, which deter adoption of a single-vendor system.
So, how do product vendors drive adoption of an end-to-end platform?
Clearly, convincing buyers to adopt an end-to-end platform is going to be an uphill challenge. To drive adoption, vendors need to embrace a multi-pronged approach:
Build from the ground up: Vendors need to realize that simply taking existing point solutions and connecting them together to form an end-to-end platform won't work. Rather, building one from the ground up will greatly enhance interoperability, offer ease of use, and improve user-centricity.
Build business cases: Vendors need to create success stories and case studies for a platform-led approach to help influencers build a business case for adoption. The articulation of business benefits, future technology roadmaps, and showcasing testimonials will move the conversation on end-to-end platforms.
Co-innovate: Invest in building relationships by exploring improvements in platform capabilities and user centricity, while striving for interoperability, flexibility, and modularity to help drive adoption.
Find innovative commercial constructs: Pivot the pricing options to risk-sharing or outcome-based constructs. Also, given that the needs of big pharma are different from small and mid-sized pharma, consider differentiated commercial constructs to increase reach.
Driving change takes time. And because enterprises are change averse, they'll need a lot of convincing before they can start to think seriously about adopting a single platform for all their clinical development needs.
In your opinion, what will it take for the industry to move the needle toward end-to-end clinical development platforms? Please reach out to us with your views at [email protected] and [email protected].