"It is not the strongest of the species that survive, nor the most intelligent, but the one most responsive to change." – Charles Darwin
Charles Darwin's famous words aptly describe what healthcare payers need to do in the times of COVID-19. The pandemic's disruptive nature has forced the industry to accelerate adoption of many concepts –  such as telehealth – that had earlier been considered at least half a decade away from becoming mainstream. The changes that the US Centers for Medicare and Medicaid Services (CMS) has proposed for the health insurance Open Enrollment Period (OEP) 2021 are a clear indicator of these transformative times. The objective of these changes – such as the expansion of telehealth coverage, more transparency through regulations such as the Interoperability and Patient Access rule, and changes in risk adjustment / star ratings calculations – is accelerating the CMS toward its goals of universal coverage, transparency, member satisfaction, interoperability, and resilience.
As the OEP is a time when healthcare payers strategize about how to increase their enrollment numbers (in the short term) and achieve operational and business transformation (in the long term), it is imperative that payers not only understand the upcoming changes but embrace them through the right investments. OEP 2021 becomes effective November 2020, so healthcare payers are in the midst of the planning season.
In this blog, we take a look at the key changes CMS has proposed for OEP 2021 and analyze their impact on healthcare payers.
Exhibit 1: OEP 2021 proposed changes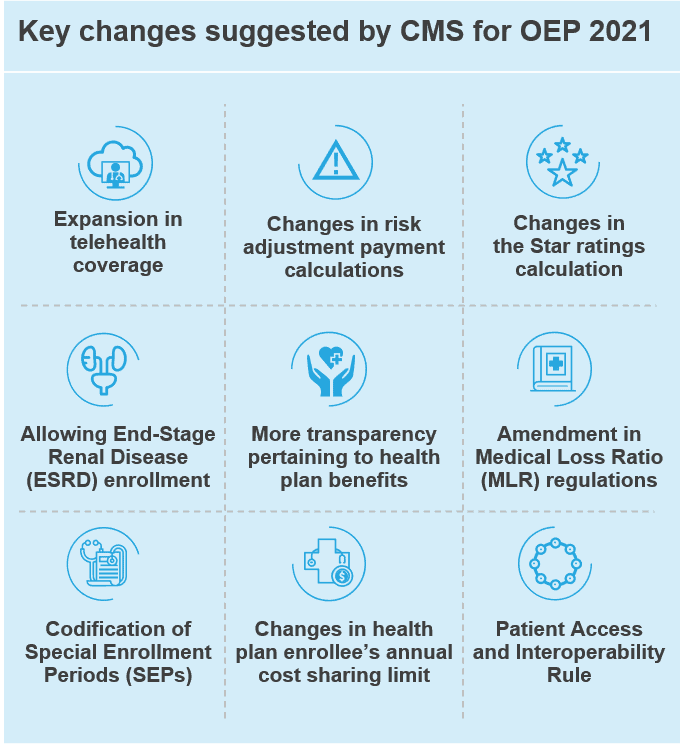 The impact of CMS-proposed changes on healthcare payers
CMS' recommended changes for OEP 2021 are likely to impact healthcare payers in multiple ways:
Shift in membership and profit pools: The change in healthcare payers' membership bases due to factors such as rising unemployment (which has reduced the employer-sponsored plan base) and the enrollment of End-stage Renal Disease (ESRD) patients in Medicare Advantage (MA) plans is likely to increase healthcare payer costs.
Member transparency and control measures: OEP 2021 has a slew of changes aimed at ensuring transparency through data sharing with members/patients via APIs and third-party apps. These changes include mandating the use of Real Time Benefit Tools (RTBT) for Part D plans and rules requiring plans to disclose the measures used to evaluate network pharmacy performance. It is clear that the CMS wants health plans (particularly MA Part D in this case) to invest in technology, data sharing, and reporting to enable the next phase of member-centricity in healthcare.
Medical Loss Ratio rebates support: Administrative Loss Ratio (ALR) / MLR has always been a pain point for healthcare payers, as an unfavorable ratio implies refunds and complex readjustments. With the CMS offering some rebates to payers in terms of how they calculate MLR, payers are likely to invest in improving care delivery initiatives.
CMS reporting dilemmas: With the CMS pushing healthcare payers to share actual member/patient experience data for Star Ratings and Risk Adjustment score calculations, healthcare payers will need to invest more in member satisfaction.
Shifts in health plan benefit inclusions: Telehealth services are only one set of inclusions that payers need to think about incorporating in plan benefits. Many other areas merit attention, such as member support, personalized communications, reorganization of provider network, and plan tiering.
How can payers navigate the changes and what are the likely sourcing implications?
While OEP 2021 is just another milestone for the CMS to drive healthcare efficiency, it is also notable that the changes are happening in the backdrop of the COVID-19 pandemic. The timing presents healthcare payers with both challenges and opportunities. In fact, industry experts believe that if ever there was a time for payers to change, it is now. This means that payers need to prepare strategies quickly to navigate the CMS-proposed changes, as well as changes arising from the COVID-19 disruption. The strategies will, in turn, lead to changes in their sourcing practices, thereby creating opportunities for outsourcing them to service providers.
Exhibit 2 lists the strategies that, we believe, healthcare payers will adopt in the coming months and the sourcing implications for each of them.
Exhibit 2: Payer mitigation efforts and sourcing implications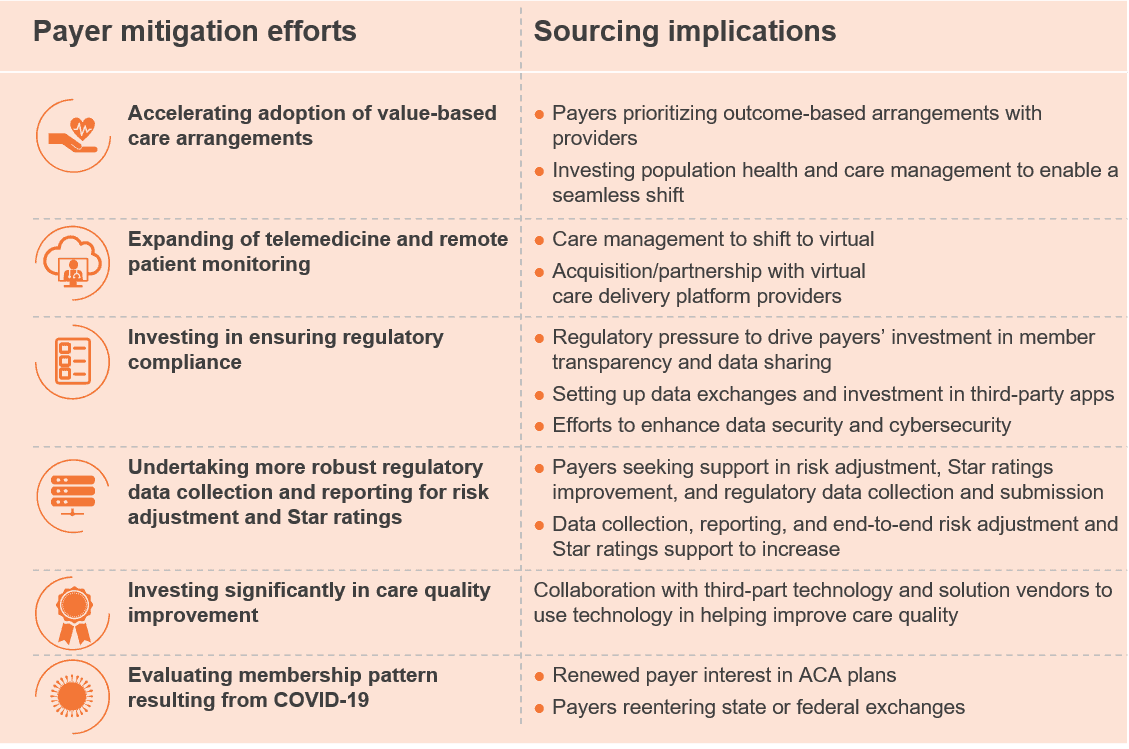 For the outsourcing and third-party vendor community, this is the right time to help mitigate the impact of OEP 2021 and the pandemic on healthcare payers. Service providers should align their offerings with payer needs.
If you'd like to know more about OEP 2021 and its wide-ranging impact, please read our recently published viewpoint Open Enrollment 2021 Primer: What to Expect and How to Navigate in the Wake of COVID-19. You can also reach out to me directly at [email protected] if you have any questions or observations.