The International Monetary Fund has recently confirmed what most of us already know – we have entered a recession. Given the evolving COVID-19 situation, in the short-term, organizations are doing their best just to implement business continuity plans and keep the lights on. At this point, they simply don't have the bandwidth to take a forward-looking view.
However, now – or at least very soon – maybe the best time to be bold – to consider the opportunity to slingshot through and out of the recession with a strong M&A strategy.
Increasing acquisition activity
As part of our technology research over the past few years, we've analyzed innovative firms (which we call Trailblazers) to identify high potential start-ups based on their growth stories, innovation, and the impact they have created in the market.
More recently, we've seen an uptick in M&A activity across the IT services market as organizations have sought exponential inorganic growth to expand their geographic footprints and/or fill gaps across their services portfolios. (See the exhibit below.)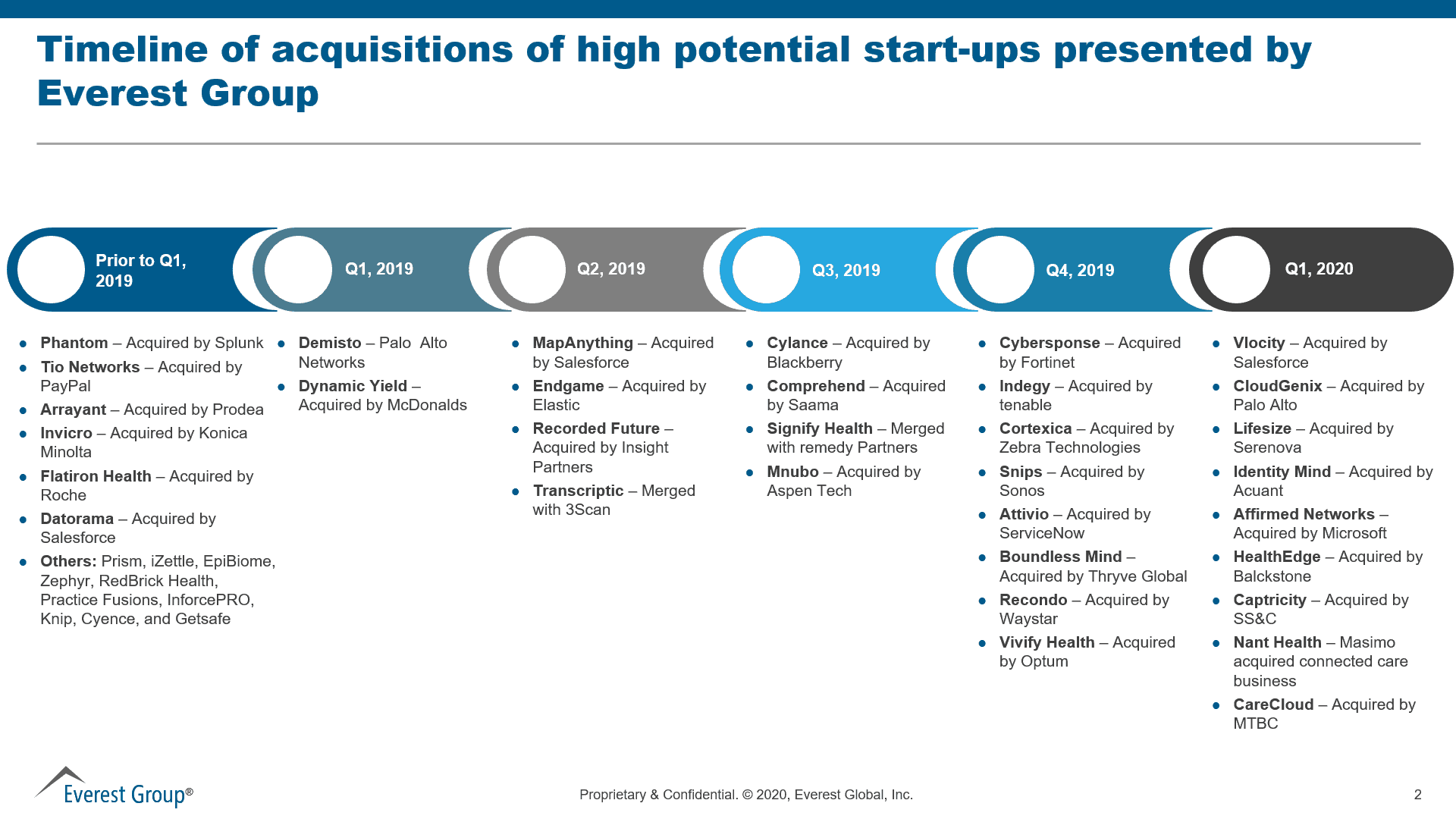 How we expect the recession to impact this activity
Although this has been an acquisition-rich industry in recent years, everything is completely different now – the post COVID-19 market is clearly headed straight into recession, or worse. If previous recessions are any indication, M&A activity is likely to take a hit. While we believe M&A activity in the immediate aftermath of the pandemic will be subdued, we also believe there will be some interesting opportunities for those willing to invest some thinking and strategizing.
Is now the right time for you to consider M&As?
As the world adjusts to the next normal following the pandemic, some specific technologies/tools are likely to see a surge in adoption, including cloud, collaboration and CX, network and security, IoT and edge, to name a few. These technologies will play an important role in ensuring business resiliency and serving a distributed and remote workforce.
Within this context, a well-planned acquisition strategy can enable competitive advantage for those organizations willing – and able – to take a bold approach. We believe this segment-specific activity will be further fueled by:
Lower valuations: Most start-ups take a relationship-based selling approach, with about 80% of their revenue coming from a few high-value, large clients or markets. As the recession deepens, start-ups that are highly dependent on a few clients and markets will struggle to survive, lowering their valuation and increasing their propensity to be acquired. The lower cost of capital and the impact of the financial stimulus are also going to provide acquirers an impetus to re-examine their M&A playbooks. One such example is Magic Leap, which is looking at opportunities to be acquired as the hardware sector faces threats from the COVID-19 crisis, the impending recession, and the trade war between the US and China. Cash-rich organizations (PE/VC firms, service providers, and BigTech companies) are already looking at leveraging their balance sheets amidst this downturn
An opportunity to fill portfolio gaps: As growth across IT services is expected to soften for the foreseeable future, now may be the time – and the price may be right – for organizations to augment their capabilities, expand their addressable market, and increase their top line
We are already seeing interest from acquiring firms focused on cloud services (AWS, Azure, GCP), enterprise platform adoption (capabilities in ServiceNow and Salesforce), network services, and security, to name a few. As we approach the fallout from the pandemic, a range of investors will be eyeing the technology sector for M&A opportunities, and we believe there will be a lot of activity. Picking the right segment bets and timing these initiatives will be crucial.
What is your post-COVID-19 M&A Strategy? Please write to us at [email protected] and [email protected].