Not surprisingly, we've been flooded with questions about the implications of COVID-19 on the IT services industry over the past two months.
Let's take a look at the two most prevalent questions.
How are IT contracts being impacted?
Financial distress – such as a dip in revenue generation and restricted cash flow – is forcing enterprise IT to review their IT contracts. Clients are exploring three options:
Putting non-critical projects on hold
Deferring payments to keep critical projects running
Seeking discounts
Their preferred option is putting non-critical projects on hold. Clients are triaging to keep their business-critical functions – like transactions systems, call centers, datacenters, and supply chain systems – running. However, they're putting non-critical engagements, such as new application development and feature upgrades, on the back burner.
Second in order of priority is deferring payments. We're seeing deferral requests increase in frequency, especially in distressed industries such as travel, transportation, hospitality, and medical devices. And we've seen payment terms going up to 180 days in a few situations. However, an early trend that will soon establish itself as the IT industry norm is balance sheet (or cash pile) financing; vendor balance sheets have started to play a role in enabling billing deferrals and "deploy now pay later" models. For example, Cisco has set up a US $2.5 billion war chest leveraging its balance sheet to help some of its clients defer payments until 2021.
Our analysis shows that vendor balance sheets, both tech products and IT, are healthy. For example:
IT vendors' (HCL, Infosys, TCS, Wipro, etc.) balance sheet assets over liabilities ratio ranges from 1.3x to 3.5x
Tech vendors' (Adobe, Amazon, Microsoft, Oracle, etc.) balance sheet assets over liabilities ratio ranges from 1.1x to 3.4x.
And there is evidence that they may dip into them to help their clients out.
The third in priority is seeking discounts. We're seeing anecdotal evidence of clients seeking discounts on contract value and in a few cases extending up to 50 percent of the annual contract value. But to clarify and qualify this:
The discount discussions are largely focused on time and materials (T&M) projects. Few are around fixed price and managed service engagements, which form a larger share of revenue profile for large IT vendors
And this means that smaller IT and staffing vendors – for which T&M constitutes larger share of the revenue profile – are going to be impacted more than the large IT vendors
Most importantly, we've seen enterprises being very flexible and collaborative with their vendors – working closely with them to keep initiatives running.
How will enterprises prioritize and fund IT initiatives during this crisis?
Enterprises are currently preparing their playbooks to navigate the ongoing recession. It's important to note that recession does not mean that IT initiatives will be broadly deprioritized. Depending on the impact they see on their overall business and their anticipation of recovery, enterprise executives will triage their resources (cash, talent, vendors) to keep critical initiatives running.
Here's a look at the framework we're using to help buy-side clients prioritize their decisions:
Rescue business critical initiatives most severely impacted by the recession through financial engineering and aggressive cost takeout
Revitalize revenue-generating business functions that can gain from automation usage and cloud-driven agility
Reinforce the lowest impact portions of the revenue profile through M&A and product launches
Restructure those portions of the portfolio – such as vendors, locations, and talent – that already had redundancy and concentration risk issues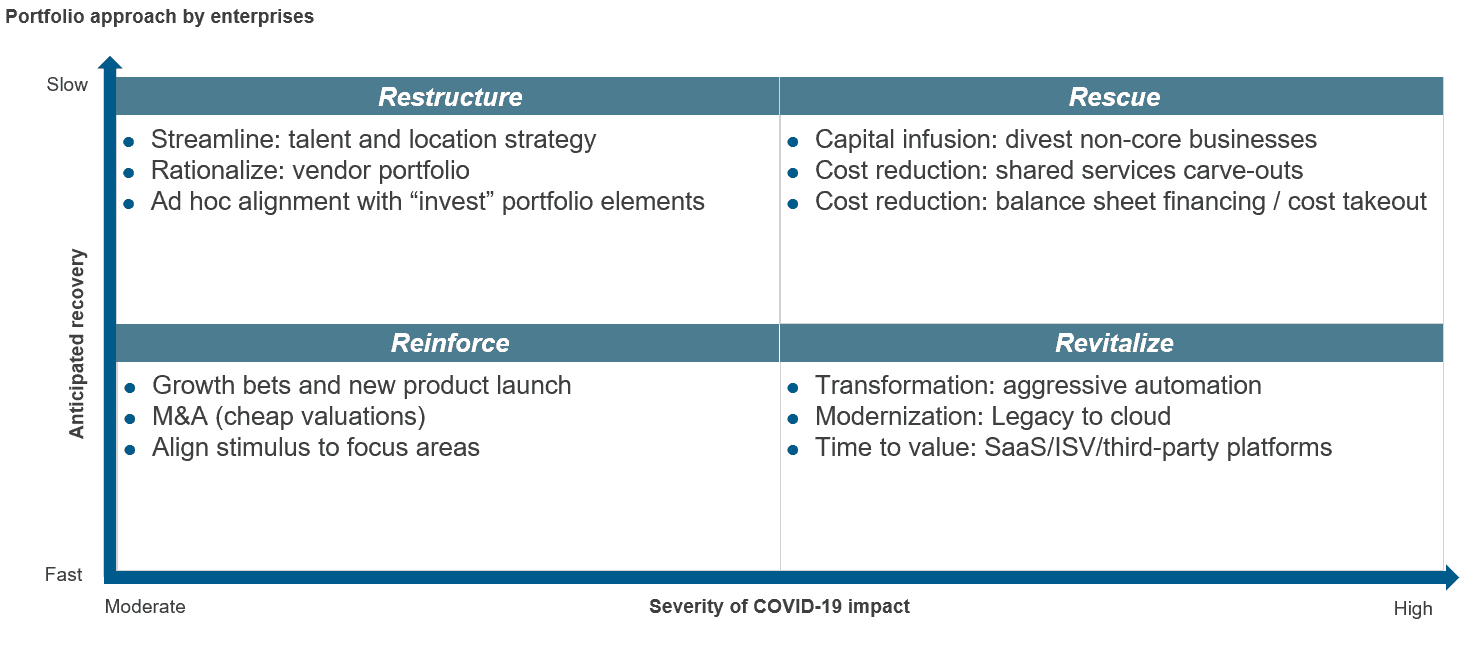 In the coming weeks, enterprises will be using this framework to:
Triage between critical and non-critical IT spends
Build their blueprints for how they will reallocate budgets and engage with vendors
Identify new scope and financial models on which they'll engage their vendors
Watch this space to see how this playbook evolves. If you have any questions or ideas on other approaches, please write to me at [email protected].