The National Retail Federation, industry analysts, and economists alike have debunked the idea that the retail industry is struggling, dying, or on the verge of an apocalypse. While some retailers and CPG manufacturers have sung their last swan song, many are dramatically transforming their businesses to effectively compete – and indeed, thrive – in the dynamically changing marketplace.
As part of this transformation, retail and CPG firms are evolving their sourcing strategy for: industry-specific processes including sourcing and procurement, merchandising and inventory management operations, sales and marketing, and customer experience; and horizontal processes like IT services, digital services, compliance and quality, and corporate functions such as F&A, contact center, and HR.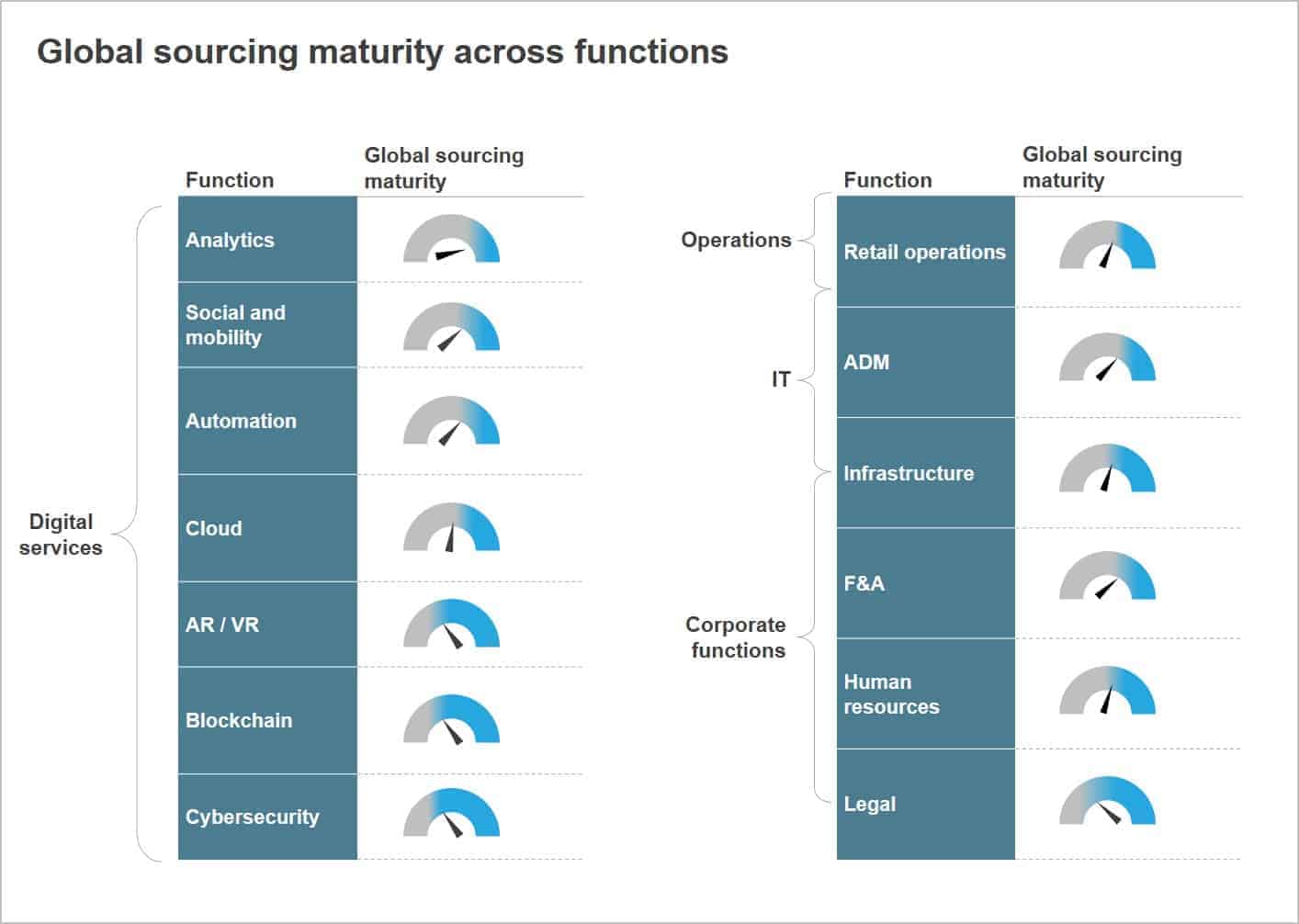 Our recently released Industry Insights – Retail and CPG report looks at the changing shape and flavor of sourcing in the industry.
Here are the four key takeaways from the report.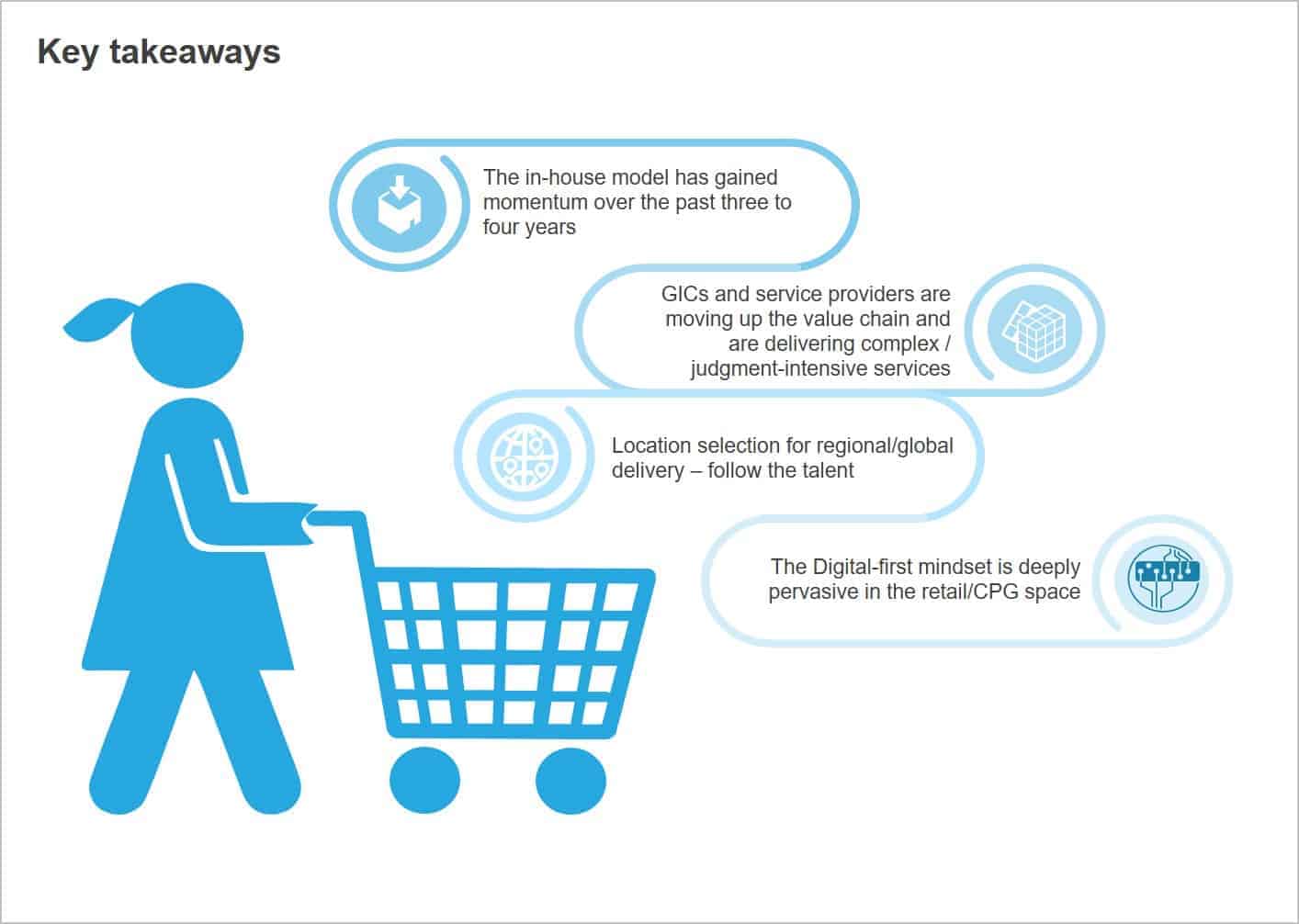 The in-house model is gaining ground
Historically, retail and CPG firms leveraged third-party service providers to deliver a broad range of services such as IT, F&A, and HR. However, in the past several years, many have invested in building what we call Global In-house Centers, or GICs. These in-house shared services centers (SSCs) give them more flexibility and control over the quality of work and reduce their costs. And they're not only delivering standard back-office processes; they're also building strong capabilities in areas such as store layout management, pricing optimization, custom application development, financial planning and analysis, customer sentiment analysis, predictive threat monitoring, and other digital services. For example, a US-based retail SSC in Bangalore, India, is developing a new order management system to scrape competitors' websites for pricing data.
Service providers are moving up the value chain
Just like SSCs, third-party service providers in the retail and CPG stage are also upping their game. They're not only delivering rules-based and transactional tasks, but also much more advanced services like cybersecurity, blockchain, ERP implementation and maintenance, and legal services.
Delivery destinations are similar to other industries
Retail and CPG firms choose their sourcing delivery destinations based on their competencies, just as enterprises in other industries do. They typically leverage locations in Central and Eastern Europe (CEE), such as Poland, for marketing and analytics, and India for business process services – including those specific to the retail industry – IT and digital services. The Philippines and other APAC countries offer capabilities such as customer service (both voice and non-voice) and regional language delivery of accounting services, while LATAM primarily supports the U.S. market.
As is the case with most industries, India has emerged as the most popular offshore location for retail companies' SSC setups, delivering both business process services and IT/digital services (product analytics, application design and development, R&D, etc.) to North America and Europe. In fact, a U.S.-based retailer's GIC in Bangalore, India, provides it a full suite of solutions including technology, marketing, HR, finance, merchandizing, supply chain, property development, and analytics and reporting services.
GICs and providers are building deep domain and digital skills
To help make sure their digital strategies are up-to-date, CPG and retail firms are opening dedicated R&D and innovation labs in offshore locations with the help of third-party providers and GICs to support them in automation, analytics, cloud, and social media services. And with the spread of e-commerce and mounting competition, some retailers have started employing engineering talent in India to build pricing systems that determine how demand would respond to a change in price.
As part of the broader digital agenda, some centers have also started exploring the use of AI for certain activities within operations and sales/marketing, such as store layout and pricing optimization, as well as RPA solutions for automating rule-based processes. For instance, Tech Mahindra signed a contract with a Nordic retailer for end-to-end managed services, wherein it will automate and consolidate the retailer's existing IT infrastructure and enhance the end-customer experience through digital solutions.
Going forward, we expect both service providers and GICs in the retail space to evolve their capabilities with an increased focus on the use of digital technologies such as analytics, automation, blockchain, augmented and virtual reality, and IoT. These advanced capabilities will help retailers stake their claim in the highly competitive marketplace.
To learn more about sourcing in the retail and CPG space, please read our recently published Industry Insights – Retail and CPG report, or connect directly with the authors Bharath M and Sana Jamal.