The Healthcare and Life Sciences (HLS) ITO market has been buzzing with activity in 2015. At just seven months into the year, Everest Group's projected market size for the HLS ITO market size is US$39 billion.
Here are some of the standout messages from our 2015 research to date that address some of the contributors to this enormous market size.
Life Sciences ITO market: Services integration (applications, infrastructure, and BPO) and IT-as-a-Service (ITaaS) to drive a growing chunk of next-generation IT opportunities (see our upcoming Life Sciences ITO Annual Report – "Integrated Services Strategy in the age of digital")
Payer-provider market: Growing convergence in the market will drive significant vendor consolidation and rationalization initiatives
Life Sciences ITO PEAK Matrix – This report in part discusses the intensifying neck to neck competition between the India-heritage service providers (such as Cognizant, TCS, and HCL) and the global majors (such as Accenture and IBM) – Download a preview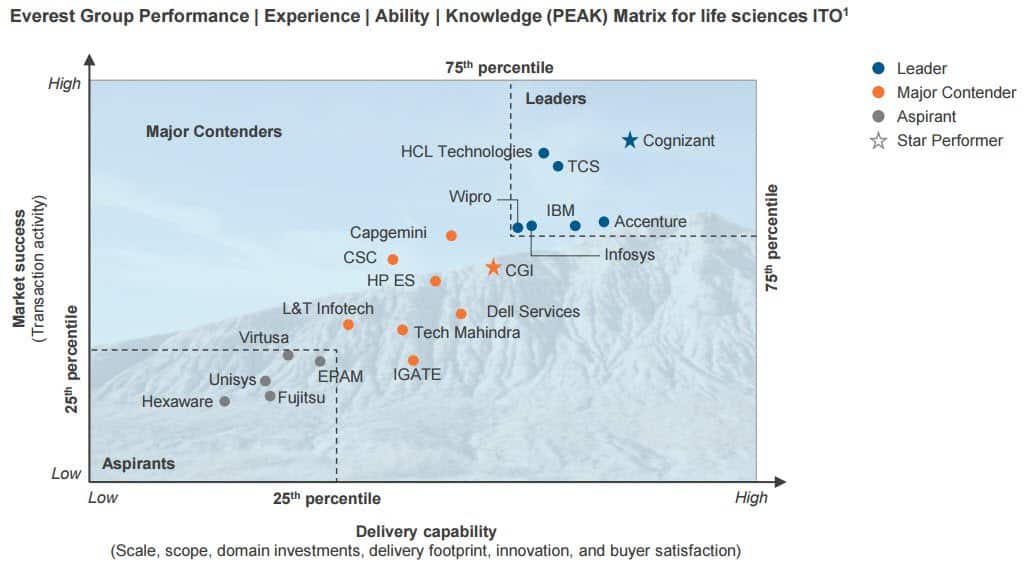 Europe Life Sciences ITO PEAK Matrix – This research brings out how Europe-based life sciences enterprises are opening up to outsourcing as a strategic component of their sourcing strategy and cost containment efforts – Download a preview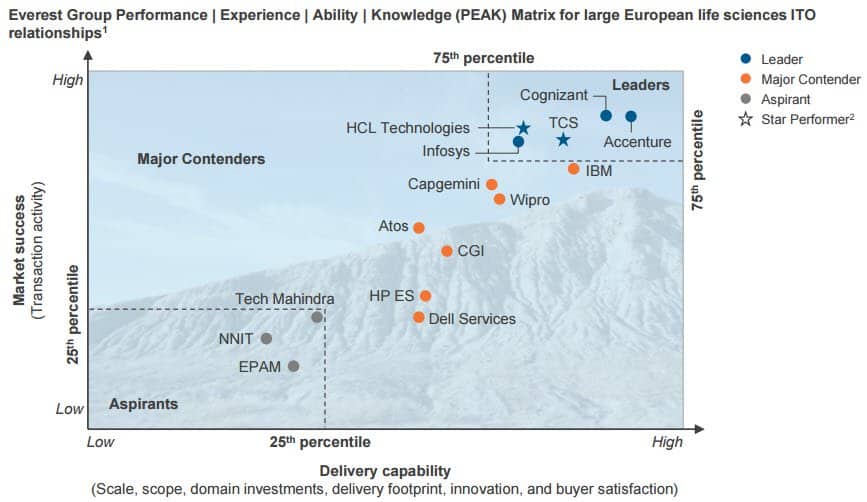 While robust in their coverage, these already published 2015 research reports paint only a portion of the picture enterprises need to view to address cost-cutting imperatives and deliver metrics-driven business outcomes through alignment of their technology strategy with their lines of business.
For example, an increasing number of life sciences clients, especially large pharmaceutical firms, have been reaching out to Everest Group for assistance in evaluating technology partners not only to drive digitization of their critical operational components, but also higher R&D productivity through next-generation analytics and high-tech systems. Similarly, while payer and provider organizations are starting to view technology from an entirely new prism, they are uncertain how to leverage technological solutions and platform to address concerns and initiatives including growing consumerization (patient engagement), population health initiatives, and care-risk convergence.
To inform the marketplace on issues and exciting opportunities in ITO for the HLS industry, Everest Group is significantly expanding its portfolio of published PEAK Matrix evaluations in 2015. New reports we'll be publishing through the end of the year are:
Life sciences industry PEAK Matrix

Digital services
Big data and analytics
Clinical and R&D IT services

Healthcare (payer and provider) PEAK Matrix

IT services (payer)
Digital services (payer)
Big data and analytics (payer)
Care management and patient engagement (payer)
IT services (provider)
Everest Group's goal is to help ensure enterprises and service providers achieve maximum success from their sourcing initiatives. Thus, we encourage you to reach out to us directly with your queries.
Abhishek Singh, Practice Director, [email protected]
Nitish Mittal, Senior Analyst, [email protected]
Mayank Maria, Analyst, [email protected]