On July 2, managed healthcare companies Centene and Health Net announced a merger in a cash-and-stock deal valued at US$6.8 billion, becoming the latest deal in an intensifying wave of consolidation in healthcare. The agreement has been approved by both companies' Board of Directors and is expected to close in early 2016. The deal combines the two companies, with the joint entity having more than 10 million members and an estimated US$37 billion in revenue this year. The large-scale reform of US healthcare (instigated by the Affordable Care Act) was never expected to be a smooth and genteel affair. One of the immediate impacts was provider consolidation as health systems (which had endemic cost and profitability issues) looked for scale, efficiency, and lean cost structures. A similar trend was also expected in the payer space, but the rollout of the Health Insurance Exchanges (HIX), which operationalized last year, delayed the eventual M&A frenzy. Last month, America's numero uno insurer, UnitedHealth Group (UHG), approached the number three, Aetna. The latter responded by buying number four, Humana, for $37 billion on July 3, capping a seminal week for mega mergers in health insurance. Humana was earlier reported to be close to a similar deal with Cigna. The second largest, Anthem, is in the midst of a messy takeover attempt as it relentlessly pursues the number five, Cigna (which rejected an initial US$47.5 billion bid). We covered the potential impact of the potential UHG-Aetna and Anthem-Cigna deals on IT services in a blog soon after the first rumors started floating.
Collateral damage – the Cognizant story
The announcement comes at an extremely inopportune time for Cognizant. The company had announced (with much fanfare) a marquee seven-year US$2.7 billion deal with Health Net last August. The engagement was unique in multiple ways. Along with Accenture's Rio Tinto deal, it is the flag bearer of a bold new deal construct, which epitomizes the fundamental tenets of the As-a-Service economy and widely expected to herald the era of a consumption-based IT services model. Under the terms of the seven-year master services agreement (MSA), Cognizant was to provide a wide gamut of services to Health Net across consulting, technology, and administrative areas spanning claims management, membership and benefits configuration, customer contact center services, information technology, QA, appeals & grievances, and medical management support. Cognizant was to be held responsible for meeting specific SLA targets for improving the quality, effectiveness, and efficiency of multiple operating metrics. These included claims processing and routing times, customer contact center response times, and contact center customer satisfaction targets. In effect, a fairly wide ranging set of services with ambitious KPIs for accountability and governance.
The planned implementation was scheduled to begin in mid-2015. Given the Centene-Health Net deal, the implementation is being deferred, while the deal is completed pending the merger review and approval process. As a result, Cognizant does not expect any contribution (previously pegged at about US$100 million in H2 CY2015) from the deal, which the company can easily absorb without tempering its ambitious revenue guidance for the current financial year. Additionally, it also foresees that if the merger is completed, the existing MSA is not likely to be implemented, which (if it materializes) will be a major setback. Cognizant will still remain a strategic technology/operations partner to Health Net (under a prior contract) through 2020 with a total contract value (TCV) of about US$520 million. Cognizant has also negotiated the right to license certain Health Net IP for use in its solutions and "As-a-Service"platforms, which is not expected to be impacted by the proposed merger.
Looking ahead, despite the short-term loss of US$100 million incremental revenue, Cognizant's CFO Karen McLoughlin has reaffirmed 2015 guidance as strength in other areas of the business are expected to offset the lost revenue. 2015 revenue is expected to be at least US$12.24 billion with non-GAAP EPS at least US$2.93. Overall, the contract was expected to be margin dilutive in the early years and in generally only "margin neutral over the long run.
Lessons for the services world 
As overall macroeconomic confidence is on the upswing and various industry drivers come into play, the M&A activity is only bound to intensify. This has a profound implication for service providers who are deeply entrenched in such large enterprises and need to be prepared to come out on top of any eventuality. One potential impact of such M&A is the tendency for the combined entity to rationalize its vendor portfolio – choosing to stick to a short list of key strategic vendors by trimming the sourcing pie. The selection criteria for vendors then boils down to specific value-differentiators, maturity of service portfolio, senior management relationships, competitive positioning, and account-level exposure. Technology/operations budgets also tend to shrink as enterprises leverage economy of scale and target operational efficiency.
The following image illustrates the current exposure of key service providers across UHG, Aetna, Anthem, and Cigna. As is evident, these mergers tend to benefit larger service providers that are typically well entrenched across the combining firms. However, a few, may find their portfolios at-risk given competitive underpinnings, sourcing maturity, and enterprise penetration.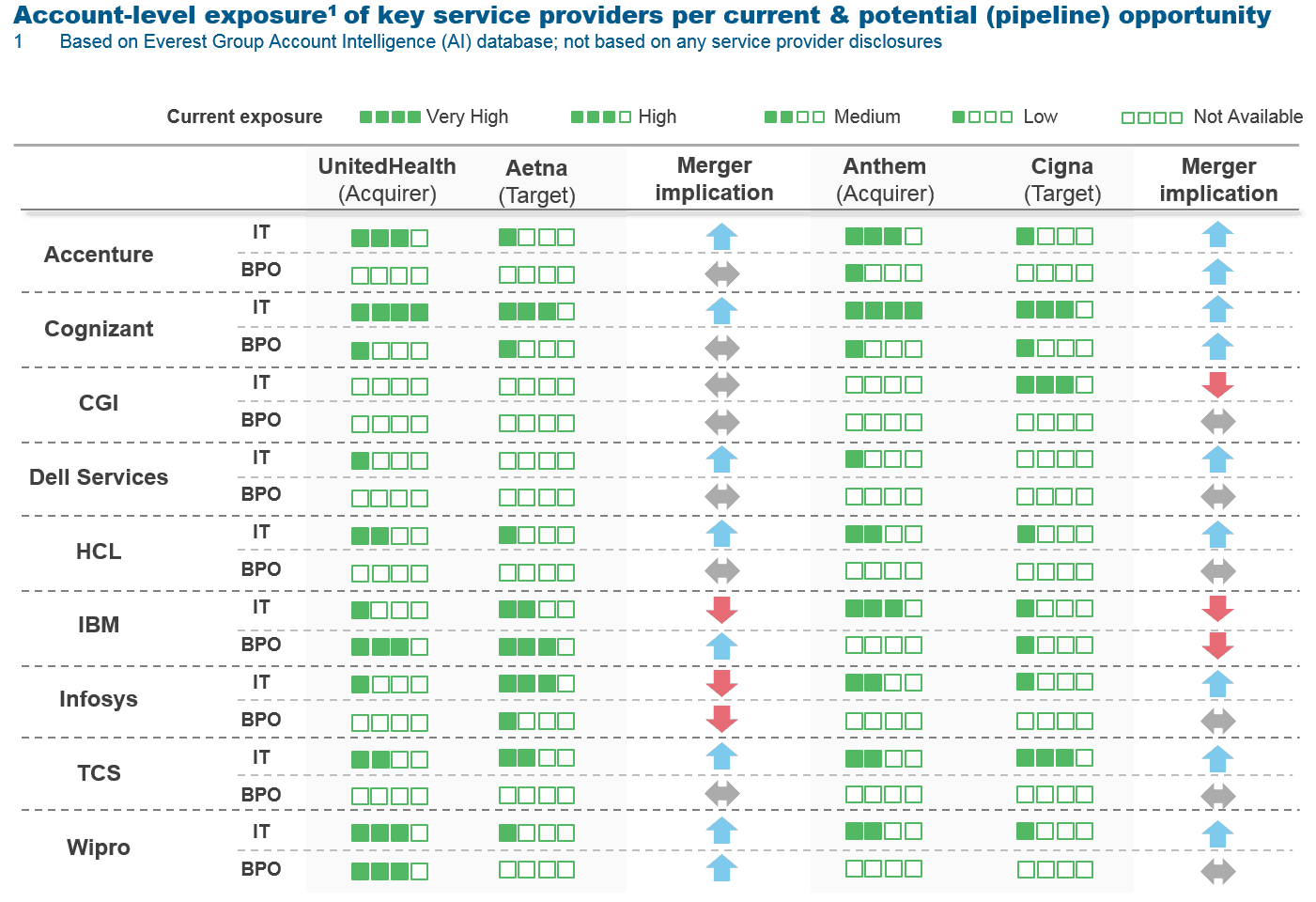 Net-net, we don't expect Cognizant to be unduly impacted by the proposed merger given the current state of affairs and its leading position in the healthcare and life sciences landscape (poised to reach US$4 billion in annual revenue in the next 18 months). The opportunity at hand is not under threat but there will be significant shifts and redistribution between vendors. The healthcare market is poised to witness increased turbulence (we believe this is just a teaser of things to come) and service providers need to realign and reposition themselves to utilize this opportunity. Let the games begin!