Tremendous talent shortage anticipated as adoption of next-generation technologies—including cloud, AI/ML, IoT, analytics, cybersecurity, and AR/VR—grows exponentially over the next few years.
Everest Group reports that although a talent shortage exists across the overall engineering, research and development (ER&D) landscape, the supply crunch is much more pronounced for emerging skills, such as cloud engineering, artificial intelligence and machine learning (AI/ML), internet of things (IoT), analytics, cybersecurity, and augmented reality and virtual reality (AR/VR). According to Everest Group, the exponential growth in the adoption of these next-generation technologies over the next couple of years will cause a huge supply shortage in the software product engineering world.
Enterprises globally spent US$1.27 trillion on engineering in 2020, and more than one-third of that spend was on software product engineering. Software product engineering has been the fastest growing segment of engineering spending over the last four years and was the only segment to witness positive growth in 2020, even as overall global engineering spend declined by 2%. Contributing to sustained software engineering spending are commercial software sellers and internet companies as well as enterprises seeking to augment existing products with software-driven features and functionalities.
In its newly published report, "Reaching New Frontiers in Experience-centricity and Resilience –Software Product Engineering Services State of the Market Report," Everest Group examines the dynamics of global software product engineering services trends prevalent among leading service providers. It includes an overview of the software product engineering market and an in-depth view of outsourcing in this space.
Selected Highlights:
Overall enterprise spend for software product engineering has been growing at a robust pace, reaching approximately US$410 billion in 2020.
The supply crunch in the software engineering talent market is leading to a price war, where enterprises are having to pay a premium rate to access talent skilled in emerging software engineering themes.
The talent shortage in emerging skillsets is also compelling enterprises to explore non-traditional locations to access talent. As a result, nearshore locations have steadily been gaining prominence for talent sourcing.
Cloud engineering has emerged as the biggest spend area for enterprises, with more activity around cloud-native engineering, platformization, carve-outs of legacy products and verticalized solutions.
The software product engineering services market (i.e., outsourcing) has grown at a rate of 16% over the past year to reach approximately US$23.5 billion, which is 5.7% of the overall enterprise spend.
The hi-tech verticals continue to hold a large share of the services market, while the geography split reveals North America to be the largest location.
***Download a complimentary abstract of the report here.***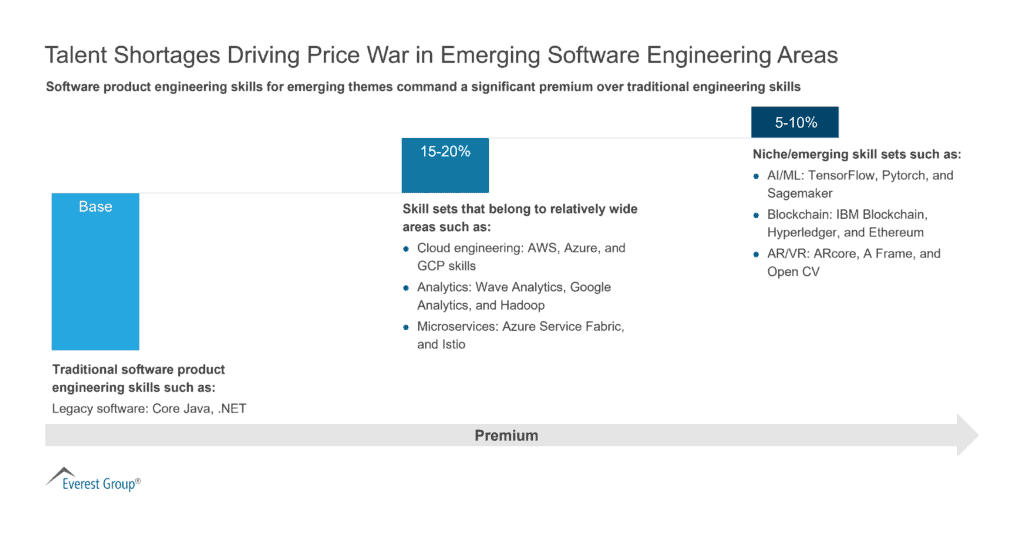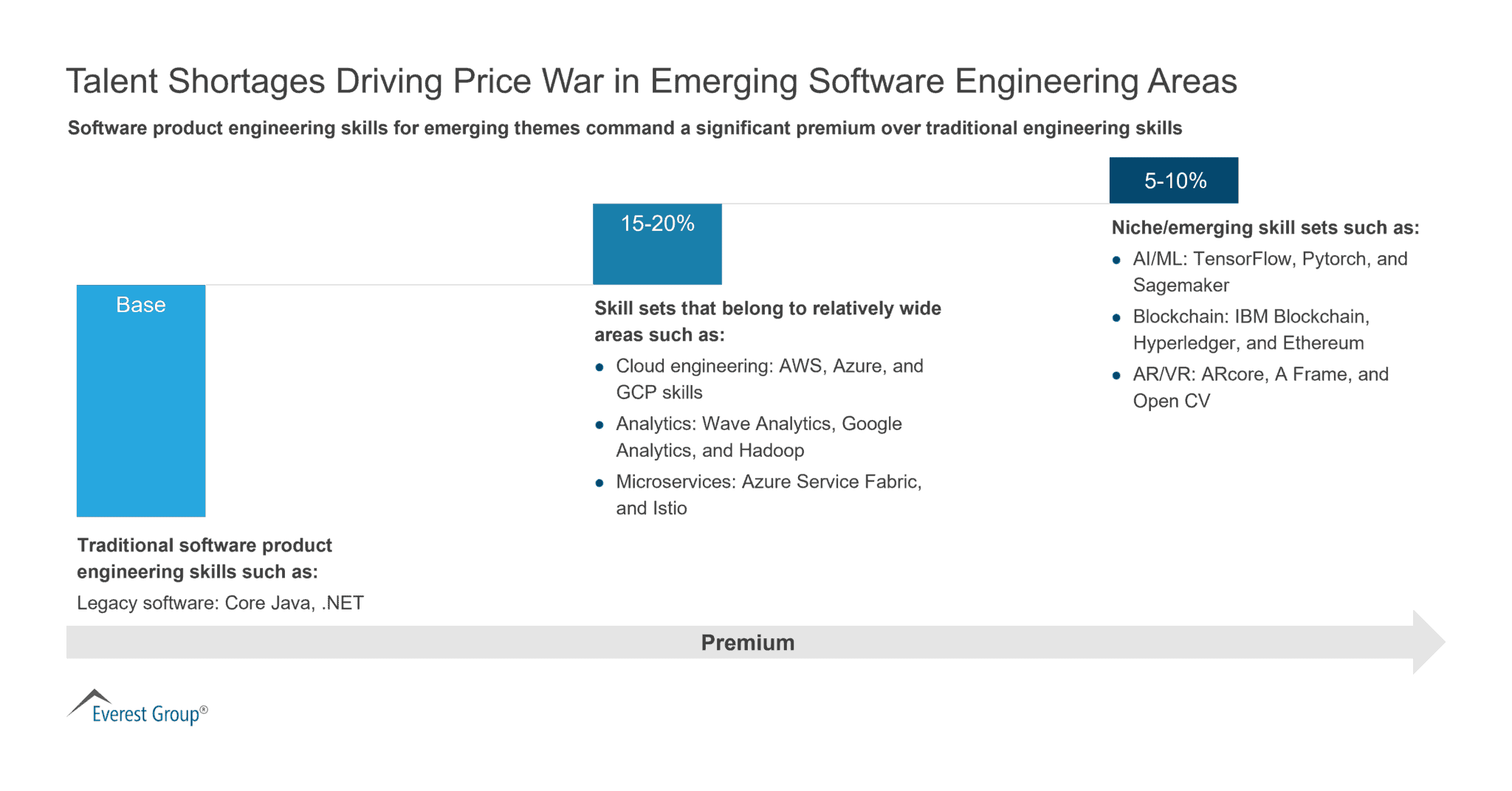 About Everest Group
Everest Group is a research firm focused on strategic IT, business services, engineering services, and sourcing. Our clients include leading global companies, service providers, and investors. Clients use our services to guide their journeys to achieve heightened operational and financial performance, accelerated value delivery, and high-impact business outcomes. Details and in-depth content are available at http://www.everestgrp.com