The critical nature of Pharmacovigilance (PV) is obvious. For patients, it can mean the difference between better health or death from an Adverse Drug Reaction (ADR). For pharma companies, it can mean the difference between a profitable, life-saving drug, or multi-billion dollar fines and loss of reputation and revenue.
Although global PV spend has increased from 0.3 percent of total sales in 2003 to 1 percent (the equivalent of ~US$15 billion) in 2016, some of the pharma industry's most expensive drug recalls/fines/lawsuits occurred during this timeframe.
Everest Group does not think that a further increase in PV spend is the best way for pharma companies to curb safety breaches. Rather, we believe the answer lies in creating a more effective PV process through use of technology, including analytics, automation, cloud, and mobility.
There are some well-publicized technology use cases in the pharma industry. For example, led by a consortium of world-leading experts from industry, regulatory agencies, and academia, the Web-RADR project will deliver an EU-wide mobile phone app that enables users to report adverse drug reactions directly to their National Competent Authority (NCA). And the U.S. Food and Drug Administration (FDA) has launched Sentinel, a distributed data system through which it can rapidly and securely access information from large amounts of electronic healthcare data from a diverse group of data partners.
And there are myriad ways in which technology can support pharma companies' PV initiatives. For example: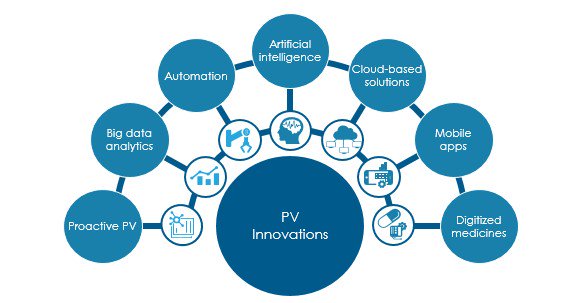 Digitized medicines: Smart pills with ingestible sensors can be used to track and collect patients' health data, which can be used to run analytics for Adverse Event (AE) detection.
Mobile apps: These apps can enable pharma companies to collect ADR data much more quickly.
Cloud-based solutions: Cloud-based databases can enable pharma companies to collect data from multiple stakeholders to build an integrated ADR repository – even at a global level.
Artificial intelligence (AI): AI can help pharma companies to move beyond basic automation by identifying patterns in unstructured data.
Automation: RPA solutions can help pharma companies process structured data much more rapidly than via manual efforts.
Big data analytics: Analytics can help pharma companies use the vast amount of digital data available on the Internet (e.g., on Facebook and Twitter, and in patient forums such as Doctissimo) to supplement traditional data sources such as primary calls, EHR data, and claims data for AE detection.
Proactive PV: Robust IT solutions and advanced systems can help pharma companies monitor drug safety during the research and trials process and post-launch.
How Pharma companies capitalize on technology?
To fully capitalize on the benefits technology can deliver to the PV process, pharma companies must begin with establishing a clear and robust strategy for what they want to achieve and how they should progress along the technological curve. For instance, if their end-goal is to implement an AI-based solution, they should first invest in basic automation, analytics, and cloud. As pharma companies tend to lag behind those in other industries in terms of adopting new and innovative methods, they may find it valuable to partner with a third-party advisor to assist in the development of their strategy.
Next, they should proactively identify opportunities and partner with specialized technology vendors to fill technology gaps. For example, while many pharma companies are investing in the development of mobile-based adverse event reporting apps, they will not be able to realize their full potential until all the apps are connected with a common platform that precludes patients from having to download apps for each drug.
Finally, they should strongly consider partnering with outsourcing service providers that have a proven history of supporting the delivery, technology, and regulatory reporting requirements of the PV process. Call center, case entry, literature review and insights mining, aggregate reporting, and PV quality assurance are some of the areas in which outsourcing service providers can of great help.
Pharma companies have long been slow to adopt technology in PV. However, the time has come for technology to play a greater role in delivering solutions, with technology vendors and outsourcing service providers serving as force multipliers.
For detailed insights on new technological innovations in the PV market, please refer to Everest Group's viewpoint: Innovation in Pharmacovigilance (PV): How to Spend Smarter Not Higher?