The technology surge has created a talent war for digital skills, making selecting the right service delivery locations more crucial than ever. Where should enterprises look to find the human capital they need now and for the future? Read on to discover the hot spots for tech talent in the Asia-Pacific, EMEA, and Americas.
The COVID-19 pandemic has created soaring demand for emerging technologies such as cloud, Artificial Intelligence (AI), Machine Learning (ML), data science, Internet of Things (IoT), Natural Language Processing (NLP), blockchain, and 5G.
But the biggest obstacle to adopting these emerging technologies is talent.
With the huge tech demand and unmet talent supply, developing delivery portfolios that provide a continuous pool of high-quality employees that have the innovation capacity to fulfill digital growth agendas is critical to gaining a competitive edge.
Based on our latest research, here are some of the established and emerging talent tech hubs to watch: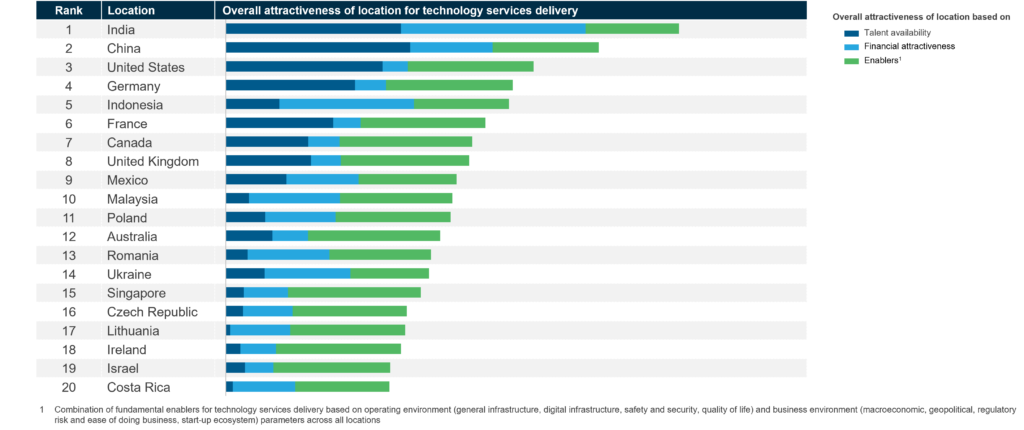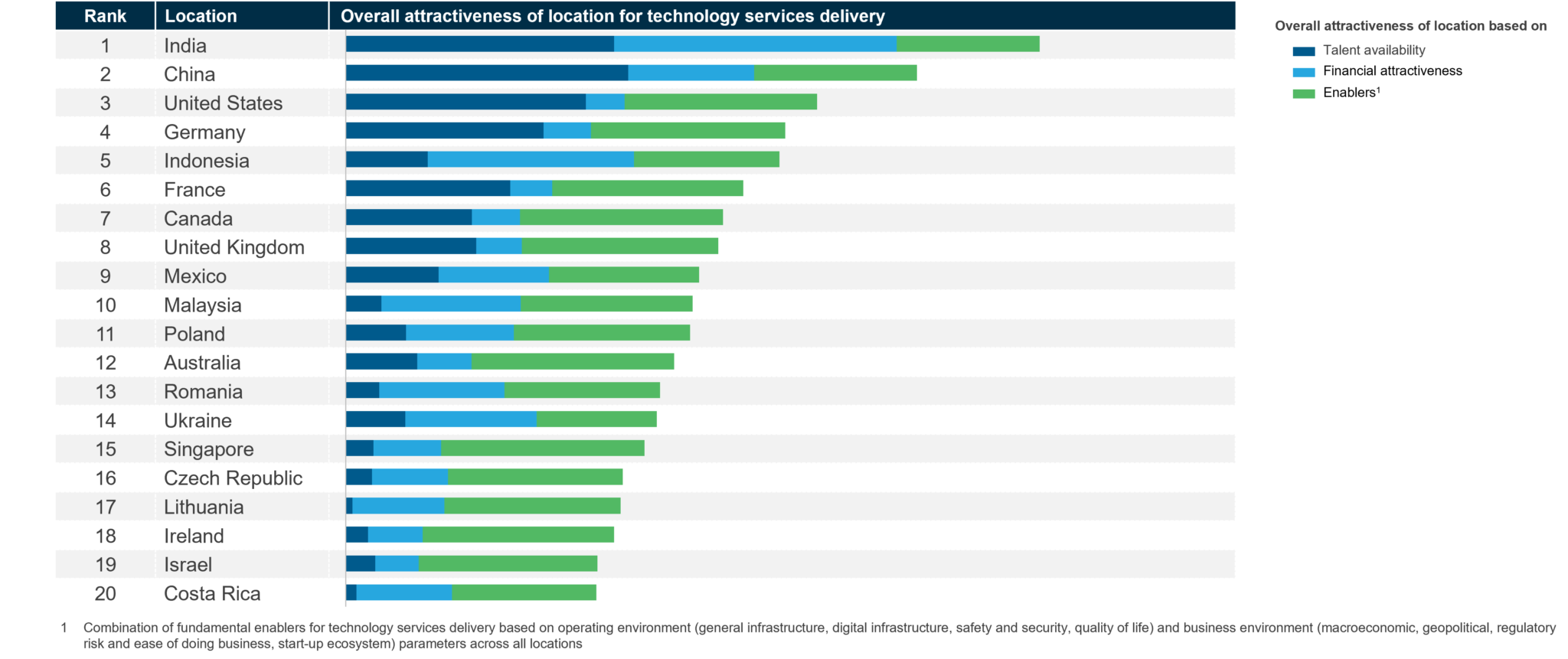 Asia-Pacific (APAC)
Large talent availability and significant cost arbitrage over other regions continue to make Asia the location of choice for technology services. India has seen the most growth for new centers and the talent pool, followed by China and Singapore.
India:
India remains the preferred location for large-scale technology services delivery. Over the past few years, it has experienced the highest growth in new setups and existing center expansions. Several leading enterprises have set up Centers of Excellence (CoEs) and innovation centers focused on emerging technologies primarily driven by an increased focus on digital, IT, and engineering/R&D services and to support new products and services development.
While Tier 1 cities remained the most desired locations within India, Tier 2 cities also experienced an uptick due to rising demand for high-quality IT skilled talent and work from home emerging as the new delivery model. Companies and investment promotion agencies remain bullish on the growth in the technology services industry in the coming years as emerging technologies use-cases of cloud, AI, and cybersecurity will become mainstream.
China: 
China traditionally has been a strong engineering/R&D hub and continues to see heavy traction from global players setting up engineering/R&D, IT centers, and innovation CoEs. While the pandemic outbreak led leading technology firms such as Apple, Google, Facebook, and Microsoft to temporarily shut down operations in China, activity regained its momentum in the second half of 2021, experiencing significant new center setups for the technology services industry. A major part of the growth was driven by Information, Communication, and Telecom (ICT) companies, primarily focused on establishing centers for Engineering Research and Development (ER&D) such as product development and electric mobility, and digital technologies like AI, IoT, and data analytics.
Going forward, long-term tailwinds such as the growth of the Shenzhen Special Economic Zone (SEZ), government initiatives focusing on Made in China 2025 policies, growth of e-commerce, increased technology adoption, and high export demand for technology developed in China will largely drive growth in the technology services industry.
Other prominent locations: Singapore and Malaysia are other areas in APAC to consider for talent that are undergoing significant technology service industry growth.
Europe, Middle East, and Africa (EMEA)
Several countries within the EMEA region offer highly attractive value propositions to market players for global services delivery. While the majority of Western European countries have achieved a fairly mature technology ecosystem, Ireland offers a significant cost arbitrage compared to others and is highly leveraged by multiple players. Further, the Central Eastern Europe (CEE) region has experienced significant growth in the technology sector, primarily driven by the availability of high-quality technology talent and a mature startup ecosystem. Poland is often recognized as the technology hub of CEE, witnessing maximum traction from global players.
Most African and Middle Eastern countries have low delivery maturity for technology services. However, Israel has emerged as a leading location primarily due to the robust startup ecosystem and government initiatives to advance and develop a competitive edge in the technology space.
Ireland: Global companies are selecting Ireland for a mix of IT, Business Process (BP), and ER&D services, with most of the activity driven by technology firms, primarily to set up ER&D centers and digital CoEs across areas such as AI, cloud, and analytics. Going forward, AI and automation are the key focus areas for the Irish technology industry.
Poland: Poland continues to be the largest global delivery hub in nearshore Europe because of its strong cost-talent proposition, ability to support multi-functional centers, and strong government support. It even surpasses some of the developed technology markets such as Japan for global technology services delivery.  Multiple players have chosen Poland to set up innovation hubs for complex IT, R&D/engineering services delivery in Tier-1 locations (Krakow, Warsaw, and Wroclaw) because of its access to a large talent market. Tier-2/3 cities such as Katowice, Tri-City, Lodz, Poznan, and Szczecin are also expected to witness increased leverage for select IT services due to their strong talent-cost proposition and higher competitive intensity in Tier-1 cities.
Israel: With a booming technology services industry, immensely robust digital infrastructure, and highly mature startup ecosystem, Israel has become an established technology services location in the EMEA region. Next-generation IT services have boomed, including big data, cybersecurity, cloud, and IoT with a research focus primarily driven by close academia and industry collaboration. Further, it is a leading delivery location for cybersecurity services and houses almost one-third of the world's cybersecurity unicorns. Going forward, it will be interesting to see how Israel transforms its position for global market players versus solely being desired by startups.
Other prominent locations: Some of the other locations to pay attention to in EMEA include Germany, France, the United Kingdom, Romania, and Ukraine.
The Americas
North America: North America is among the most established geographies for technology services delivery. Most product organizations, technology enterprises, and startups are headquartered in the US. It offers a large talent pool and high collaboration prospects due to the presence of multiple technology startups, global business services centers, and service providers. The region is primarily used more for domestic delivery than global delivery because of high labor and real estate costs.
Latin America: 
In the wake of the pandemic, multiple enterprises are evaluating Latin America for setting up new centers to diversify their risk concentration and take advantage of its proximity to key source/client markets in the US.
Mexico continues to lead in technology services delivery driven by increased delivery activity by companies for analytics, cloud, mobility, big data, IoT, and AI. Further, government initiatives such as creating a digital hub to accelerate the digital journey and enterprise growth have boosted the country's tech ecosystem. With its strong trade links, nearshore advantage, and growing technology talent pools, Latin America offers a multi-pronged value proposition to enterprises seeking a technology services delivery destination.
Choosing the best-fit technology services delivery location
Analyzing the features of the delivery sites will help enterprises determine the best strategy to take in the particular market, such as expanding and growing, holding, watching and testing, or shrinking and exiting, as detailed below: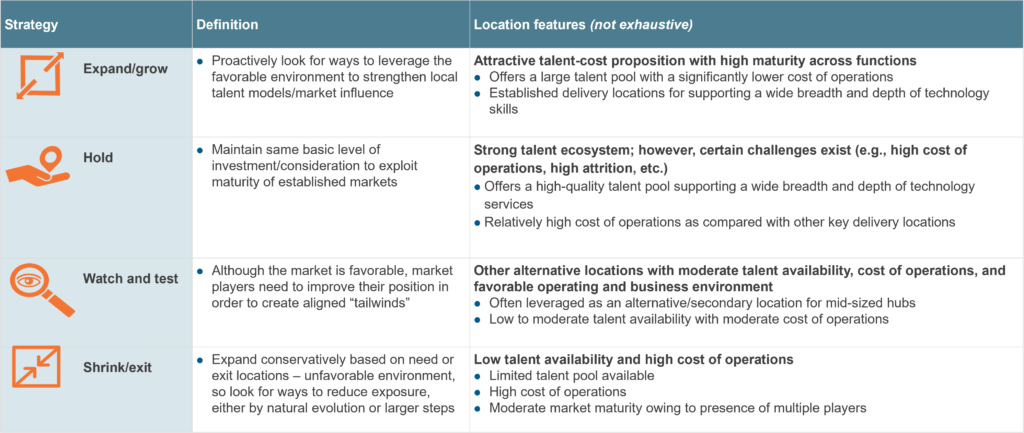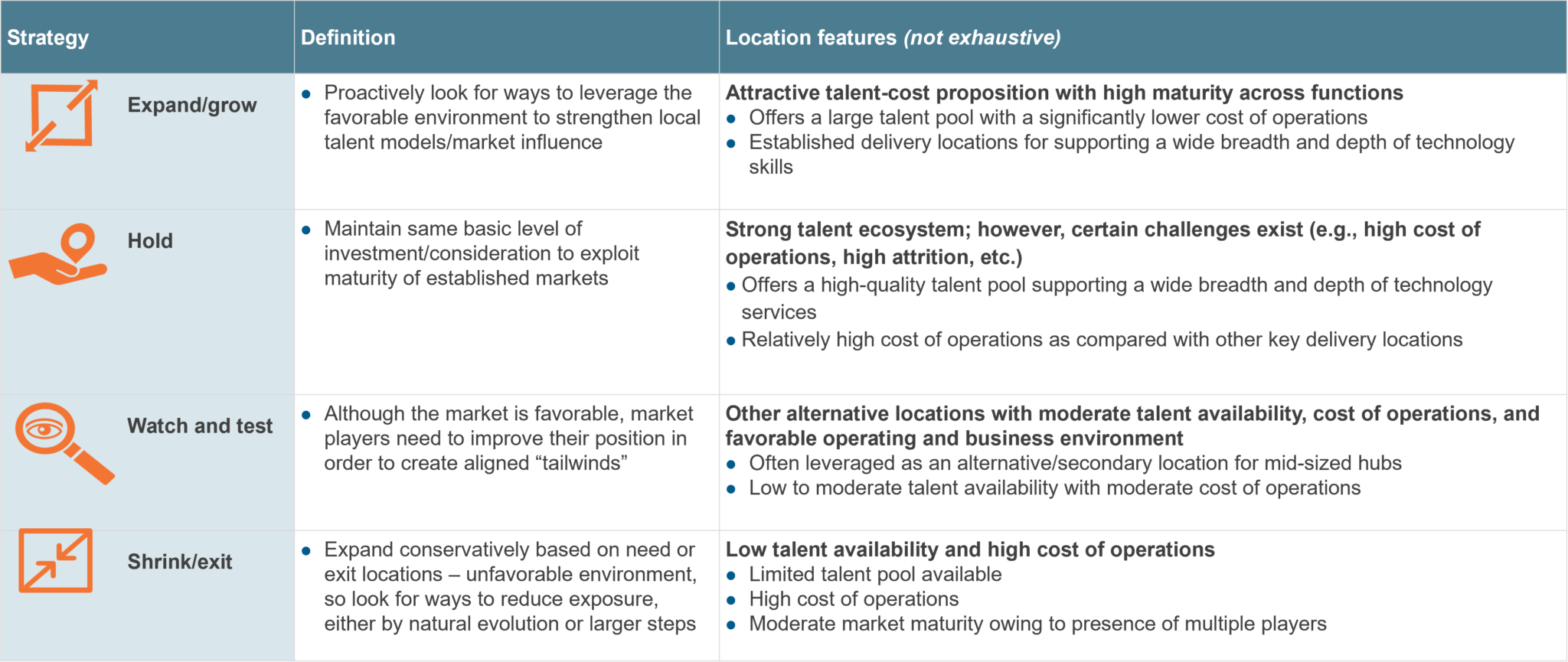 By assessing each location's value propositions and trade-offs and considering company-specific requirements, organizations can find the ideal spots to tap the talent they need, making the delivery portfolio puzzle less of a mystery.
Learn more about how to find talent in our webinar, 5 Success-driving Actions: How to Unlock Untapped, Affordable Talent.
To share your comments and questions, please reach out Anish Agarwal or Shivani Singh.