By freeing data from silos, healthcare interoperability can promote greater information exchange between patients, payers, and providers – leading to more efficient care coordination. But compliance with the CMS rule shouldn't be the only goal. Discover how going beyond what is required can deliver long-term value for enterprises.
Let's continue our discussion in this final blog in our three-part series where we last explored the types of data shared under the healthcare interoperability rule and how enterprises can navigate through the CMS Interoperability and Patient Access final rule.
While regulatory compliance is critical, it shouldn't be the sole focus. By investing in the following three areas, healthcare enterprises can create business benefits over time:
Master Data Management (MDM): This set of disciplines and solutions helps create and maintain volumes of data from internal and external data sources and applications. It also can enable better decision making by providing a single enterprise view of business-critical data
Insight layer (Artificial Learning (AI), Machine Learning (ML), and analytics): While the rule will make health data more accessible, patients and members still will need to understand this raw information. Analytics and AI can help enterprises present the data in simpler formats, deliver insights to patients and members, and make data-driven care decisions
Engagement layer (member/patient 360 experience): Currently, members/patients use multiple self-service tools, inadvertently creating a fragmented experience. With Representational State Transfer (REST), Application Programming Interfaces (APIs), Fast Healthcare Interoperability Resources (FHIR), and Health Level 7, enterprises can create a single real-time data view. By leveraging a single data view, enterprises can create a digital front door for members/patients, increasing their comfort and confidence. Also, with a broader data set, healthcare enterprises can direct their engagement initiatives to coordinate care, create Social Determinants of Health (SDoH), match members/patients, and deliver personalized care
Interoperability enablement framework
By better understanding the key components that enable interoperability, enterprises can realize the full benefits it can offer. This framework can enable healthcare enterprises to identify and answer critical questions such as:
How do we address scalability and compute challenges?
How do we ensure data integration from siloed data sources?
Which legacy data needs to be converted into an FHIR format?
Which vendors do we engage to build, customize, and maintain FHIR APIs?
What assess protocols address security-related functionality such as access management, authorization, and authentication?
The interoperability enablement framework below shows the required IT components for regulatory compliance and what technology features go beyond the regulation: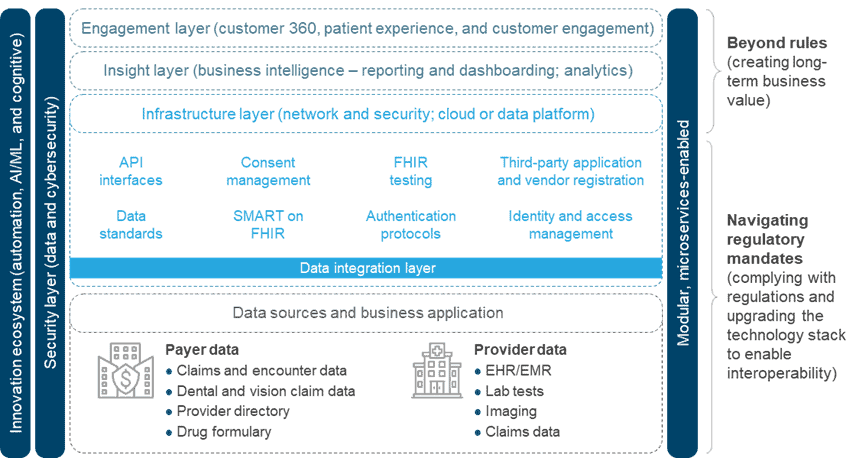 The interoperability solution landscape
A strong partner ecosystem of technology vendors and service providers can help healthcare enterprises overcome challenges and achieve the long-term benefits of data transparency and delivering a personalized member/patient care experience.
Among the key partner types and offerings to help enterprises enable interoperability are: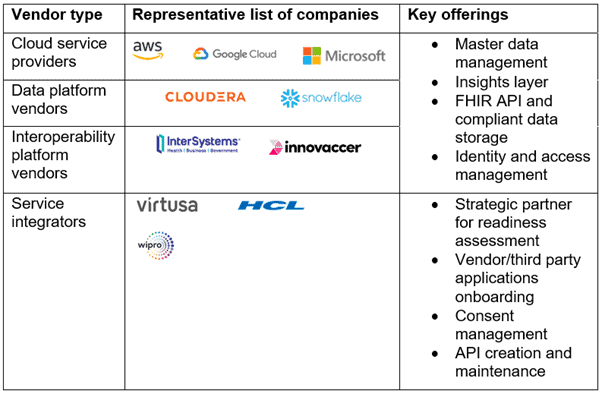 What's next?
We are positive about this regulatory push by the Centers for Medicare & Medicaid Services (CMS) and the Office of the National Coordinator for Health Information Technology (ONC) and view the Interoperability and Patient Access Rule as the first step.
Establishing end-to-end interoperability will require standard data sharing across all systems and devices within the healthcare ecosystem – an essential element for the future of value-based and personalized care.
With the ever-evolving regulatory environment and technology landscape, it will be interesting to watch enterprises adopt these regulations. The required financial investment and technology overhaul will make adoption challenging, but the long-term benefits to all stakeholders can make it rewarding.
Please reach out to [email protected] to share your experiences and ask questions.