Earlier this week, we announced our new Pinnacle ModelTM analyses, which provide deep research on the capabilities top-performing companies have leveraged, and the journey they've taken, to become the crème de la crème.
Now, to sate your bated breath, here are the results of our first analysis on organizations' adoption of digital strategies and what sets Digital Pinnacle EnterprisesTM apart from their peers.
Many people equate the word "digital" with "technology." In the consumer world, they might think about the cool new mobile phone they just bought, the home entertainment streaming device that's on their wish list, or how to carve out the time before the end of the year to turn their abode into a smart home. In a business context, cloud computing, robotics for their factory or their business processes, or a new customer interaction application may come to mind.
But one of the key findings from this analysis is that technology in and of itself isn't Digital Pinnacle Enterprises' biggest differentiator. Rather, Digital Pinnacle Enterprises stand out for making a strategic impact through their digital transformation efforts. Their track record for accomplishing business outcomes such as disrupting the industry, improving customer experiences, increasing market share, and launching innovative products and services, were significantly better than their peers.
And the value their digital transformation projects deliver are measurable and quantifiable. For example, as I mentioned in my previous blog, one banking client reduced its customer onboarding process from 16 days to 9 minutes. A retailer reduced its SKU management efforts by 80 percent, while simultaneously improving accuracy. And a software company saw improved invoice processing that reduced direct FTEs by 67 percent, and decreased customer calls to the help desk by 20 percent.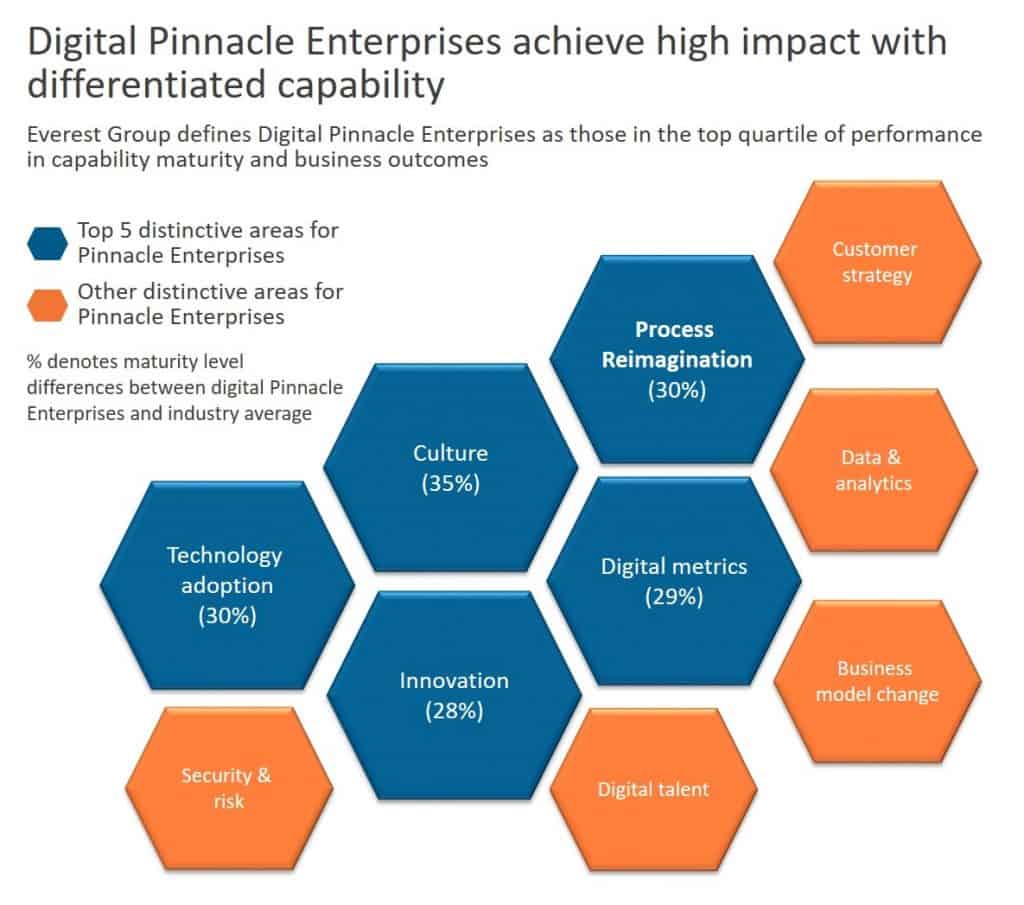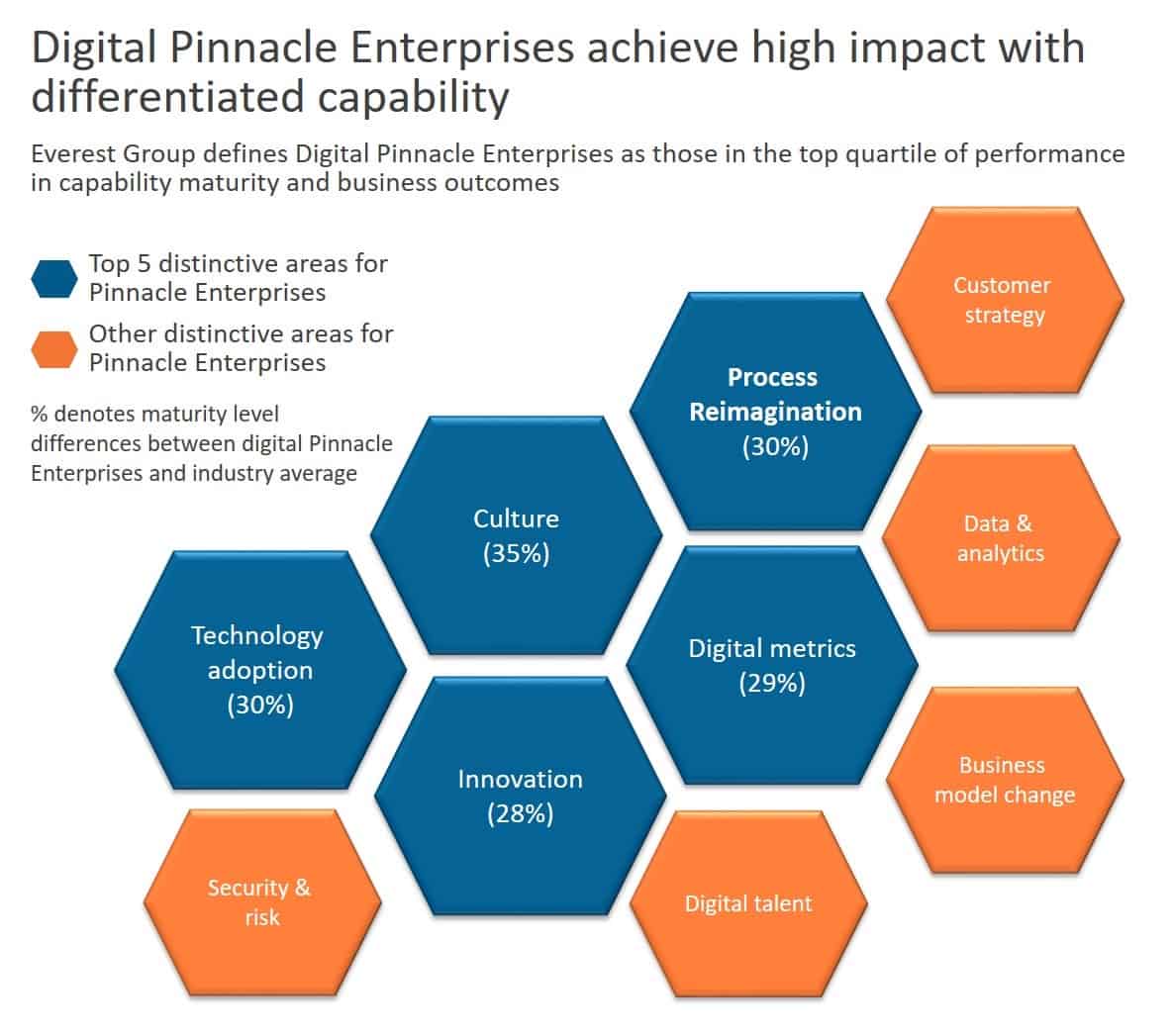 Our analysis showed three key capabilities that Digital Pinnacle Enterprises have leveraged to realize these types of outcomes.
Culture: Digital Pinnacle Enterprises have invested extensively in adopting and embracing an innovation-focused culture. They have partnered in startups to source new innovation across their product and services portfolio, and established a centralized team responsible for sourcing ideas from vendors, startups, employees, and customers. Their peers did not.
Technology adoption practices: Digital Pinnacle Enterprises have built management practices around the evaluation of new innovative technologies such as big data analytics, cloud, DevOps, cognitive computing, and artificial intelligence. Their peers did not.
Process Re-imagination: Digital Pinnacle Enterprises have defined current and future states of key internal processes, and worked with their process owners to identify waste. And…you guessed it. Their peers did not.
Of course, technology is a required core of any organization's digital initiative. But those that have reached the pinnacle have focused on the key capabilities required to achieve real, measurable transformation.
I hope this has given you some food for thought on how to elevate your company to a Digital Pinnacle Enterprise. I also hope you're hungry for more, because over the next few months and quarters we'll be discussing very specific disruptive digital technologies and other market hot topics in additional Pinnacle Model Analyses. Bring your appetite!