In August 2016, Everest Group published an analysis of hot digital health startups that were disrupting the status quo of the industry landscape. It ended becoming a unicorn-spotting analysis…cut to February 2018, and by healthcare and life sciences organizations have acquired three — Flatiron Health, NantHealth, Practice Fusion — and among the top 25 players. While we speak, there are multiple conversations around the others as investor interest peaks.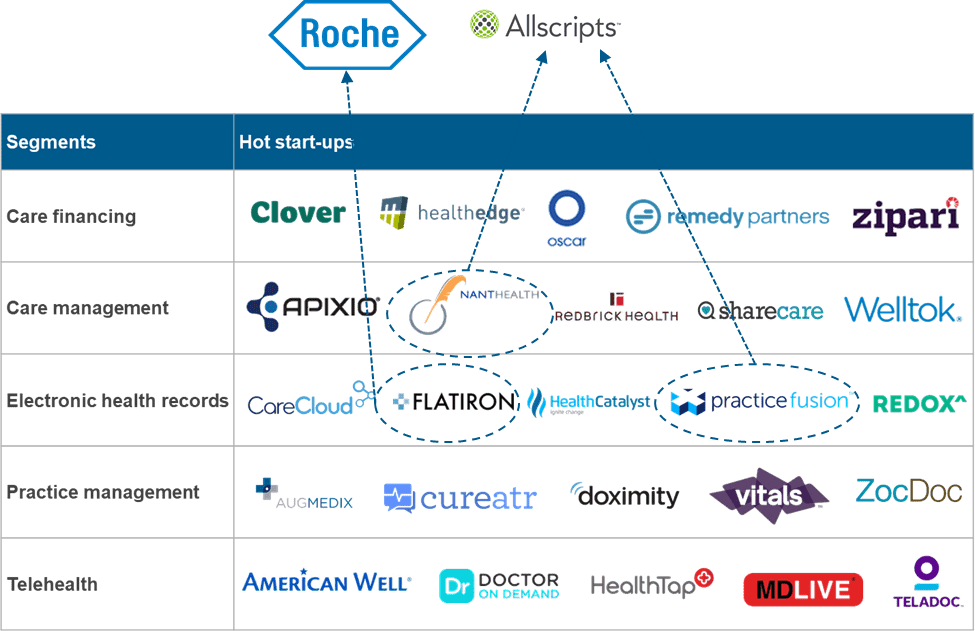 What are the key business reasons behind these three acquisitions?
Flatiron Health by Roche: Flatiron Health has an end-to-end cloud-based EHR platform (OncoEMR) exclusive for oncology that curates the evidence-based drug development process. As oncology is one of Roche's major focus areas, this is extremely valuable for the company while devising cancer drugs. No wonder Roche agreed to a US$1.9 billion acquisition price, in addition to its existing stake in the company. Flatiron Health also has a OncoAnalytics module that leverages big data analytics for better diagnosis and treatment.
NantHealth by Allscripts: NantHealth is a cloud-based healthcare firm that aims to improve patient outcomes and personalized treatment. Its proprietary learning system, CLINICS, utilizes machine learning and cognitive computing to provide information for better care delivery, tools and insights for efficient care financing, and wellness management programs for enhanced patient engagement. NantHealth fits well within Allscripts' ambitious plan to build a healthcare company that drives innovation in patient care and improves evidence-based research in R&D processes.
Practice Fusion by Allscripts: Practice Fusion is a web-based cloud EHR platform that also provides patient engagement and practice management assistance. Unlike traditional EHR platforms, Practice Fusion provides a simple and intuitive user interface. Beyond these capabilities, this acquisition also adds ~30,000 ambulatory sites to Allscripts' client base in the hard-to-crack independent physician practices segment.
What's working with these healthcare startup acquisitions
Here's what is common among these recent acquisitions:
Data is the new oil: The real asset is access to critical healthcare data. Companies that convert the data into actionable insights, resulting in better patient care, emerge as clear winners.
Uberization of everything: Healthcare enterprises have struggled with huge fixed investments in EHR platforms, on-premise infrastructure, etc. This has created a deep dent in their profitability numbers. Because Flatiron Health, NantHealth, and PracticeFusion and are cloud-based companies, there are no more fixed costs, everything is demand-based. Clearly, the as-a-service model has become the choice for healthcare firms.
Care – of, by, and for the people: Accelerated R&D cycles, augmented physician capabilities, and improved precision in diagnosis and treatment all ultimately result in improved patient care, enhanced clinical outcomes, and boosted patient engagement. All three of these acquired companies focus on improving at least one of those factors. And they all allow the acquiring companies' patients to take center stage.
Digital moves from pilot to program
At a broader industry level, these acquisitions mirror the change in sentiment around digital initiatives. Our research shows signs that enterprises are moving beyond proof of concept to proof of value. While digital, as a market, lends itself to smaller deals with focuses on design thinking, first principles problem solving, and business model redesign, we see these initiatives now scaling up.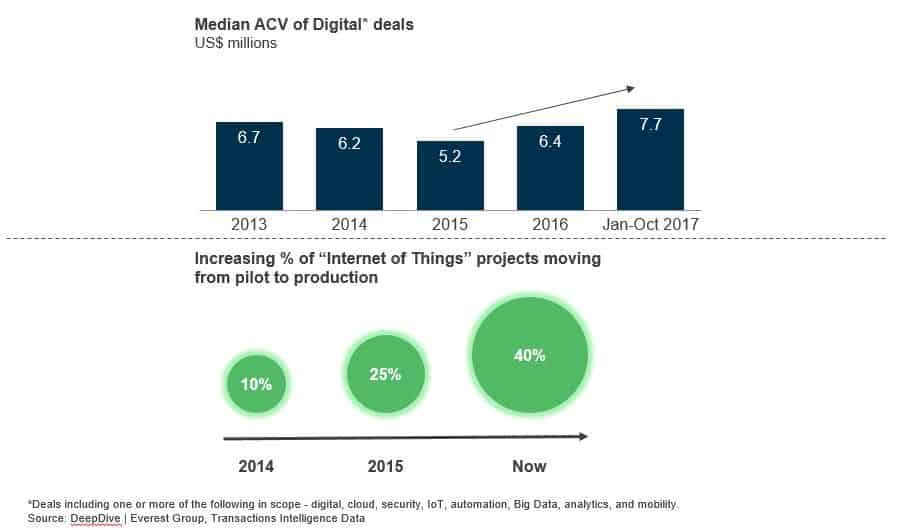 As the digital marketplace matures, investment activity is only going to intensify. While early adopters are reaping rich rewards, valuations and competition for viable targets are likely to skyrocket. It's clear that healthcare enterprises see significant business value, and are willing to put their money where their mouth is. Stay tuned to this space for more analysis of what's happening in the healthcare and digital spaces.