India continues to offer an attractive service delivery location proposition for global companies, given its unique combination of a low-cost, scalable English-speaking talent pool, and the breadth and depth of available skills.
As the global digital services industry matures, and with increasing competition in the tier-1 cities, companies are looking to reduce the costs of talent and access additional untapped talent pools for digital services delivery.
Can tier-2/3 cities in India fit the bill? Let's start by looking at the current state of digital services delivery in these cities.
Existing Landscape
Today, India is the largest destination for digital services delivery, with 75 percent of the market. Tier-2/3 cities in the country currently hold 14-16 percent of the market share, and we expect this proportion to grow by 15-20 percent in the next couple of years. Ahmedabad, Chandigarh, Coimbatore, Indore, Jaipur, Kochi, Lucknow, T-puram, and Vadodara are the top nine tier-2/3 locations, accounting for 55-60 percent of the digital services headcount in tier-2/3 cities.
Tier-2/3 cities are mostly leveraged to provide social & interactive (41-43 percent), cloud (21-23 percent), analytics (16-18 percent), and automation (10-12 percent) related services. When it comes to sophisticated digital technology services, such as cybersecurity, mobility, and Artificial Intelligence (AI), service providers still prefer tier-1 locations such as Bengaluru.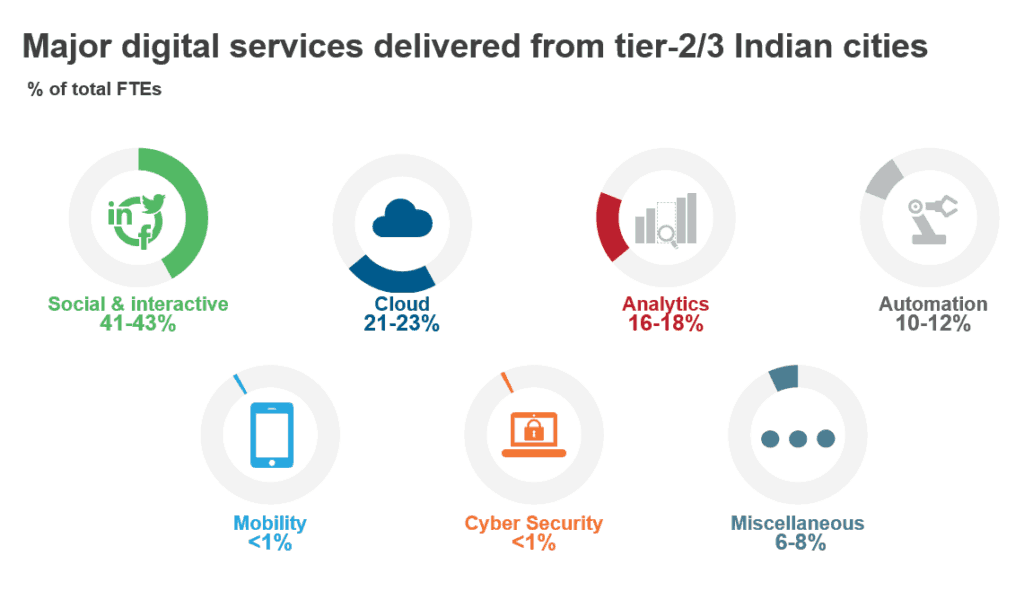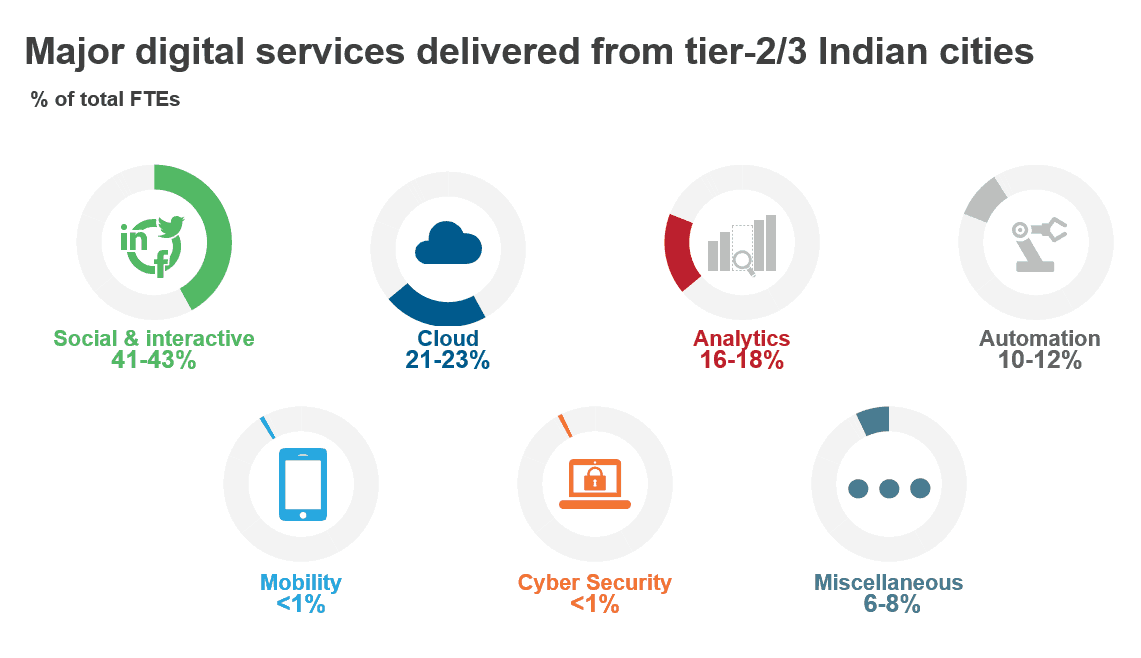 Now, let's evaluate how tier-2/3 Indian cities' value proposition stacks up against tier-1 cities.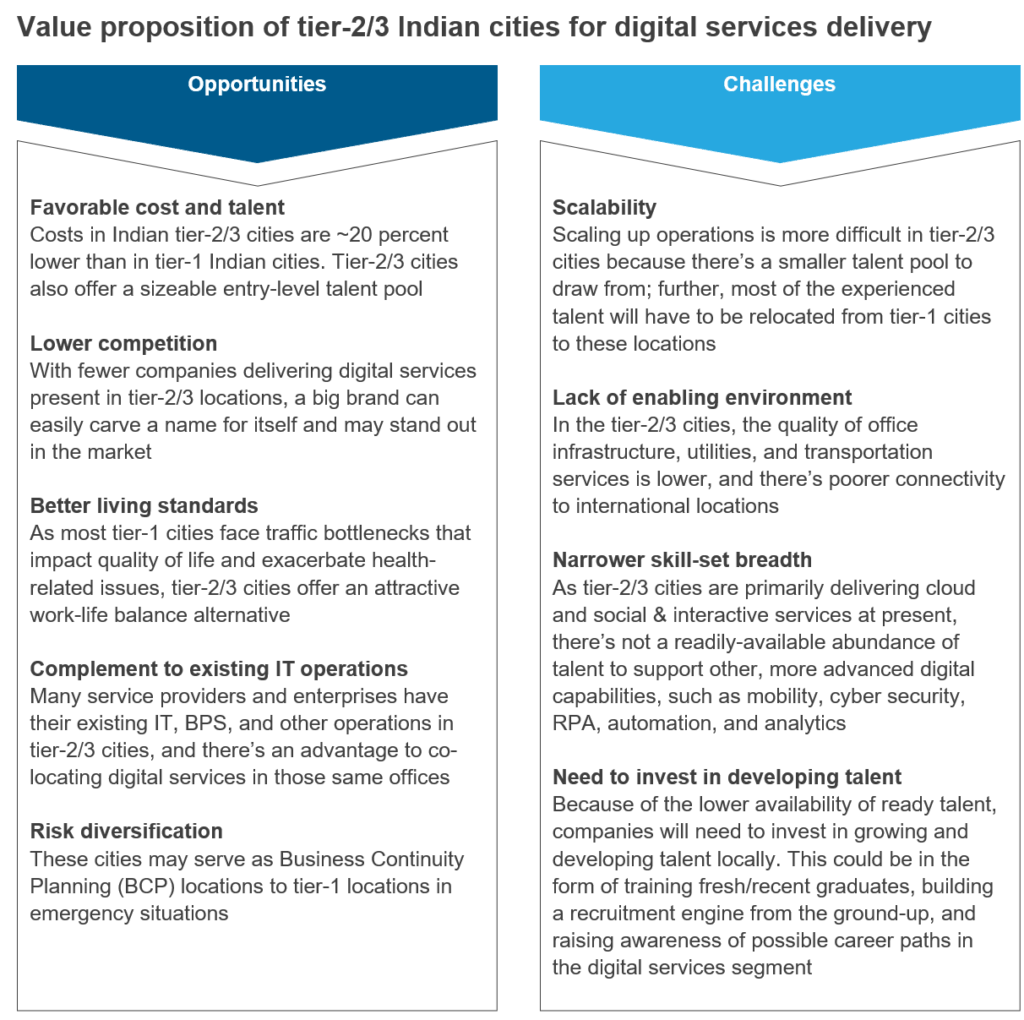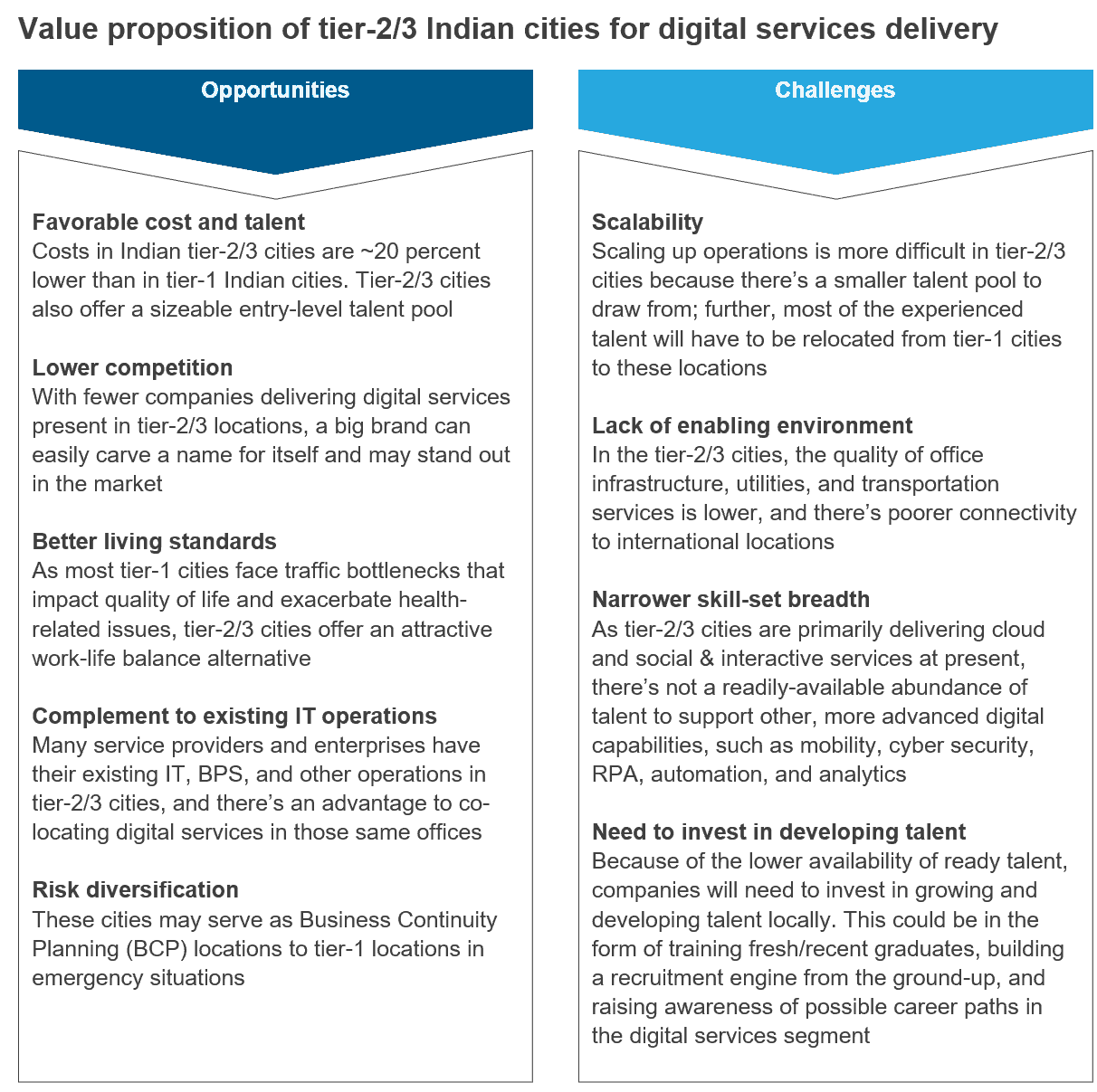 What's ahead for India's Tier-2/3 Cities?
 Here are some of the key findings from our recently published report, "Will Tier-2/3 Indian Cities Carve a Niche in the Digital Story?"
Tier-2/3 cities will continue to be leveraged predominantly as spokes to major hubs in tier-1 cities for the next two to three years
Because of a lack of skilled talent, delivery of advanced digital services such as machine learning, cyber security, and mobility from tier-2/3 cities will remain a distant dream for the next few years
An increasing number of enterprises will set up global in-house centers (GICs) or shared services centers for delivery of digital operations, due to increasing confidence and improvements in infrastructure quality
Reskilling/upskilling for digital capabilities will be paramount for companies operating in these cities
A few large service providers will invest in training talent, and benefit from early mover advantage by becoming distinguished employers in a less competitive market
To learn more – including the metrics around availability of talent, market maturity, cost of operations, business and operating risk environment, and implications for market participants including buyers, service providers, investment promotion councils, and industry bodies – please read our recently published report, "Will Tier-2/3 Indian Cities Carve a Niche in the Digital Story?." We developed the report based on deep-dive discussions with leading shared services centers, service providers, recruitment agencies, and other market participants.