With its high-quality talent, state-of-the-art infrastructure for delivering advanced technological services, and strong government support, Hyderabad has ascended as a top global services destination. These factors have helped the city gain a competitive edge and establish itself as a hub for innovation and excellence. But does Hyderabad have what it takes to surpass Bangalore as the foremost global services destination in the future? Let's delve into this question in this blog.
During a client meeting in Hyderabad earlier this month, our analyst team arrived a little earlier than expected and was immediately struck by the futuristic ambiance of the impressive facility. It felt like we had stepped into a scene from a sci-fi movie. Face-scanning machines warmly greeted employees at the entrance, lush greenery adorned office walls, breathing life into the space, and solar panels powered the entire establishment. The energy was palpable as confident associates eagerly looked forward to the start of the work week.
In contrast to the thriving atmosphere we saw in Hyderabad, the environment in Bangalore is comparatively subdued as India's capital city seems to be grappling with the impacts of the economic downturn. The two cities present a stark juxtaposition in terms of their future growth trajectories.
This positive outlook for Hyderabad has become a common sight across multiple Global Capability Centers (GCC). The city has shown admirable growth and resiliency during the past two years, recording one of the country's highest growth rates for global service delivery. Remarkably, Hyderabad surpassed Bangalore for GCC delivery setups during H1 2023, highlighting its exceptional performance in this sector. Let's explore the implications of this further.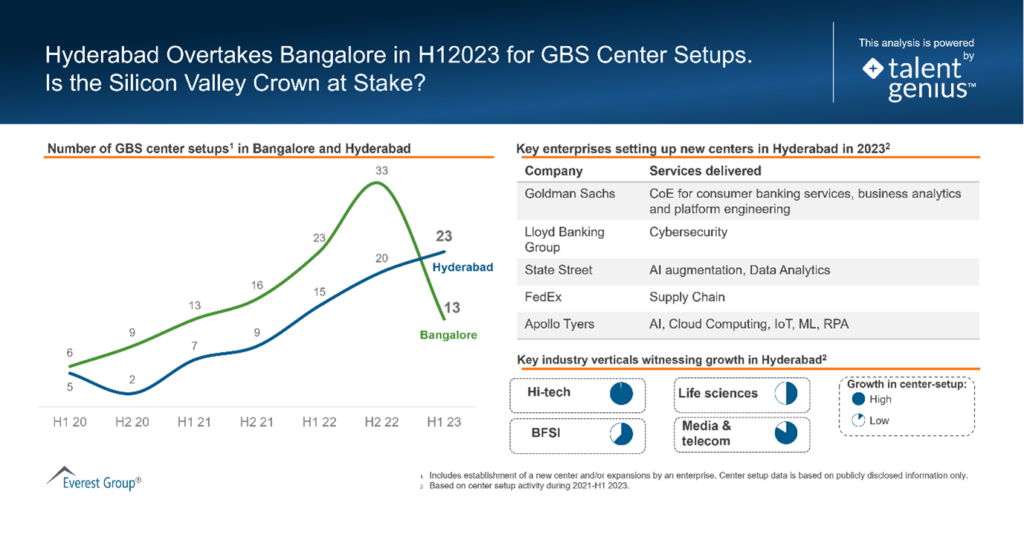 Learn more about Everest Group's AI-powered insights platform, Talent Genius™.
Since the early 1990s, when India started its services journey, Bangalore has been the top city, attracting maximum interest for global services delivery. Other tier-1 Indian cities, such as Delhi NCR, Hyderabad, Mumbai, and Pune, also have recorded impressive growth.
However, it was not until H1 2023 that the "City of Pearls," Hyderabad, surpassed Bangalore, the "Silicon Valley" in GCC setup activity. During this period, more than 40 global companies established or expanded their Acceleration Centers, Centers of Excellence (CoEs), Centers of Innovation, and R&D centers in Hyderabad.
This trend is also reflected in the growth of technology jobs in the city. Hyderabad's share of tech jobs, as a percentage of overall technology jobs in India, has surged from 33% to 44% during 2021-22. Simultaneously, the demand for non-tech services continues to grow, reflecting strong investor sentiment.
Hyderabad has traditionally been a stronghold for pharmaceutical enterprises. However, the city's appeal has now expanded beyond this industry. Over the years, the city has also attracted multiple Fortune 500 giants from aerospace, manufacturing, retail services, pharmaceuticals, and professional services industry verticals.
The diversity extends beyond industries alone and also encompasses the types of services being delivered to clients from these centers across the globe. For example, Goldman Sachs is expanding its delivery footprint for engineering services and business innovation by employing over 2000 full-time equivalent employees (FTEs), FedEx is establishing a center of innovation for supply chain optimization, and Lloyds Banking Group is utilizing the location for delivering cybersecurity services. Other organizations such as Apollo Tyres, DAZN, Ocugen, Pi Square, and Warner Bros. Discovery also are leveraging the location for a wide variety of services.
Alongside this diversity, the city is displaying future readiness. These enterprises have delivered an increased concentration of technology, encompassing a wide range of advanced services such as animation, Artificial Intelligence (AI), cloud computing, Internet of Things (IoT), Machine Learning (ML), Natural Language Processing (NLP), Robotic Process Automation (RPA), visual effects (VFX), Augmented Reality (AR), and Virtual Reality (VR).
Hyderabad's winning formula
Hyderabad's proposition has been anchored on two critical factors – high-quality talent and world-class infrastructure. The city has witnessed growth in both the quality and quantity of talent, fueled by its reputation as an educational hub that houses globally-recognized institutions such as ISB, IIIT, and BITS Pilani.
This skilled talent pool has contributed to the growth of various industries, including IT, biotechnology, pharmaceuticals, and finance. Efforts by both private players and the government to enhance skill development and increase the talent pipeline are underway, such as the collaborative postgraduate diploma (PGDM) program by IMT Hyderabad and HCL Technologies.
Hyderabad's state-of-the-art infrastructure and seamless connectivity, including a well-developed road network and an expanding metro rail system, have improved commuting and accessibility. In contrast to Bangalore's high cost of living and infamous traffic congestion, Hyderabad offers a more affordable lifestyle without compromising quality.
The unwavering government support has amplified the impact of both Hyderabad's talent and infrastructure. The state government has implemented multiple initiatives to improve the conduciveness of the city's business environment and foster growth.
One notable example is setting up "Hyderabad Pharma City," the proposed world's largest integrated pharmaceutical industry cluster that already has received interest from 500 companies. Additionally, the government's "Hyderabad Vision 2023" plan prioritizes infrastructural development, skill enhancement programs, and improving the ease of doing business.
The commitment to fostering a conducive business environment is evident by the regular engagement between state ministers, especially K.T. Rama Rao, Minister of IT of Telangana, and top corporate executives. Several announcements of new center setups and expansions, including those from Mondee Holdings, Storable, Rite Software, Tekgence, Zapcom, and Charles Schwab Corporation, resulted from the minister's trip to the United States this May.
A trifecta of unique factors – high-quality talent in a diverse ecosystem and state-of-the-art infrastructure to deliver advanced technological services backed by unyielding government support – has propelled Hyderabad's ascent and contributed to its competitive edge.
This leads us to address the elephant in the room, "Will Hyderabad dethrone Bangalore as the top global services destination for enterprises in the coming years?"
In our view, Bangalore is and will continue to operate as the largest and most mature global services destination in India for the short term, riding on its solid talent proposition, especially the ability to support niche and emerging technology skills.
However, when gazing into the crystal ball and contemplating the next 7-10 years, we see Hyderabad in a captivating race, with Bangalore positioning itself as a formidable competitor for the crown of the "Top Global Services Destination in India."
Everest Group's dedicated team of analysts tracks 30-plus cities in India and more than 300 cities globally from a global services perspective. If you have questions or would like to discuss global services destination topics, please feel free to reach out to [email protected], or [email protected]
Contact us to learn more about popular global services locations.
Don't miss our webinar, Masterclass in Managing Your Locations Portfolio and Workforce Strategies, for valuable insights and actionable advice to optimize your locations portfolio and maximize returns.